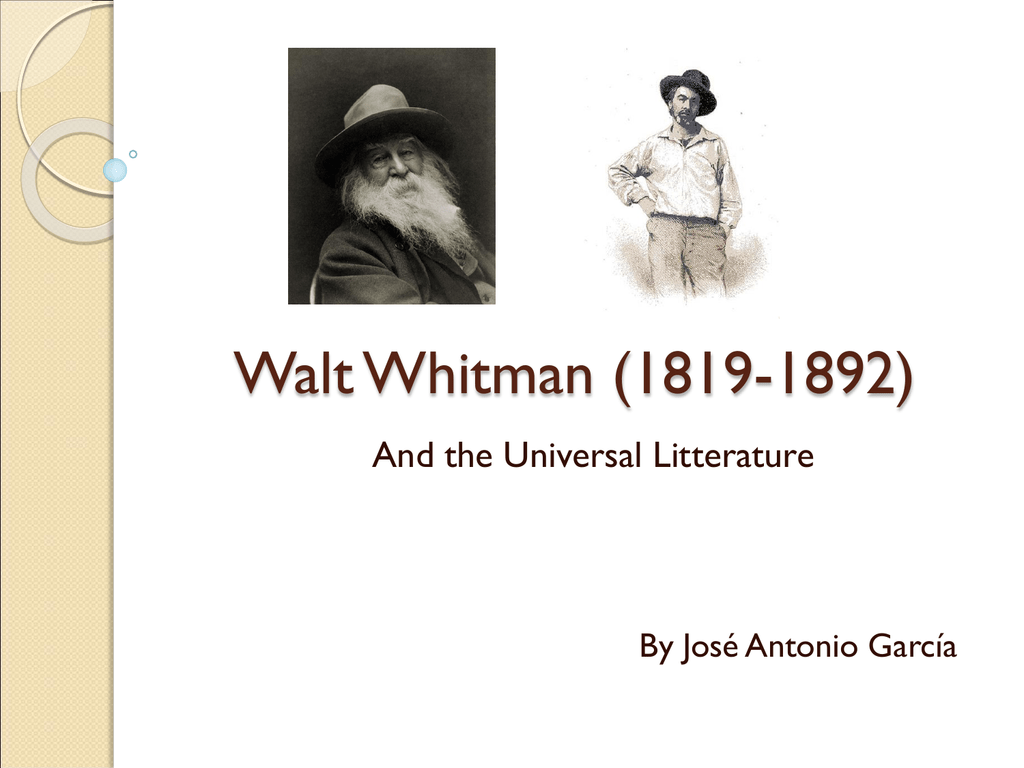 Walt Whitman (1819-1892)
And the Universal Litterature
By José Antonio García
Introduction: Why Universal
Litterature?

Why I have choosen this topic?
◦ Because I want to speak English in class, in
front of my students
◦ Because it was a challenge for me

Universal Litterature in the Spanish
educational system
◦ An option, not a must
◦ For students who like litterary studies, not
scientific areas
Introduction-2

What we study in Universal
Litterature
◦ The most important authors, mouvements
and masterpieces from Antiquity to
Contemporary Times: Greece, Rome,
Medieval Age, Renaissance, Classicism,
Romanticism, Realism…
◦ All the genres: Essai, Poetry, Theatre and
narrative forms (tales, novels, romans)
◦ Movies: Cinema is a good idea for educational
aims
Introduction-3

Main English and Irish authors:
◦ Chaucer, Shakespeare, Swift, Defoe, Dickens,
Wilde, Stevenson, Scott…

Main American authors:
◦ Irving, Poe, Whitman, Melville, Twain,
Hemingway…
We don't study Spanish neither
Hispanic authors
 And what about African Litterature?

Studying Whitman (1819-1892)
One of the most important american
poets, he influenced Eliot, Neruda, Pound,
Borges…
 He was middle-class, he worked as
printer, journalist, charpenter, public
servant, teacher…
 Hard beginnings
 His masterpiece: Leaves of Grass,
translated into Spanish by León Felipe

Whitman-2
Leaves of Grass was a scandalous work.
Sexual poetry, plenty of love for life,
Nature and women. Bisexuality?
 Plot: a man watches, faces the world and
sings whitout prejudices, with freedom
 Coral heroe: not the individual human
being, but the group, the society.
 Free verse, no rhyme

Whitman-3

Whitman was the poet of the american
democracy. He sang the immensity of
american Nature, he loved Freedom and
Equality, he was Lincoln and Jefferson's
heir
Selected poems

Billingual selectionhttp://poemaseningles2.blogspot.com/search/label/Walt%20Whitman

I celebrate myself, and sing myself,
And what I assume you shall assume,
For every atom belonging to me as good belongs to you.
I loaf and invite my soul,
I lean and loafe at my ease observing a spear of summer grass.
My tongue, every atom of my blood, form'd from this soil, this air,
Born here of parents born here from parents the same, and their parents
the same,
I, now thirty-seven years old in perfect health begin,
Hoping to cease not till death.
Creeds and schools in abbeyance,
Retiring back a while sufficed at what they are, but never forgotten,
I harbor for good or bad, I permit to speak at every hazard,
Nature without check with original energy.
O Captain! my Captain!
O CAPTAIN! my Captain! our fearful trip is done;
The ship has weather'd every rack, the prize we sought is won;
The port is near, the bells I hear, the people all exulting,
While follow eyes the steady keel, the vessel grim and daring:
But O heart! heart! heart!
O the bleeding drops of red,
Where on the deck my Captain lies,
Fallen cold and dead. (…)
My Captain does not answer, his lips are pale and still;
My father does not feel my arm, he has no pulse nor will;
The ship is anchor'd safe and sound, its voyage closed and done;
From fearful trip, the victor ship, comes in with object won;
Exult, O shores, and ring, O bells!
But I, with mournful tread,
Walk the deck my Captain lies,
Fallen cold and dead.
A new order shall arise...
(In the preface to Leaves of Grass)
(...) A new order shall arise,
and they shall be the priests of man,
and every man shall be
his own priest (...)
I have heard what the talkers were
talking...
Clear and sweet is my Soul, and clear and sweet is all that is not my Soul. (…)
Welcome is every organ and attribute of me, and of any man hearty and clean;
Not an inch, nor a particle of an inch, is vile, and none shall be less familiar than the rest.
I am satisfied—I see, dance, laugh, sing:
As the hugging and loving Bed-fellow sleeps at my side through the night, and
withdraws at the peep of the day, with stealthy tread,
Leaving me baskets cover'd with white towels, swelling the house with their plenty,
Shall I postpone my acceptation and realization, and scream at my eyes,
That they turn from gazing after and down the road,
And forthwith cipher and show me a cent,
Exactly the contents of one, and exactly the contents of two, and which is ahead?