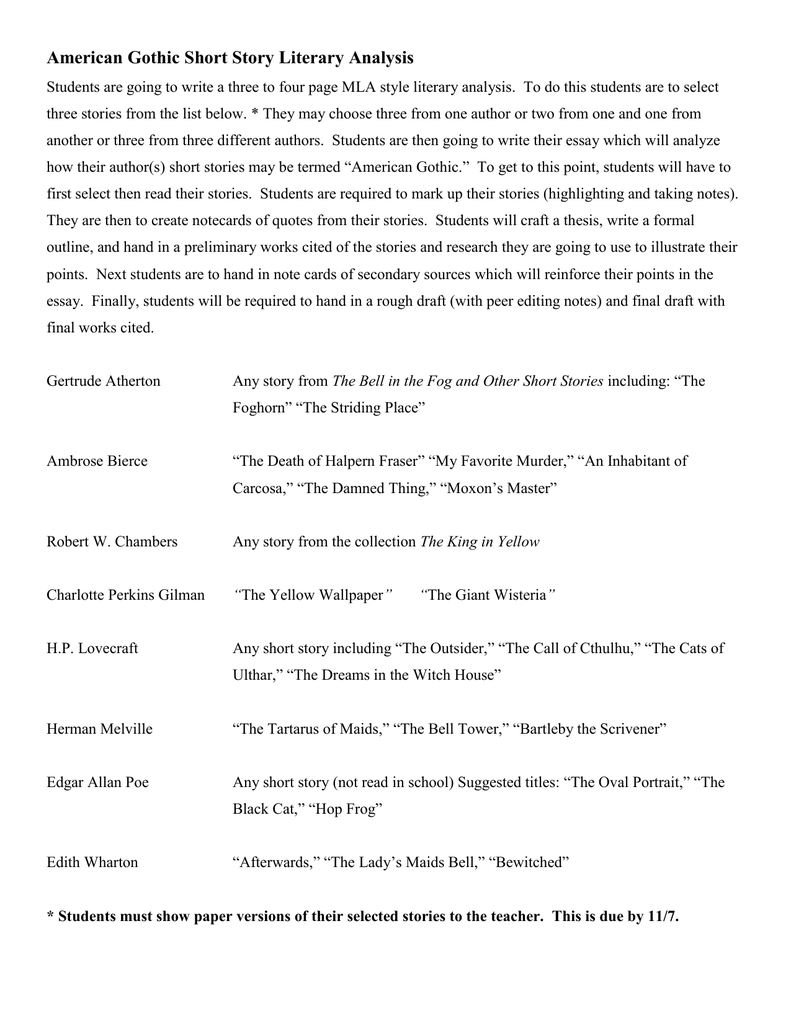 American Gothic Short Story Literary Analysis
Students are going to write a three to four page MLA style literary analysis. To do this students are to select
three stories from the list below. * They may choose three from one author or two from one and one from
another or three from three different authors. Students are then going to write their essay which will analyze
how their author(s) short stories may be termed "American Gothic." To get to this point, students will have to
first select then read their stories. Students are required to mark up their stories (highlighting and taking notes).
They are then to create notecards of quotes from their stories. Students will craft a thesis, write a formal
outline, and hand in a preliminary works cited of the stories and research they are going to use to illustrate their
points. Next students are to hand in note cards of secondary sources which will reinforce their points in the
essay. Finally, students will be required to hand in a rough draft (with peer editing notes) and final draft with
final works cited.
Gertrude Atherton
Any story from The Bell in the Fog and Other Short Stories including: "The
Foghorn" "The Striding Place"
Ambrose Bierce
"The Death of Halpern Fraser" "My Favorite Murder," "An Inhabitant of
Carcosa," "The Damned Thing," "Moxon's Master"
Robert W. Chambers
Any story from the collection The King in Yellow
Charlotte Perkins Gilman
"The Yellow Wallpaper"
H.P. Lovecraft
Any short story including "The Outsider," "The Call of Cthulhu," "The Cats of
"The Giant Wisteria"
Ulthar," "The Dreams in the Witch House"
Herman Melville
"The Tartarus of Maids," "The Bell Tower," "Bartleby the Scrivener"
Edgar Allan Poe
Any short story (not read in school) Suggested titles: "The Oval Portrait," "The
Black Cat," "Hop Frog"
Edith Wharton
"Afterwards," "The Lady's Maids Bell," "Bewitched"
* Students must show paper versions of their selected stories to the teacher. This is due by 11/7.