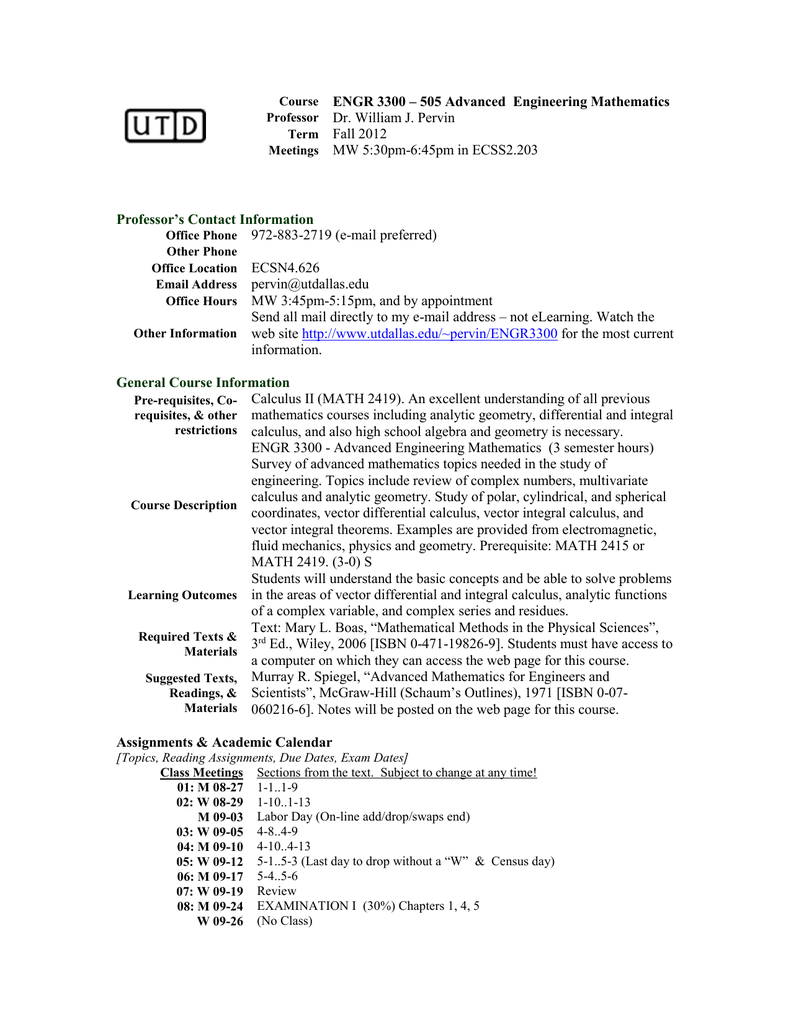 Course
Professor
Term
Meetings
ENGR 3300 – 505 Advanced Engineering Mathematics
Dr. William J. Pervin
Fall 2012
MW 5:30pm-6:45pm in ECSS2.203
Professor's Contact Information
Office Phone 972-883-2719 (e-mail preferred)
Other Phone
Office Location
Email Address
Office Hours
ECSN4.626
[email protected]
MW 3:45pm-5:15pm, and by appointment
Send all mail directly to my e-mail address – not eLearning. Watch the
Other Information web site http://www.utdallas.edu/~pervin/ENGR3300 for the most current
information.
General Course Information
Pre-requisites, Co- Calculus II (MATH 2419). An excellent understanding of all previous
requisites, & other mathematics courses including analytic geometry, differential and integral
restrictions calculus, and also high school algebra and geometry is necessary.
ENGR 3300 - Advanced Engineering Mathematics (3 semester hours)
Survey of advanced mathematics topics needed in the study of
engineering. Topics include review of complex numbers, multivariate
calculus and analytic geometry. Study of polar, cylindrical, and spherical
Course Description
coordinates, vector differential calculus, vector integral calculus, and
vector integral theorems. Examples are provided from electromagnetic,
fluid mechanics, physics and geometry. Prerequisite: MATH 2415 or
MATH 2419. (3-0) S
Students will understand the basic concepts and be able to solve problems
Learning Outcomes in the areas of vector differential and integral calculus, analytic functions
of a complex variable, and complex series and residues.
Text: Mary L. Boas, "Mathematical Methods in the Physical Sciences",
Required Texts &
3rd Ed., Wiley, 2006 [ISBN 0-471-19826-9]. Students must have access to
Materials
a computer on which they can access the web page for this course.
Suggested Texts, Murray R. Spiegel, "Advanced Mathematics for Engineers and
Readings, & Scientists", McGraw-Hill (Schaum's Outlines), 1971 [ISBN 0-07Materials 060216-6]. Notes will be posted on the web page for this course.
Assignments & Academic Calendar
[Topics, Reading Assignments, Due Dates, Exam Dates]
Class Meetings Sections from the text. Subject to change at any time!
01: M 08-27 1-1..1-9
02: W 08-29 1-10..1-13
M 09-03 Labor Day (On-line add/drop/swaps end)
03: W 09-05 4-8..4-9
04: M 09-10 4-10..4-13
05: W 09-12 5-1..5-3 (Last day to drop without a "W" & Census day)
06: M 09-17 5-4..5-6
07: W 09-19 Review
08: M 09-24 EXAMINATION I (30%) Chapters 1, 4, 5
W 09-26 (No Class)
09: M 10-01
10: W 10-03
11: M 10-08
12: W 10-10
13: M 10-15
14: W 10-17
15: M 10-22
16: W 10-24
17: M 10-29
18: W 10-31
19: M 11-05
20: W 11-07
21: M 11-12
22: W 11-15
11-19
11-21
23: M 11-26
24: W 11-28
25: M 12-03
26: W 12-05
27: M 12-10
28: W 12-12
Exam Dates and
Times
6-3..6-6
6-7..6-8
6-9
6-10
6-11
6-12
Review (Withdrawal ends)
EXAMINATION II (30%) Chapter 6
2-1..2-5
2-6..2-9
2-10..2-15
14-1..14-2
14-3
14-4
Fall Break &
Thanksgiving
14-5..14-6
14.7..14-8
14.9..14-11
Review
EXAMINATION III (40%) Chapters 2, 14
Examination I: 24 September (30%) 5:30pm-6:45pm (usual class M)
Examination II: 24 October (30%) 5:30pm-6:45pm (usual class W)
Examination III: 12 December (40%) 5:30pm-6:45pm (usual class W))
Course Policies
Grading (credit)
Criteria
Make-up Exams
Extra Credit
Late Work
Special Assignments
Class Attendance
Classroom
Citizenship
Field Trip Policies
UT Dallas Syllabus
Policies and
Procedures
On each examination, each question will be graded subjectively but as
uniformly as possible. The final score will then be analyzed subjectively but
on the basis of previous experience and equated to a letter grade. The letter
grades for the examinations will then be calculated and a final grade
assigned by strict calculation assigning numerical values to the letter grades.
Homework will not be graded but is absolutely essential if one wishes to pass
this course. Students should try even more than any suggested problems.
None given unless excellent medical excuse verified
None
Not accepted without excellent verified medical excuse
None
While not required, strongly recommended since examinations may include
material introduced only in class. Arrive on time!
General good behavior with cell phones silenced required. Questions are
encouraged! Playing on your computer is discouraged!
None
The information contained in the following link constitutes the University's
policies and procedures segment of the course syllabus.
Please go to http://go.utdallas.edu/syllabus-policies for these policies.
These descriptions and timelines are subject to change at the discretion of the Professor.