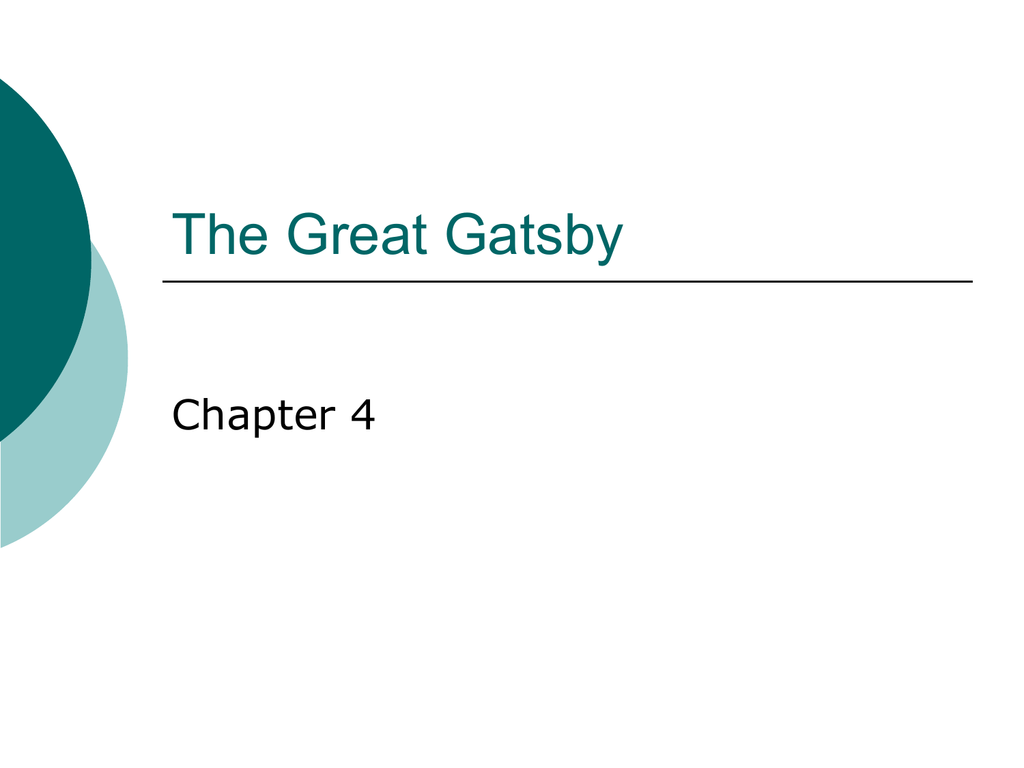 The Great Gatsby
Chapter 4
Quotes


"He was never quite still; there was
always a tapping foot somewhere or
the impatient opening and closing of
a hand"
Nick describes the ride to the city as
"disconcerting"

Why?
Gatsby takes Nick to lunch

"What's your opinion of me
anyhow?"


Why does Gatsby care what Nick thinks
of him?
What does Gatsby tell Nick about
himself and his life?
Meyer Wolfsheim

Wolfsheim is an
allusion to Arnold
Rothstein, a New
York crime kingpin
who was
notoriously blamed
for the Black Sox
Scandal which
tainted the 1919
World Series
Meyer Wolfsheim


We don't know much about
Wolfsheim-other than the world
series thing-but we aren't supposed
to
We do know that he is a business
associate of Gatsby's

What can we infer about Gatsby
because of his relationship with
Wolfsheim?
Quotes

"It never occurred to me that one
man could start to play with the
faith of fifty million people-with the
single-mindedness of a burglar
blocking a safe"
One October day in 1917…

What do we learn from Jordan
Baker's story?
A coincidence?

"It was a strange coincidence," I
said. "But it wasn't a coincidence at
all"

What things/events so far really
weren't coincidences?
Quotes

"There are only the pursued, the
pursuing, the busy, and the tired"
(Fitzgerald 79).




Who
Who
Who
Who
are
are
are
are
the
the
the
the
pursued?
pursuing?
busy?
tired?
Importance



Nick's disillusionment with
life/society
Shallowness of modern life
The pursuit of wealth, love,
happiness---is it worth it?

Reflects author's tone towards modern
life?