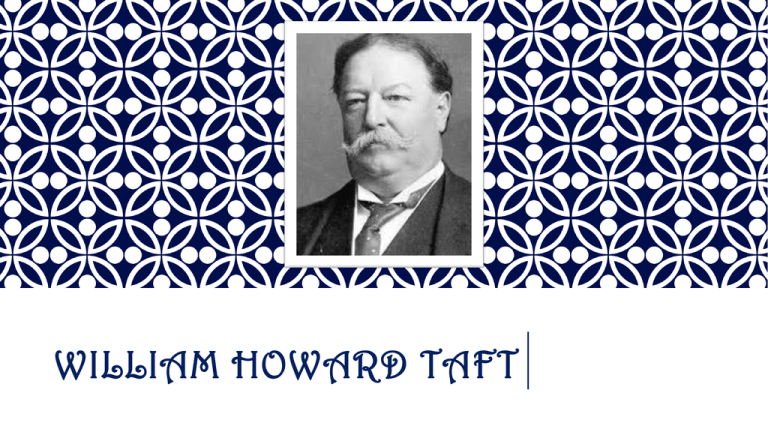 WILLIAM HOWARD TAFT
n-
TAFT'S LIFE
Date of birth- September 15, 1857
Where he was born- Cincinnati, Ohio
His family- Married: Helen Herron
- Children: He had three children
Education- He went to Yale at 17 and them onto law at the Cincinnati Law School
Death- March 8, 193o because of bad health
INTERESTING FACTS
Fact- He was the only U.S. President to first serve as President and then chief justice.
Fact- He was the largest person to serve as President. He was six feet tall and over
300 pounds.
Fact- He never really wanted to be the President and had to have his brothers and
family help persuade him into it.
HIS BUSINESS LIFE
-Jobs he has held- Governor of the Philippines
- Secretary of War
- Chief justice
- Judge
-Lawyer
 He was a Republican
HIS PRESIDENCY
 Election: He was elected in 1908 for the office of 1909-1913
 He served as President for one term
 His Vice President was James S. Sherman
He ran against William Jennings Bryan
Some facts/Accomplishments
- He had the first scientific research done on tariff rates
- Nearly twice as much "trust busting" prosecution violations for the Sherman
Antitrust act took place during Taft's four year term as there was during Roosevelt's
eight year term
- He took the first steps towards a federal budget by asking his Cabinet
members to give him a detailed list of their finical expenses
LIFE AFTER HIS PRESIDENCY
 He became of professor of constitutional law at Yale
 He was appointed to Chief justice of the Supreme Court
 He was appointed to chairman of the National War Labor Board
 Elected president of the American Bar Association
SUMMARY OF IT ALL
 I would have to say his greatest strength was that he did twice the "trust
busting" as Theodore Roosevelt. This is a strength because it shows that Taft
did this while he was in office for half the time Roosevelt was.
His greatest weakness would be that he didn't want to be president. He was
glad to leave office and this was his weakness because if he was unhappy in
office, he might not have been the best president or choice for the job.
 He wasn't considered a good president because of his unhappiness in office.
He once said, "I'm glad to be going. This is the lonesomest place in the world."
People knew of his unhappiness and I don't think this made him their favorite
President.
Works Cited
Burton, David H. "Taft, William Howard." World Book Student. World Book, 2015. Web. 18 Jan. 2015.
"William Howard Taft." History.com. A&E Television Networks, n.d. Web. 18 Jan. 2015.
Kelly, Martin. "William Howard Taft Biography - American History." N.p., n.d. Web. 18 Jan. 2015.