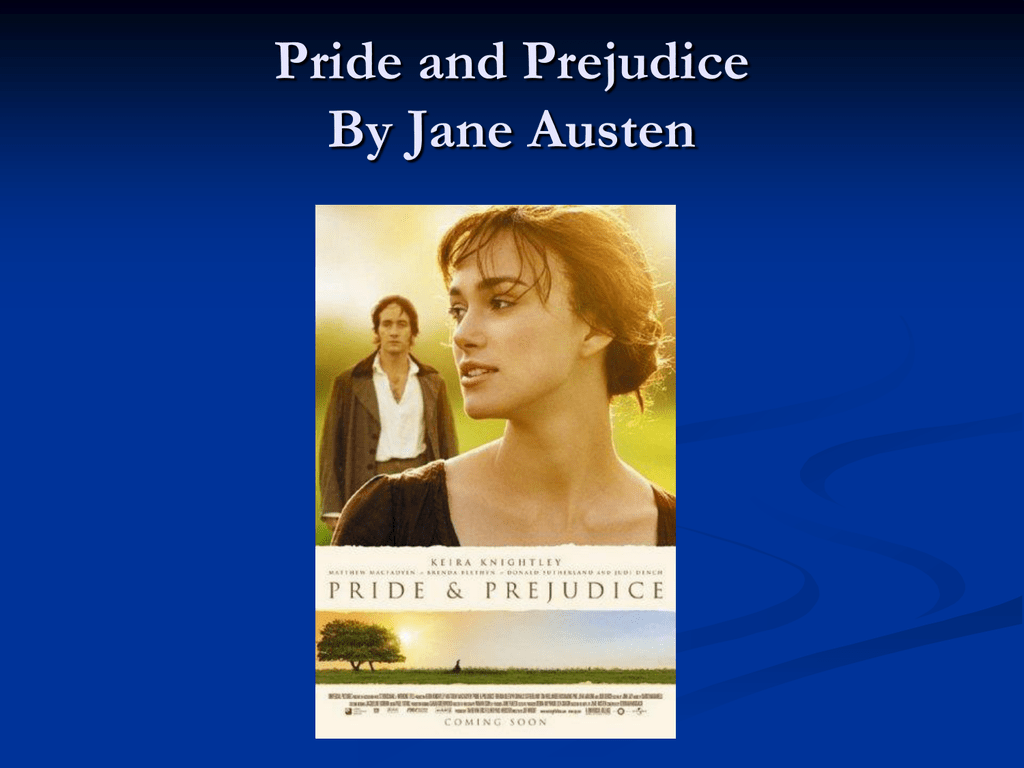 Pride and Prejudice
By Jane Austen
Author Background




Born in 1775 in a small town in
England
Grew up with 6 brothers and 1
sister, Cassandra, whom she
was close to.
Her family was very active in
literature (reading it aloud and
discussing it)
Father was a minister



When Jane was in her teens, she wrote parodies
of sentimental romance novels for her family.
Clearly, she was mocking the noble hero and the
melodramatic love plot
Her first novel published was Sense and Sensibility
in 1795 and in 1811 Pride and Prejudice was
published.



In 1801, she is said to have fallen in love with a
young minister who died suddenly.
When she was 26, she agreed to marry a wealthy
man but broke it off because she was not in love
with him, even though she would have been
wealthy for the rest of her life.
She never remarried but spent her life with
family and friends in the English countryside.



She published many more novels in her life
including Mansfield Park, Persuasion, and Emma
Austen died in 1817 at the age of 41 of a sudden
illness
Her works continued to grow in popularity and
many have been made into movies (Bridget Jone's
Diary, Clueless)
Themes in Austen's writing




Courtship and marriage—the difficulty of
following the social rules at the time
The narrow and rigid expectations of women
and men in society
Relationships and miscommunication between
men and women
The humor in the social rules of the time
Social background




During this time in England, women could not
pursue a career or occupation for money.
Their only choices were to marry or be poor.
Marrying for love was seldom an option
Women could not inherit money because it went
to the males in the family.



Because of this, many women devoted
themselves to "attracting" a husband.
They immersed themselves in ladylike arts such
as singing, playing the piano, drawing, painting,
and embroidering.
Education was not considered essential for
women because they would spend their lives in
the home
Setting


P&P takes place in England during this time.
(early 1800's)
This was known as the Regency Period or the
"age of elegance" because the Industrial
Revolution made it possible for many people to
become wealthy.
Emphasis on the arts and fashion
 Upper class wealth was to "show off" the money
 Many wealthy owned large country estates with
landscaped gardens and held elegant parties


However, there was a dark side: other people were
struggling to survive and were unemployed.





Women turned to prostitution
Child labor in factories
Gambling/brothels/alcoholism
Austen portrays the self-centeredness of the uppermiddle class who ignored the lower-class problems
She mocks their lifestyles and values through
observation of what she saw around her.
Romanticism






1785-1830 (in Europe)
Love of nature (nature heals)
Emphasis on individuality
Passion and emotion over reason
Contrasting and opposite images
Importance of solitude
The Characters



Mr. Bennet—father in the novel who has 5 daughters
and a modest estate but can't pass it on to them b/c
they are female
Mrs. Bennet—nagging mother whose only wish is to
marry her daughters off (preferably to someone rich)
Elizabeth—second oldest daughter and main character.
Lizzy is intelligent and spirited and is very insightful
into the character of other people



Jane—oldest daughter who is kind and caring.
She is close to Elizabeth and falls in love with
Mr. Bingley
Charles Bingley—kind, wealthy man who is in
love with Jane but is very influenced by his
friends, especially Mr. Darcy
Mr. Darcy—wealthy man who is a mystery to
Elizabeth but often appears snobbish and rude



Mary—3rd youngest daughter who prefers
reading over socializing
Catherine (Kitty)—4th youngest daughter who
loves to flirt with older men and socialize
Lydia—youngest daughter who is immature and
irresponsible (along with Kitty)


Wickam—a handsome and wealthy man who
Elizabeth is first attracted to but hides many
secrets
Caroline Bingley-Bingley's snobbish sister who
is beautiful and obviously attracted to Darcy.