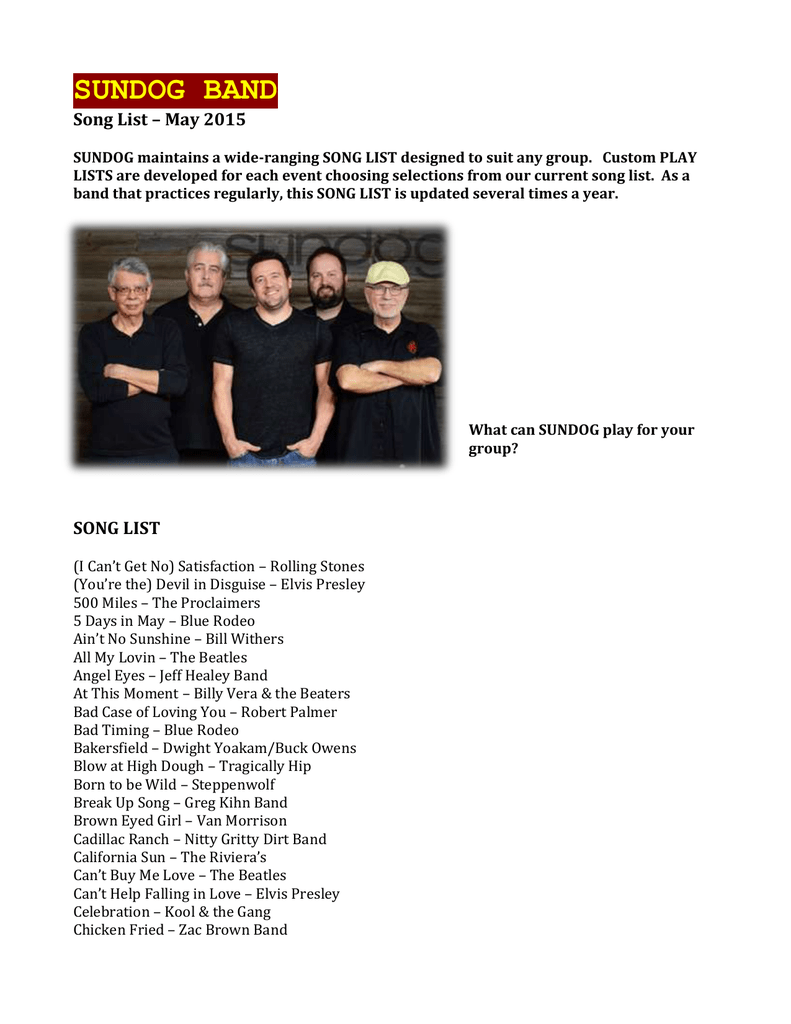 SUNDOG BAND
Song List – May 2015
SUNDOG maintains a wide-ranging SONG LIST designed to suit any group. Custom PLAY
LISTS are developed for each event choosing selections from our current song list. As a
band that practices regularly, this SONG LIST is updated several times a year.
What can SUNDOG play for your
group?
SONG LIST
(I Can't Get No) Satisfaction – Rolling Stones
(You're the) Devil in Disguise – Elvis Presley
500 Miles – The Proclaimers
5 Days in May – Blue Rodeo
Ain't No Sunshine – Bill Withers
All My Lovin – The Beatles
Angel Eyes – Jeff Healey Band
At This Moment – Billy Vera & the Beaters
Bad Case of Loving You – Robert Palmer
Bad Timing – Blue Rodeo
Bakersfield – Dwight Yoakam/Buck Owens
Blow at High Dough – Tragically Hip
Born to be Wild – Steppenwolf
Break Up Song – Greg Kihn Band
Brown Eyed Girl – Van Morrison
Cadillac Ranch – Nitty Gritty Dirt Band
California Sun – The Riviera's
Can't Buy Me Love – The Beatles
Can't Help Falling in Love – Elvis Presley
Celebration – Kool & the Gang
Chicken Fried – Zac Brown Band
Colder Weather – Zac Brown Band
Come Dancin – The Kinks
Copenhagen – Robert Earl Keen
Copperhead Road – Steve Earle
Could I Have this Dance – Anne Murray
Courage – Tragically Hip
Does Your Mother Know – Abba
Don't Let the Sun Go Down on Me – Elton John
Drift Away – Dobie Gray
Eight Days a Week – The Beatles
End of the Line – Travelling Willbearys
Farmer Song – Murray McLaughlin
Fast as You - Dwight Yoakam
Fishin' in the Dark – Nitty Gritty Dirt Band
Flowers on the Wall – Eric Heatherly
Fly Me to the Moon – Sinatra
Follow You Down – Gin Blossoms
Footloose – Kenny Loggins
Fox on the Run – Good Brothers
Get Back – The Beatles
Good Riddance (Time of Your Life) – Green Day
Good Time – Alan Jackson
Guitars, Cadillacs – Dwight Yoakam
Have You Ever Seen Rain? – CCR
Hello – Lionel Ritchie
Here for a Good Time – Trooper
Hey Brother – Avicii
Ho Hey – Lumineers
Hey Jude – The Beatles
Hey Soul Sister – Train
Hollywood Nights – Bob Seger
Home – Michael Buble
Home – Phillip Phillips
I Fought the Law – Bobby Fuller Four
I Knew the Bride – Nick Lowe
I Put a Spell on You – CCR
I Shot the Sheriff – Eric Clapton
I Will Wait – Mumford & Sons
Imagine – John Lennon
Johnny B Good – Chuck Berry
Keep Your Hands to Yourself – Georgia Satellites
Knockin on Heaven's Door – Bob Dylan
Kryptonite – 3 Doors Down
Last Date – Floyd Cramer
Last Saskatchewan Pirate – Captain Tractor
Learning to Fly – Tom Petty
Let it Be – The Beatles
Light My Fire – The Doors
Lost Together – Blue Rodeo
Love Me Do – The Beatles
Margaritaville – Jimmy Buffet
Mercury Blues – Alan Jackson
Mustang Sally – Wilson Pickett
New Orleans is Sinking – Tragically Hip
Ordinary Day – Great Big Sea
Out Last Night – Kenny Chesney
Paranoid – Black Sabbath
Peaceful Easy Feeling – Eagles
Pride & Joy – Stevie Ray Vaughn
Proud Mary – CCR
Red Red Wine – UB40
Ring of Fire – Johnny Cash
Rock Around the Clock – Bill Hailey & the Comets
Rocky Top – Nitty Gritty Dirt Band
Round Here – Counting Crows
Rude – Magic!
Runaway – Del Shannon
Sky Full of Stars – Coldplay
Stepping Out – Joe Jackson
Stuck in the Middle – Jeff Healey Band
Summer of '69 – Brian Adams
Superstition – Stevie Wonder
Surfin USA – The Beach Boys
Suspicious Minds – Elvis Presley
Sweet Caroline – Neil Diamond
Sweet Home Alabama – Lynyrd Skynyrd
Take Me in Your Arms – The Doobie Brothers
That's My Kind of Night – Luke Bryan
The Dance – Garth Brooks
The Letter – Joe Cocker
Thirsty Ears – Powder Blues Band
This Will be the Last Time – The Rolling Stones
'Til There was You – The Beatles
To Love Somebody – The Bee Gees
Toes – Zac Brown Band
Twisting the Night Away – Sam Cooke
Try – Blue Rodeo
Twist and Shout – The Beatles
Twisting the Night Away – Sam Cooke
Unchained Melody – Righteous Brothers
Wagon Wheel – Darius Rucker
Wake Me Up – Avicii
Walk of Life – Dire Straits
What a Wonderful World – Louis Armstrong
When I'm Up (I Can't Get Down) – Great Big Sea
Whiter Shade of Pale – Procol Harum
Wonderwall – Ryan Adams
YMCA – Village People
You Could Pull Me Through – Jim Cuddy
NOTE: If requested by a group, SUNDOG can also play several variety dance-step songs including
several polkas, a schottische, a 7-step, a butterfly, the bird dance, and 3-step waltzes, etc.