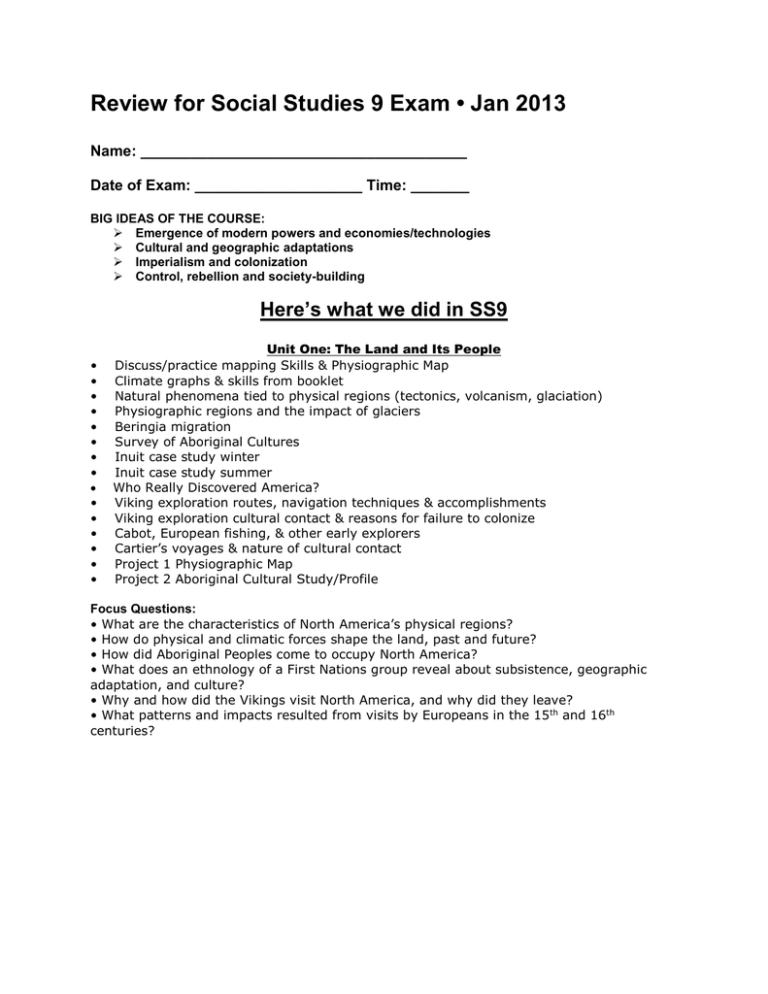 Review for Social Studies 9 Exam • Jan 2013
Name: _______________________________________
Date of Exam: ____________________ Time: _______
BIG IDEAS OF THE COURSE:
 Emergence of modern powers and economies/technologies
 Cultural and geographic adaptations
 Imperialism and colonization
 Control, rebellion and society-building
Here's what we did in SS9
•
•
•
•
•
•
•
•

•
•
•
•
•
•
Unit One: The Land and Its People
Discuss/practice mapping Skills & Physiographic Map
Climate graphs & skills from booklet
Natural phenomena tied to physical regions (tectonics, volcanism, glaciation)
Physiographic regions and the impact of glaciers
Beringia migration
Survey of Aboriginal Cultures
Inuit case study winter
Inuit case study summer
Who Really Discovered America?
Viking exploration routes, navigation techniques & accomplishments
Viking exploration cultural contact & reasons for failure to colonize
Cabot, European fishing, & other early explorers
Cartier's voyages & nature of cultural contact
Project 1 Physiographic Map
Project 2 Aboriginal Cultural Study/Profile
Focus Questions:
• What are the characteristics of North America's physical regions?
• How do physical and climatic forces shape the land, past and future?
• How did Aboriginal Peoples come to occupy North America?
• What does an ethnology of a First Nations group reveal about subsistence, geographic
adaptation, and culture?
• Why and how did the Vikings visit North America, and why did they leave?
• What patterns and impacts resulted from visits by Europeans in the 15th and 16th
centuries?
•
•
•
•
•
•
•
•
•
•
•
•
•
•
•
•
•
Unit Two: Britain and North America
Europe & the Enlightenment
Post-Renaissance state of Europe & the world
The philosophes & other political views
Britain in the 1700s & the Divine Right of Kings
Civil War
Aftermath & Parliamentary Democracy
Search for the Northwest Passage
Hudson Bay Company
Conditions for Industrialization & Change in Agriculture
Capitalism & Steam (slideshow)
Textiles (slideshow)
Transportation (slideshow)
Factory System
Child Labour & Assembly Line simulation
Impact on Society & Industrialization in other countries
Heritage Skills/Technology Project
Map of Europe (basic)
Focus Questions:
• How did European and British ideas of self, state, and the world change after the
Enlightenment?
• How did the British transition from a monarchy to a limited democracy?
• What resulted from the quest for a Northwest Passage to the Orient?
• How did the Hudson Bay Company come to be?
• How was Britain transformed into an industrial nation?
• What was lost and gained through the Industrial Revolution?
Unit Three: France and North America
•
•
•
•
•
•
•
•
•
•
•
•
•
•
•
•
•
Feudal French Society
The Peasants and the Bourgeosie
Costly Kings & Queens (include colonial holdings)
Champlain, Interior Exploration & Fur Trade
Port Royal and Quebec
Coureurs de Bois
Jesuit Missions
Settlement of New France
Royal Colony
The Seigneury
Life for the Habitants
French Revolution & Napoleonic Europe
o Early (Crisis - Estates General - Oath - Bastille - Declaration - Constitution)
o Middle (Jacobins - Sans Culotte - End of Monarchy
o End (Reign of Terror - The Directory - Napoleon)
Napoleon Gains
Europe & Nationalism
Napoleon Fails
Cultural Landscapes Project
Map of Europe (add water features, rivers and mountains)
Focus Questions:
• What was dysfunctional about feudal France?
• How successful were the early French attempts at colonization?
• How did official French colonialism change North America?
• How did French culture evolve and adapt in its new setting?
• How did the French transition from a monarchy to a democracy?
• Why did political reform take so long and cost so much
• Was Napoleon true to the revolutionary ideals or just a dictator?
Unit Four: Struggle for Control of a Continent
French-English Wars
• William, Anne, and George's War
• Marsh-draining, Expulsion of the Acadians
• Battle for Louisbourg
• City of Quebec Contour Activity & Introduce Assignment
• Battle of Quebec
• Montreal, Military Rule, Treaty of Paris, Royal Proclamation
• BNA and Quebec Act
• Intolerable Acts, Revolt, and American Declaration of Independence
• American Revolution ends and Loyalists flee
• Results and changes in Canada, Constitution Act
• War of 1812 and changes to international relationships
• Exploration & Trade Rivalries
• Northwest Company
• Later Hudson Bay & Interior Exploration
• Comparing routes & journals: Mackenzie, Fraser, Thompson, Cook, Vancouver
• Battle Plan for the capture or defense of Quebec
Focus Questions:
• How did key places in North America change hands between the French and English
between 1689-1763?
• How and why did the French lose New France?
• Why were the Americans ready to throw off British rule when BNA was not?
• How did the Americans transition from a colony to a republic?
• How did American revolt and the aftermath change Canada?
• What differences marked the rivals in the inland fur-trade?
• How was the interior of Western Canada mapped?
• How did Britain come to know and claim the northwest coast of North America?