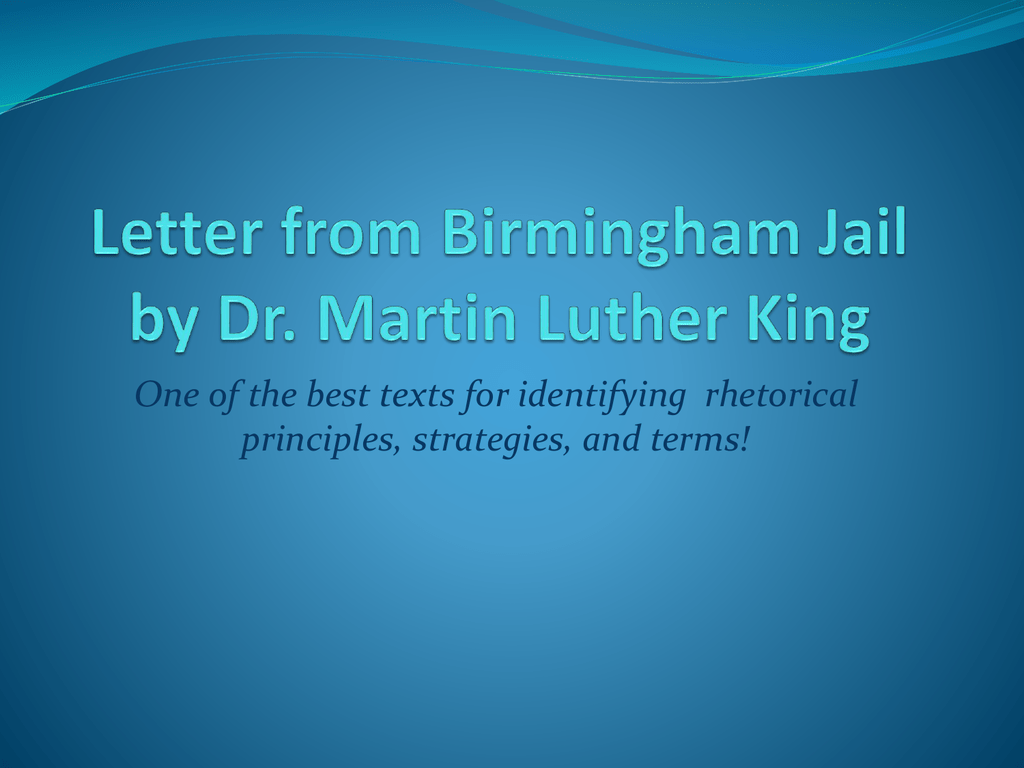 One of the best texts for identifying rhetorical
principles, strategies, and terms!
"Public Statement by
Eight Alabama
clergymen" published
in the Post Herald.
The clergy make 4
specific accusations:
•King is an outsider.
•He should negotiate for
change rather than
demonstrate.
•Their actions are
"untimely"
•There is NO justification
for breaking the law.
•Paragraph 1 is an introduction
•Paragraphs 2-3 King explains why he is NOT an outsider.
•Paragraphs 5-11 King explains organization has TRIED to negotiate, and will
again.
•Paragraphs 12-14 King refutes the accusation that his organization's actions
are "untimely".
•Paragraphs 15-22 King presents an argument justifying civil disobedience.
King deftly presents his agreement with the clergymen, but redefines the terms
for them.
Respectful, courteous
*Remember: Dr. King was not then the icon that he is
now.
Rhetorical Strategies
 In paragraph 25:
 Series of rhetorical




questions crafted with a
parallel structure and
repetition.
Alludes to Socrates and
biblical events.
Use of analogy
Repeats the word
precipitate to emphasize
cause and effect.
Final sentence is antithesis
 In paragraph 31
 Use of irony with
"extremist"
 Repeats the word extremist
so many times it becomes
as ordinary as he claims.
 The final sentence is an
understatement, which
emphasizes the irony.
Repetition
 Paragraph 44: structure
of a complex sentence
beginning with an "if"
clause and the phrase "I
have no…"
 The conjunction "Before"
in two sentences.
 Repetition is often used
in sermons to encourage
audience members to
remember and, in some
communities, to
respond.
SOAP: Let's clarify!
 Subject: general
topic/main idea.
 Occasion: Time, place,
historical context,
circumstances that give
rise to the text
 Audience: Individual(s) or
group(s) to who the text is
supposed to appeal
 Purpose: Writer's or
speaker's intended reason
for writing or delivering
the text, what the speaker
hopes to achieve
 Now let's make it SOAPS
 Speaker: Identity of the
voice of the text, including
relevant characteristics
such as age, social class,
education, reputation
 Or SOAPSTone:
 Include the attitude of the
speaker toward his or her
subject.