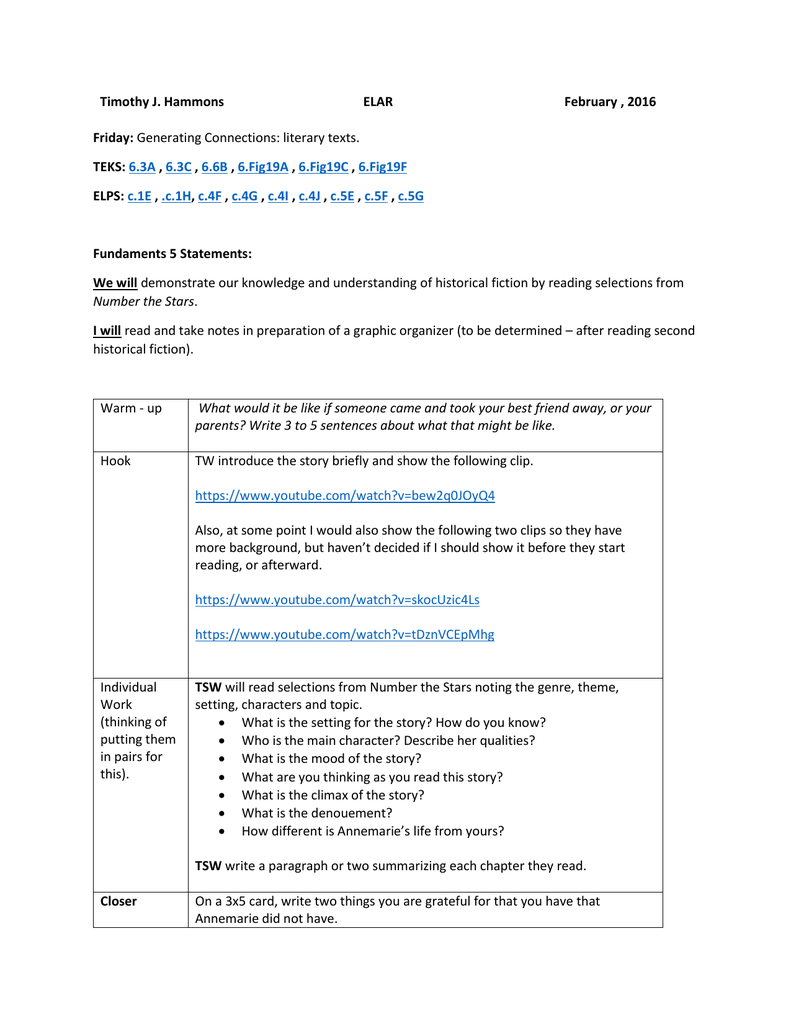 Timothy J. Hammons
ELAR
February , 2016
Friday: Generating Connections: literary texts.
TEKS: 6.3A , 6.3C , 6.6B , 6.Fig19A , 6.Fig19C , 6.Fig19F
ELPS: c.1E , .c.1H, c.4F , c.4G , c.4I , c.4J , c.5E , c.5F , c.5G
Fundaments 5 Statements:
We will demonstrate our knowledge and understanding of historical fiction by reading selections from
Number the Stars.
I will read and take notes in preparation of a graphic organizer (to be determined – after reading second
historical fiction).
Warm - up
What would it be like if someone came and took your best friend away, or your
parents? Write 3 to 5 sentences about what that might be like.
Hook
TW introduce the story briefly and show the following clip.
https://www.youtube.com/watch?v=bew2q0JOyQ4
Also, at some point I would also show the following two clips so they have
more background, but haven't decided if I should show it before they start
reading, or afterward.
https://www.youtube.com/watch?v=skocUzic4Ls
https://www.youtube.com/watch?v=tDznVCEpMhg
Individual
Work
(thinking of
putting them
in pairs for
this).
TSW will read selections from Number the Stars noting the genre, theme,
setting, characters and topic.
 What is the setting for the story? How do you know?
 Who is the main character? Describe her qualities?
 What is the mood of the story?
 What are you thinking as you read this story?
 What is the climax of the story?
 What is the denouement?
 How different is Annemarie's life from yours?
TSW write a paragraph or two summarizing each chapter they read.
Closer
On a 3x5 card, write two things you are grateful for that you have that
Annemarie did not have.
Vocabulary
Vocabulary
Wednesday
Thursday
TBD. I plan on reading the book for vocabulary this weekend.