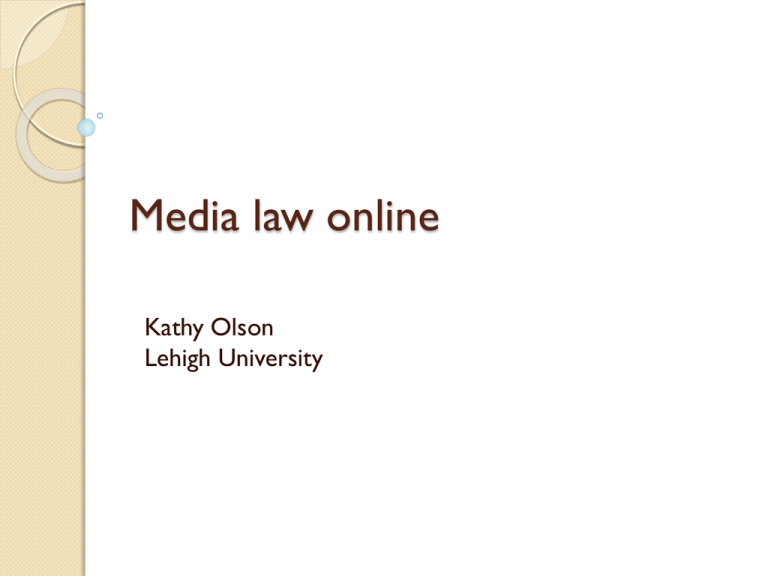 Media law online
Kathy Olson
Lehigh University

What laws apply to online content?

What liability do online publishers have
for:
◦ something they post?
◦ something others post?
Media law online
Rules for online content same as print:
 Blog posts
 Blog comments
 Facebook
 E-mail message
 Tweets
Media law torts
Libel
 Invasion of privacy

◦
◦
◦
◦

Intrusion
False light
Misappropriation
Publication of private facts
Copyright
Libel
Libel is:
- A false statement of fact
- "of and concerning the plaintiff"
- that hurts the plaintiff's reputation
- and was published by the defendant
- with the necessary degree of fault:
◦ Negligence for private figures
◦ "Actual malice" for public officials, public
figures
"Twibel"
Simorangkir v. Love
(Calif. state court, 2009)
Libel for bloggers
Ronson v. Lavandeira
(Calif. state court, 2007)
Libel
Republication rule
 BUT: Section 230 of the Communications
Decency Act:

◦ Protects publishers of online content from
libel suits based on user-generated content
◦ Protection may remain even if you moderate
or edit that content
Privacy
Intrusion
 Misappropriation

◦ Must be commercial use of name or likeness
◦ Newsworthiness is a defense

False light
◦ Must be false
◦ Actual malice required for public figures

Publication of private facts
◦ Newsworthiness is a defense
Copyright
Protects "original works of authorship"
that are "fixed in a tangible medium"
 Copyright owner controls the right to
copy, display, distribute and make
"derivative works"
 Damage awards can be substantial
 The fair use doctrine offers some
protection

Is it fair use?
X17 Inc. v. Lavandeira (Calif. federal
court, 2006)

The purpose and character of the use

The nature of the copyrighted work
used

The amount of the work used in
relation to the copyright as a whole

The impact of the use upon the
potential value of the work
Copyright
The Digital Millennium Copyright Act
protects bloggers from liability for third-party
infringement IF they:
Establish a procedure for "notice and
takedown."
 Have no knowledge of infringing material on
site, and
 Remove infringing material when notified by
copyright owner.

Questions?