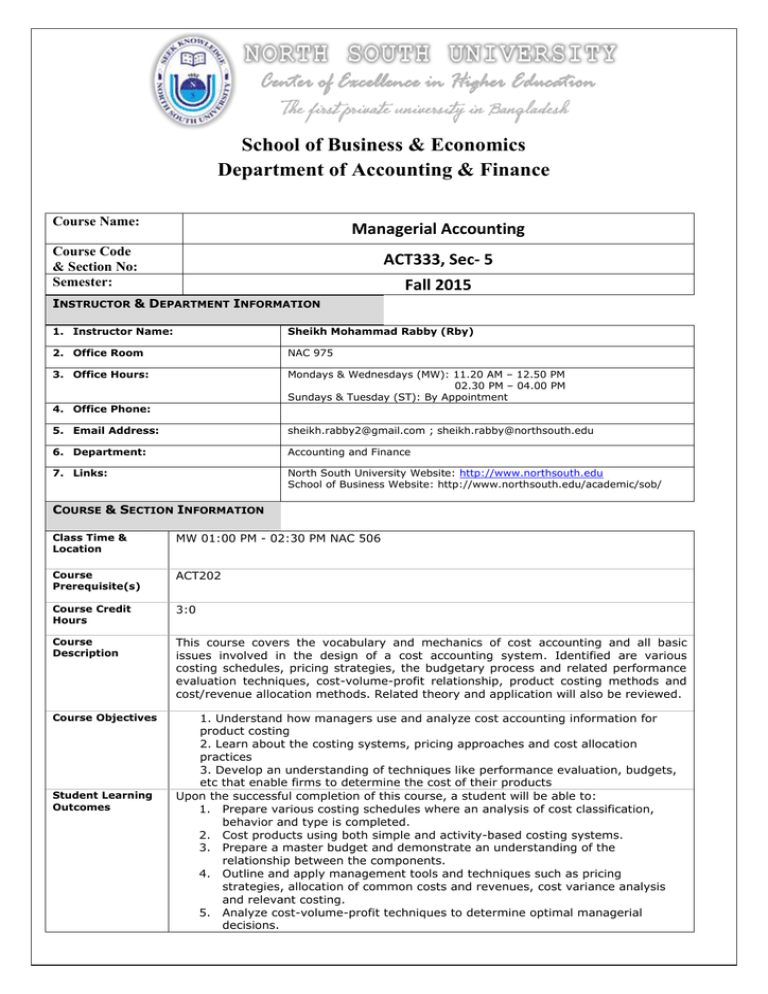 School of Business & Economics
Department of Accounting & Finance
Course Name:
Managerial Accounting
Course Code
& Section No:
Semester:
ACT333, Sec- 5
Fall 2015
INSTRUCTOR & DEPARTMENT INFORMATION
1. Instructor Name:
Sheikh Mohammad Rabby (Rby)
2. Office Room
NAC 975
3. Office Hours:
Mondays & Wednesdays (MW): 11.20 AM – 12.50 PM
02.30 PM – 04.00 PM
Sundays & Tuesday (ST): By Appointment
4. Office Phone:
5. Email Address:
sheikh.rabby2@gmail.com ; sheikh.rabby@northsouth.edu
6. Department:
Accounting and Finance
7. Links:
North South University Website: http://www.northsouth.edu
School of Business Website: http://www.northsouth.edu/academic/sob/
COURSE & SECTION INFORMATION
Class Time &
Location
MW 01:00 PM - 02:30 PM NAC 506
Course
Prerequisite(s)
ACT202
Course Credit
Hours
3:0
Course
Description
This course covers the vocabulary and mechanics of cost accounting and all basic
issues involved in the design of a cost accounting system. Identified are various
costing schedules, pricing strategies, the budgetary process and related performance
evaluation techniques, cost-volume-profit relationship, product costing methods and
cost/revenue allocation methods. Related theory and application will also be reviewed.
Course Objectives
1. Understand how managers use and analyze cost accounting information for
product costing
2. Learn about the costing systems, pricing approaches and cost allocation
practices
3. Develop an understanding of techniques like performance evaluation, budgets,
etc that enable firms to determine the cost of their products
Upon the successful completion of this course, a student will be able to:
1. Prepare various costing schedules where an analysis of cost classification,
behavior and type is completed.
2. Cost products using both simple and activity-based costing systems.
3. Prepare a master budget and demonstrate an understanding of the
relationship between the components.
4. Outline and apply management tools and techniques such as pricing
strategies, allocation of common costs and revenues, cost variance analysis
and relevant costing.
5. Analyze cost-volume-profit techniques to determine optimal managerial
decisions.
Student Learning
Outcomes
LEARNING RESOURCES AND TEXTBOOK(S)
Text Book(s)
Author
Title
Charles T. Horngren,
Srikant M. Datar,
George Foster, Madhav
Rajan & Christopher
Ittner
Cost Accounting - A Managerial
Emphasis
Edition & Year
13th edition;
2009
Publisher
Pearson
Education, Inc.
ISBN
978-81-2033564-6
Others (Reference Books, CD ROMS, DVDs, e-Library, Internet, Articles, …)
Resource Type
Virtual Learning
Description
http://rbynsu.weebly.com/
Type
Comments
Website
TEACHING STRATEGY (Online, classroom, blended, selfdirected through CD, web-based courses and DVD,…)
The course will be based on the assigned textbook, class lectures and PowerPoint slides. Classes will be
conducted through various activities including presentation of concepts, cases reflecting real world
context and project. Students are expected to actively involve and to take initiative for their own learning
experience.
ASSESSMENT STRATEGY AND GRADING SCHEME
Grading tool
Points
Class Attendance
5%
Assignments
5%
Project
20%
Presentation
10%
Midterm I
20%
Midterm II
20%
Final Exam
20%
Please Refer to NSU Student Handbook, Section: "Grading Policy"
CLASSROOM RULES OF CONDUCT
1. You may use your laptops in the class for class related work. Do not use your laptop for non-class
related work or in any manner that will be distracting to other students or the instructor.
2. Use of cell phones in class is not permitted.
3. Students are advised to frequently refer to the Student Handbook of North South University.
4. Academic Integrity Policy:
School of Business does not tolerate academic dishonesty by its students. At minimum, students must
not be involved in cheating, copyright infringement, submitting the same work in multiple courses,
significant collaboration with other individuals outside of sanctioned group activities, and fabrications.
Students are advised that violations of the Student Integrity Code will be treated seriously, with special
attention given to repeated offences.
Please Refer to NSU Student Handbook, Sections: "Disciplinary Actions" and "Procedures and
Guidelines".
ASSIGNMENTS POLICY
Assignments will be announced and done in the class. There will be NO MAKE-UP if you miss the class
assignments.
GROUP PROJECTS POLICY
There will be a group project for this class and the project will also include a group presentation. Each group
(between 4-5 students) will submit a final report (electronic copy). Each team will also present the project for
15 to 20 minutes. More details about the structure, components, time and criteria for assessment of the
project will be announced during the semester.
EXAMS & MAKE UP POLICY
Make-up exams are not permissible but may be considered on the basis of documented illness or emergency
situation. If you do happen to miss an exam and can show legitimate reason, then you will be allowed to sit for
a COMPREHENSIVE FINAL EXAM. You must submit a typed application stating reason for absence and
requesting to sit for the comprehensive exam. The comprehensive exam will include questions of Final and
questions from the Midterm exam missed. There will be NO MAKE-UP for the Final exam.
ATTENDANCE POLICY
Students are required and expected to attend all classes and participate in class discussions. North South
University mandates to fail students who are absent 25% or more from their classes, even if such absences are
excusable.
Please Refer to NSU Student Handbook, Section: "Study Principles and Policies"
COMMUNICATION POLICY
All communications should take place using the instructor's email. Announcements in the blackboard will
override any statement made here or in any other handouts. It is the student's responsibility to be aware of
any announcements made via Website.
APPROPRIATE USE POLICY
All members of the North South University community must use electronic communications in a responsible
manner. The University may restrict the use of its computers and network systems for electronic
communications subject to violations of university policies/codes or local laws or national laws. Also, the
university reserves the right to limit access to its networks through university-owned or other computers, and
to remove or limit access to material posted on university-owned computers.
STUDENTS WITH SPECIAL NEEDS
North South University will provide educational opportunities that ensure fair, appropriate and reasonable
accommodation to students who have disabilities/special needs that may affect their ability to participate in
course activities or meet course requirements. Students with disabilities are encouraged to contact their
instructors to ensure that their needs are met. The University through its Special Need section will exert all
efforts to accommodate special needs.
Please Refer to NSU Student Handbook, Section: "Special Needs Services"
STUDENTS SUPPORT AND LEARNING RESOURCES
A. SOB-Learning Center:
B. The University Student Learning Support Center (SLSC): These centers provide academic support services
to students at NSU. The SLSC is a supportive environment where students can seek assistance with
academic coursework, writing assignments, transitioning to college academic life, and other academic
issues. SLSC programs include: Peer Tutoring, the Writing Lab, Writing Workshops, and Academic Success
Workshops. Students may also seek confidential academic counseling from the professional staff at the
Center.
Please Refer to NSU Student Handbook, Section: "Student Leaning Support Center"
STUDENTS COMPLAINTS POLICY
Students at North South University have the right to pursue complaints related to faculty, staff, and other
students. The nature of the complaints may be either academic or non-academic. For more information about
the policy and processes related to this policy, you may refer to the students' handbook.
COURSE CONTENTS &SCHEDULE
Topics
Introduction
An Introduction to Cost Terms and Purposes
Job Costing
Activity-Based Costing and Activity-Based Management
Assignment 1
Midterm 1
Master Budget and Responsibility Accounting
Pricing Decisions and Cost Management
Allocation of Support-Department Costs, Common Costs and Revenues
Spoilage, Rework and Scrap
Midterm 2
Flexible Budgets, Direct-Cost Variances and Management Control
Cost-Volume-Profit Analysis
Decision Making and Relevant Information
Presentations
Final Exam
Week
1
2
3
4
5
6
7
8
9
10
11
12
13
Chapters
2
4
5
6
12
15
18
7
3
11
-
Note: The instructor reserves the right to make changes to the syllabus if necessary.