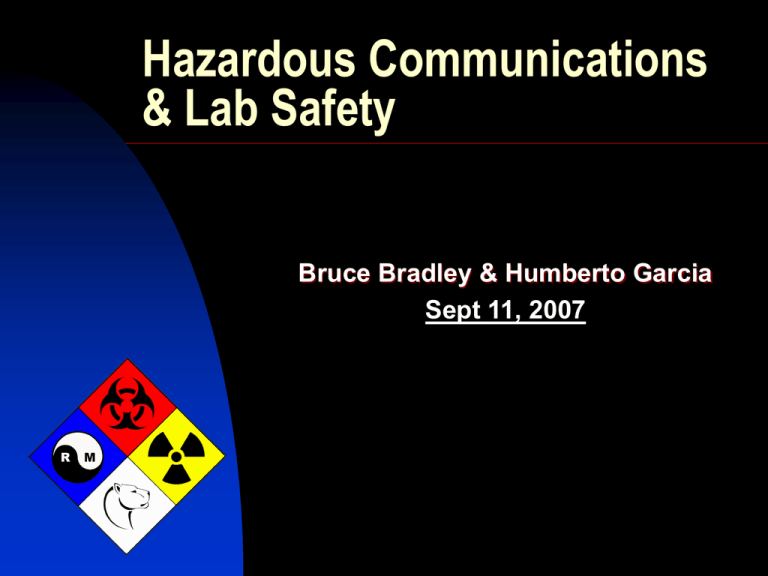 Hazardous Communications
& Lab Safety
Bruce Bradley & Humberto Garcia
Sept 11, 2007
Hazardous
Communications & Lab
Safety









Title 8 CCR, 5194
Smoking Policy
Chemical Inventory
MSDS's
Hazard Properties
Labeling
Emergency Response
Hazardous Materials & Waste
Laboratory Practices
Title 8 CCR, 5191 & 5194

(1) This section requires manufacturers
or importers to assess the hazards of
substances which they produce or
import, and all employers to provide
information to their employees about the
hazardous substances to which they
may be exposed, by means of a hazard
communication program, labels and
other forms of warning, material safety
data sheets, and information and
training. In addition, this section requires
distributors to transmit the required
information to employers.
8 Elements of the IIPP








IIPP Responsibility - University President and RM&S
Compliance – 8CCR3203, safe work practices
Communication –We all communicate about safety
Accident/Exposure Investigation – Prevention
Hazard Identification – On all levels
Hazard Mitigation – Risk assessments
Training – Best practices and regulatory compliance
Documentation – Maintenance and retention of records
Campus Non-Smoking
Policy

Smoking is allowed only in "Designated
areas"

Designated areas





Visible by signage
At or around each university building
Smoking Cops = Peer pressure
Any other locations are against university
policy
See the RM&S website for more
information on the policy and procedure.
Hazardous Materials
Label
Isopropyl Alcohol
X
X
X
X
X
Physical/Health Hazards











Explosive
Flammable
Combustible liquid/gas
Water reactive
Oxidizer
Organic peroxide
Unstable
Corrosive
Sensitizer
Irritant
Toxic
NFPA




Health
Flammability
Reactivity
Special
hazard
Biohazardous Material
"Radioactive Material"
NFPA




Health
Flammability
Reactivity
Special hazard
Identification of Health
Hazard
4 Materials that on very short exposure could
cause death or major residual injury
3 Materials that on short exposure could cause
serious temporary or residual injury
2 Materials that on intense or continued (not
chronic) exposure could cause temporary
incapacitation or possible residual injury
1 Materials that on exposure would cause irritation
by only minor residual injury
0 No Health Hazard
Identification of
Flammability Hazard
4 Materials that will rapidly or completely vaporize
at atmospheric pressure and normal ambient
temperature
3 Liquids and solids that can be ignited under
almost all ambient temperature conditions
2 Materials that must be moderately heated or
exposed to relatively high ambient temperatures
before ignition can occur
1 Materials that must be preheated before ignition
can occur
0 No Flammable Properties
Identification of
Reactivity Hazard
4 Materials that are readily capable of detonation or of
explosive decomposition or reaction at normal
temperatures
3 Materials that are capable of detonation or explosive
reaction but require a strong initiating source
2 Materials that readily undergo violent chemical
change at elevated temperatures and pressures or
which react violently with water or which may form
explosive mixtures with water
1 Materials that are normally stable, but which can
become unstable
0 Non Reactive
Example - NFPA

Isopropyl Alcohol
Slightly Toxic
 Highly Flammable
 Not Reactive
 No Special Hazard

1
3
0
RM&S Preference
Labels can be obtained through lab technicians or RM&S
MSDS



Material Safety Data Sheets
Available in RM&S office, designated
areas in Science Halls and with 3E
on demand
Why are they important?
MSDS Contents

Chemical Id

Synonyms

Hazardous
Ingredients





Appearance and
odor
Fire & Explosion
Data

Flash-point
Health Hazards



PEL, TLV
Physical Data
Signs and
symptoms
Reactivity data
Spill Procedures


Notify Supervisor
Special
Protection


Incompatibles
PPE
Special
Precautions
Controls



Engineering controls:
-hoods, cabinets, safety cans, trays
Work practices:
-operating procedures
Personal protective equipment:
-safety glasses, lab coats, gloves, no
open-toed shoes
Personal Protective
Equipment







PPE
Gloves
Goggles
Lab Coats
Face Shields
Safety glasses
Coveralls
Types of Emergencies









Medical emergency
Fire
Chemical spill
Biohazardous material spill
Radioactive material spill
Bomb threat
Earthquake
Power outage
Flood
Emergency Equipment

First-Aid kits

Spill kits

Safety showers

Eyewash
stations

Fire
extinguishers

Flashlights

Emergency Exits
First Aid

Eyewash


Shower


remove
contaminated
clothing
1st Aid Kits


Minimum of 15
min
Where is it?
Call 911
Dispatch

or RM&S @ ext.
4502
Non-Emergency
Medical Care
Employees
Concentra Medical Center
740 Nordahl Road, Suite 117
San Marcos
(760) 432-9000
Mon.- Fri. 8 a.m. – 6 p.m.
Students
Student Health Services
San Marcos Ambulatory Care Center
120 Craven Drive, Suite 102
Ext. 4005
Report all injuries no matter how small.
Fire Safety


Prevention
The Fire Triangle





Oxygen, Heat, Fuel
Classification of fuels
Types of extinguishers
Extinguishing a fire
Evacuation
Fire Safety




A – combustibles
B – flammable liquids
C – energized equipment
D – flammable metals
Fire in the
Laboratory
P.A.S.S.

Pull the pin

Aim at base of fire

Squeeze the handle

Sweep side to side
1.
Position yourself
between the fire and
escape route
2.
Have a back-up
3.
Do not turn your back to
the fire
4.
Alert key personnel
regarding the incident
Fire: Fight or Flight?
Evacuate if:
 You do not know what is on fire
 The fire is spreading rapidly
 You do not have the appropriate
extinguisher
 You might inhale toxic smoke
 You cannot maintain an escape
route
 Your instincts tell you not to fight
the fire
UC Santa Cruz Fire
UC Santa Cruz Fire
Laboratory
Waste
Management
Types of Wastes







Chemical/hazardous
Pharmaceuticals
Controlled Substances
Glass
Sharps
Universal wastes
Empty containers
Hazardous Waste
Determination
Is the waste;

Reactive, corrosive, flammable, or
toxic?

Specifically listed in the regulations?

Derived from a listed material?

Potentially hazardous to health & the
environment?
Confirm any non-hazardous waste
determination
Labeling Waste
Contents
 Composition
H. Garcia
SCI 313
4511
 Physical hazards
9/12/05
 Health hazards
1L
L
Isopropyl
Alcohol
 100
Target
organs
 Physical state
 Generator name, address
X
and phone number
 Accumulation start date

X
X
X
X
Hazardous Waste
 Inform PI or Tech When waste is 3/4 full
 Segregated by Physical state
 Liquid, Solid, & Sharps
 Segregated by hazard
 Chem, Rad, & Bio





Material name
Generator Info
An appropriate hazard warning
Waste declaration
Accumulation start date
Radioactive Materials




"Caution Radioactive Materials"
Hazards
Exposure
 Internal VS External
Waste
 Secured
 labeled
 Segregated
Bio-Hazardous Materials



"Universal Precautions"
Signs - shall be posted at the entrance
to work areas.
Prepare "WASTE"
Double bagged (RED)
 Generator label


Notify RM&S and Principal Investigator
for special handling.
Universal Wastes





Fluorescent light bulbs
Alkaline/lead batteries
Computer monitors/CPU's = Ewaste
Thermostats
Tires
Waste Disposal
Procedures





No sewer discharge
Properly separate wastes
Complete and attach a waste
label
Isolate mixed wastes
Place in waste accumulation area
How would you respond?
Spill Response





Notification
Public safety
Containment
Waste management
Decontamination
Minor Spill Response







Inform P.I., co-workers & contact
RM&S
Assess situation: Injuries priority
De-energize ignition source
Barricade spill area
Don PPE
Confine/Contain spill area
Waste collection
Laboratory Work
Practices







Wear the appropriate PPE
Eating, drinking, applying cosmetics is
prohibited in labs
Wash your hands after working with
hazardous materials
Clean up spills immediately
Keep fume hood sash at the
appropriate level
Replace broken or damaged lab
equipment
Empty containers are considered trash
unless contents are highly toxic
Laboratory Work
Practices (continued)



Children and pets
are not allowed in
the laboratories
Properly label
containers
Keep containers
closed when not
in use



Perform routine
equipment
inspections
Provide contact
information for
continuous
operations
Do not work alone
Work Area
Safety/Consultations

Egress


keep closed

maintenance

maintain 36"
clearance
Floor mats

<18" below
sprinklers
Emergency
Equipment


>5ft must be
braced
Utility panels

use power strips
High storage



Extensions cords


keep isles clear
Shelving
Fire doors



ice machines,
sinks
Housekeeping

Cleanliness
Thank You!