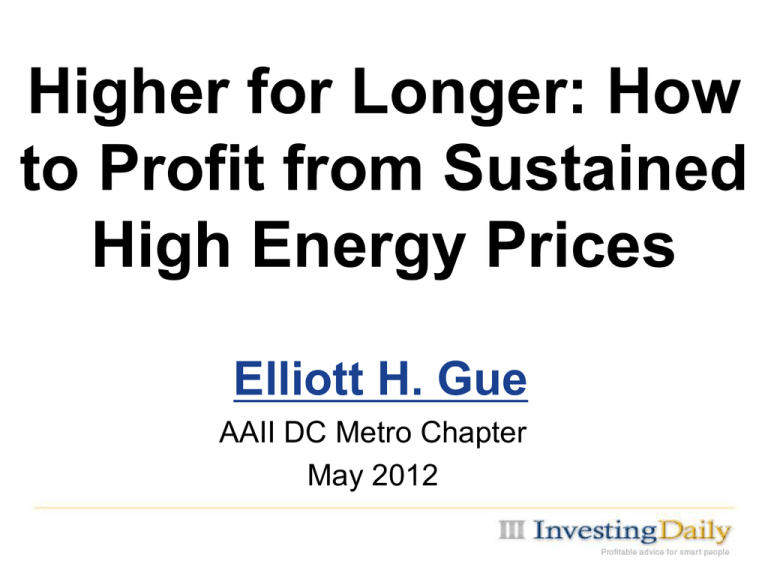 Higher for Longer: How
to Profit from Sustained
High Energy Prices
Elliott H. Gue
AAII DC Metro Chapter
May 2012
The Big Picture
Credit Spreads
Seasonal Distortions
A Few Additional Uncertainties
• US and French elections.
• Fiscal Cliff
• Statistical distortions caused by autumn 2008
collapse in data.
• Oil prices remain elevated, natural gas prices
outside the US still high.
• US housing market is bottoming but not booming
and more foreclosures ahead.
• Europe far from healed.
US and ICE Natural Gas Prices
Supply is Too Healthy
Less Gas Drilling Won't Help
More Efficient
Energy: Oil, LNG over US Gas
Teekay LNG Partners (NYSE: TGP); 7%
Yield
•
Teekay LNG owns: 20 liquefied natural
gas (LNG) carriers, 5 liquefied petroleum
gas (LPG) carriers and 11 oil tankers.
•
Long-Term Charters with an average
remaining duration of 16 for LNG, 15 for
LPG and 10 for tankers.
•
With charters fixed, TGP grows by
increasing the size of its fleet.
•
Day-rates for LNG carriers at near record
highs.
•
Surging international natural gas prices,
growing demand from Asia and Europe
Cheapest Gas is in Marcellus
Inergy Midstream (NRGM); 7.5% Yield
• 42 bcf of natural gas
storage
• 1.5 million barrels of
natural gas liquids (NGLs)
storage
• 90% of storage booked
under LT agreements
• 2.1 mbbl new NGLs
storage capacity due June
'12
• MARC I Pipeline due July
'12
Linn Energy (NSDQ: LINE)
•
Linn is an LLC, similar advantages to an
MLP but no General Partner or IDRs.
•
Most important regions are MidContinent (KS, TX, OK; 65% of reserves),
and Permian Basin (TX, NM; 18% of total
reserves)
•
About 50% oil and NGLs, 50% natgas
•
Significant drilling upside in Granite
Wash, Permian and Bakken
•
Growth via Acquisitions, benefit from low
cost of capital.
•
Hedges covering 100% of natural gas
production through 2015, 100% of oil
through 2013.
US Royalty Trusts: SandRidge
Permian Basin Trust (PER)
• Royalty Interest in 16,800 gross
acres in Permian Basin of TX.
• 87% oil and 9% NGLs.
• 509 producing wells, 888
development wells before March
31, 2016
• 80% proceeds from existing
wells, 70% from new wells.
• Hedges and subordination
structure insulate from
commodity prices.
• 12-Month forward yield: 12.5% to
14%
• Buy Under $26.
Other Royalty Trusts
• SandRidge Miss. II (NYSE: SDR) owns wells in OK and KS
Anadarko Basin 85% of expected revenues from oil.
• 80% of proceeds 67 existing wells, 70% from 206 development
wells.
• 10.5% yield in 2012, 15% in 2013.
• Pacific Coast Oil Trust (ROYT) 80% of proceeds from developed
properties, 25% from remaining properties, 7.5% from Orcutt
properties.
• Plans to develop wells is shallow, porous Diatomite (fossilized
algae) formation using cyclic steam injection.
• Whiting USA Trust II (WHZ) 90% of net proceeds from 1,300 gross
wells
• Terminates 12/31/2021 or after 11.79 million bbl oil produced.
• 72% crude oil.
Deepwater Boom
•
•
•
•
•
•
•
•
•
Cobalt Energy (NYSE: CIE) announced
Cameia – 1 Discovery in Angola, opens up
new pre-salt field
Gulf of Mexico deepwater drilling coming
back sooner than expected.
Brazil's Petrobras ramping up deepwater BZ
spending
Shortage of ultra-deep rigs developing,
sending rates >$600,000/day
Rig signed at $648,000 per day in 2013
3 rigs due off contract in 2013
Yields around 8 to 9 percent
Possible MLP listing to offer even more yield
potential.
Pacific Drilling (PACD) – 4 drillships under
long-term contract, 2 new drillships for
delivery in 2013.
Pacific Drilling (PACD)
The Bakken Shale
A Few Shale Recommendations
• EOG Resources (EOG) – Well-diversified
producer with exposure to the Bakken Shale,
EagleFord Shale, Barnett Combo and Niobrara
• Oasis Petroleum (OAS) – 300,00 net acres in
the Bakken Shale, produces about 11,500
bbl/day and will spend as much as $850 m
drilling in 2012
US Silica (SLCA)
Value in Services and Coal
• US thermal coal prices to remain
pressured by weak gas prices.
• Met coal market more promising.
• Peabody Energy (BTU) strong met
and Australian exposure an
advantage.
• Long-term value in PRB.
• Avoid US-focused services
companies like HAL and BHI.
• International business showing
signs of picking up.
• Benefits Schlumberger (SLB) and
Weatherford (WFT).