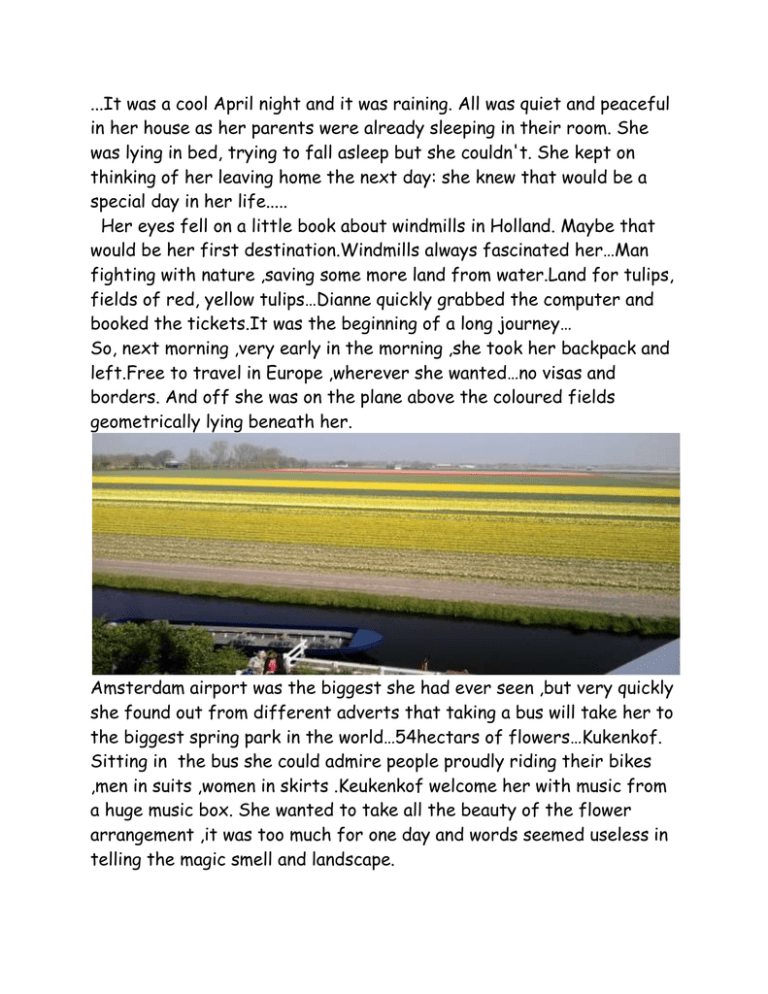 ...It was a cool April night and it was raining. All was quiet and peaceful
in her house as her parents were already sleeping in their room. She
was lying in bed, trying to fall asleep but she couldn't. She kept on
thinking of her leaving home the next day: she knew that would be a
special day in her life.....
Her eyes fell on a little book about windmills in Holland. Maybe that
would be her first destination.Windmills always fascinated her…Man
fighting with nature ,saving some more land from water.Land for tulips,
fields of red, yellow tulips…Dianne quickly grabbed the computer and
booked the tickets.It was the beginning of a long journey…
So, next morning ,very early in the morning ,she took her backpack and
left.Free to travel in Europe ,wherever she wanted…no visas and
borders. And off she was on the plane above the coloured fields
geometrically lying beneath her.
Amsterdam airport was the biggest she had ever seen ,but very quickly
she found out from different adverts that taking a bus will take her to
the biggest spring park in the world…54hectars of flowers…Kukenkof.
Sitting in the bus she could admire people proudly riding their bikes
,men in suits ,women in skirts .Keukenkof welcome her with music from
a huge music box. She wanted to take all the beauty of the flower
arrangement ,it was too much for one day and words seemed useless in
telling the magic smell and landscape.
She even found a windmill and immediately climbed in it. She felt like in
an aeroplane .Colours of purple and pink mixed, tulips were as many
types as a man can imagine. Swans on the ponds surrounded by white
daffodils…She felt that she could stay there forever ,but what else
can she see in this amazing country?
She would take the train to Hengelo ,a city where Maike, her childhood
friend lives. She has always invited her to come and spend some days
there ,but she never found the time.
It will take her 2 hours to get there and the train will arrive at
18.37(strange time).Being on the train ,she called her to know she was
coming ,but while talking loudly a lady pointed at the window ,telling her
that was a silent compartment .On the train window she could see nice
houses with big windows .Maybe they could tell something about the
character of their owners :open-minded ,no secrets…
Her friend was waiting for her and together they went home. The next
day she was going to Maike`s school: Bataafs ,name in connection with
a German tribe.
First thing she noticed was the numerous bikes parked in front of the
school and the red cheeks of the students. Maybe there was a
connection…
She could attend a Music class of a very handsome teacher playing the
guitar and teaching them a modern song. It was a nice classroom with a
lot of musical instruments.
Then ,in The Chemistry class she could do some experiments ,mixing
substances. Maybe she would have enjoyed Chemistry more if she had
done more experiments. During the Arts and Crafts class students
really made small ,practical things, like a birdcage ,for example.
Dianne spent a few weeks in the Netherlands ,when she and her friend
decided it was time for the next adventure,maybe Turkey….
It was a chilly night of May,when Dianne and her friends left from a
small city of Romania,to Bucharest to catch the flight to Turkey.They
were so excited to visit that country,they felt like in a dream.They
were so close to see their dream come true,visiting Turkey together.
After an one hour flight,they arrived in Istanbul. Despite
the
rain,they were speechless,Istanbul was a beautiful city with an amazing
architecture. Firstly,they visited some friends at Ozel Cihangir
College.
For Dianne this was a great experience,she always wanted to see
another learning system and this was her opportunity. She visited
every class,from kindergarden to 12th form,she also visited their
laboratories and the principal office. The school looked amazing on the
outside and in the inside too,she was very pleased with what she saw..
After visiting the school and making new friends it was time to know
Istanbul better. She went to the Bosfor,and also visited an old city
which was located in Istanbul. She had so much fun with her new
friends and the old ones as well. Being a fan of the history of other
countries,she was taken to the museum where she saw how the
Constantinople was conquered by the Ottoman Empire by the Ottoman
Sultan,Mehmed II..The musem had a room which was showing the war
to conquer the Constantinople,it seemed so real,that Dianne felt like it
was in the middle of the war.
The adventure continued for Dianne,she also visited the Aquarium of
Instanbul,which had all species of fishes and she also saw for the first
time a shark…Although the weather wasn't that great,Dianne felt
extraordinary in Turkey,she also learnt a few words in Turkish and
that made her very happy,because she always loved this language. In
her last day she wnt to the Grand Bazaar,where she faced the culture
and customs of Turkey,she thought she was in a movie,it was very
crowed and in the air it a was a mixture of flavours and at every corner
there were Turkish delights,which looked so yuumi…Of course she
couldn't leave Turkey without visiting Aya Sofia or Topkapi Palace,the
sultan's palace which was like in a story,it was big and opulent,just like
she imagined…
Time flew,and her holiday in Turkey came to the end,Dianne was so sad
to leave,she made such good friends,that she wanted to say there
forever,but she had a dream to travel around the world,so there was a
long road ahead her..She and her friends left Turkey with tears in
their
eyes,hoping
that
one
day
she
will
come
back…
But soon…
It was a cool October day when Dianne got the news from her parents.
She had received a six-day-holiday to Portugal on her birthday, and she
could take a few
friends with
her. She was so
excited that she
could barely
sleep that night.
The departure
was in three
days time and
she had no idea
what to pack in
her bags. She
searched the
Internet and found out what the weather would be like in the following
days. The temperatures of over 23 degrees announced warm weather.
Even though Dianne's home town had chilly weather with
very low temperatures at night, she decided to be brave and packed a
few T-Shirts along with her thick sweaters. She spent hours wondering
if she had forgotten to pack something. Finally, departure day arrived
and Dianne was quite nervous. She said goodbye to her parents and
embarked on a new journey.She couldn't close her eyes for even a
brief moment on the plane because of her nerves. She kept thinking of
what the trip had in store for her. Before she left, she had searched
different words and expressions in Portuguese to get a feel of the
language. She had realised it was a strange combination of French and
Spanish.
After five hours of flight, Dianne and her friend
began their holiday. Although it was 8 o'clock in the morning when they
got off the plane, they realised the weather was much warmer than
they had expected. They decided to spend the first day in Lisbon.
After checking their bags , they set out to find a double-decker bus
that had the touristic attractions they wanted to see in Lisbon on its
route. After an hour of searching they
finally found one.
During the tour they got to see the
wonderful architecture of the buildings.
They noticed that the majority of
buildings were in renovation, and the guide
told them all about the funds allocated to
them. They appreciated the interest the
government had shown in keeping the
traditional culture alive. They
listened to fado music during their
journey.
They had a few interesting stops, in which they visited the
Jeronimos Monastery, Belem Tower and the so called 'Garden above
the seas'.All of them were surprised by the size of the building ,and by
the amazing architecture both inside and outside.
The monastery had a gorgeous yard, built in a gothic style with
massive stone decorations.They found out that this monastery had
been built in commemoration of Vasco de Gama's travels and
accomplishments, his grave being located at the monastery itself.
After a whole day spent in Lisbon, Dianne and her friends decided
to take the train to Porto, where they would spend the following days
at a friend.
The family Dianne stayed with was nice. She even learned a few
things about the people and culture in Porto from them. And
Dianne told them a few things about her country too, such as
stories about communism and Ceausescu, which they were eager
to listen to. She also found out that most of the institutions in
Portugal were private, and that you had to pay for education,
health care and all the things you need. Dianne tried out all kinds
of local dishes, from beans to sweets. She and her friends were
pleasantly surprised by Portuguese music, especially by Amalia
Rodrigues.
During the four days spent in Porto, they
visited many places such as:
-Serralves Museum and the gardens,
-the famous Majestic Cafe,
-Palacio da Bolsa,
-Casa da Musica,
-the Sandeman winery,
- the Sao Bento railway station among
others.
The school at which their Portuguese
friends studied, Filipa de Vilhena, was modern
and quite big. Dianne was delighted by its
yard,its cafeteria, its library, and especially
by its classrooms.
Everything was precisely measured around the school, and its
inside had more to offer than its outside.
The places Dianne and her friends found the most interesting
were Casa da Musica and Serralves Museum.At Casa da Musica
they were surprised by the styles used to make the building. The
many rooms filled with echoes made them curious about how
acoustics worked.The tour guide showed them around the
conference rooms and the suspended bar above the concert
hall.That's how they found out that different materials such as
wood, glass or metal can influence a room's acoustics.
At the Serralves Museum they
were greatly impressed by the
hundreds of works of contemporary
art, but they were especially
awestruck by the museum's gardens.
There, they saw a tree that had its
own solid foundation, they visited
the suspended gardens and the
house built by Jose Marques da Silva, his greatest project.
The days went by fast and Dianne and her friends had to return
home eventually. It was difficult for them to say goodbye to
their Portuguese friends. The trip had been an extraordinary
experience for them and they couldn't wait to return to Portugal!