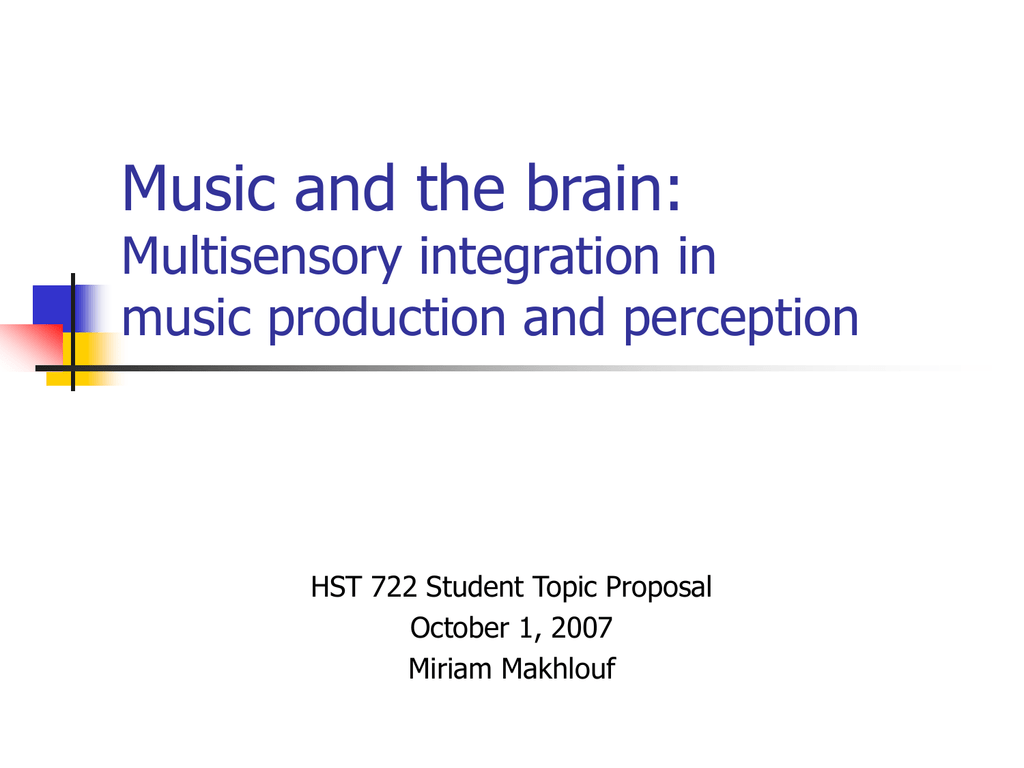 Music and the brain:
Multisensory integration in
music production and perception
HST 722 Student Topic Proposal
October 1, 2007
Miriam Makhlouf
Music and the brain

Music and therapy



Melodic Intonation Therapy (MIT)
Aphasia, dyslexia, LLI, autism,
schizophrenia
Music and development

Beneficial effects of music


Language and reading skills
Effects are inborn or result of training?
Multisensory integration in music

Audio-motor integration

Auditory and motor systems in musicians


Audio-motor coordination


Schneider 2002
Baumann 2007
Human mirror neurons in audio-motor
recognition

Lahav 2007
Discussion papers



Baumann S, Koeneke S, Schmidt CF, Meyer M, Lutz K,
Jancke L., "A network for audio-motor coordination in
skilled pianists and non-musicians", Brain Res. 2007
Aug 3;1161:65-78. Epub 2007 Jun 4.
Lahav A, Saltzman E, Schlaug G., "Action
representation of sound: audiomotor recognition
network while listening to newly acquired actions", J
Neurosci. 2007 Jan 10;27(2):308-14.
Schneider P, Scherg M, Dosch HG, Specht HJ,
Gutschalk A, Rupp A. "Morphology of Heschl's gyrus
reflects enhanced activation in the auditory cortex of
musicians", Nat Neurosci. 2002 Jul;5(7):688-94.
Background papers




Norton A, Winner E, Cronin K, Overy K, Lee DJ, Schlaug G., "Are
there pre-existing neural, cognitive, or motoric markers for
musical ability?" Brain Cogn. 2005 Nov;59(2):124-34. Epub
2005 Jul 28.
Pizzamiglio L, Aprile T, Spitoni G, Pitzalis S, Bates E, D'Amico S,
Di Russo F., "Separate neural systems for processing action- or
non-action-related sounds", Neuroimage. 2005 Feb 1;24(3):85261. Epub 2004 Nov 24.
Shahin AJ, Roberts LE, Trainor LJ., "Enhancement of auditory
cortical development by musical experience in children",
Neuroreport. 2004 Aug 26;15(12):1917-21.
Zatorre RJ., "Music and the brain", Ann N Y Acad Sci. 2003
Nov;999:4-14.
Further reading












Bayley, R.,
http://www.bbc.co.uk/cbeebies/grownups/children_learn/music/musicandlanguage/
Boso M, Emanuele E, Minazzi V, Abbamonte M, Politi P., "Effect of long-term interactive
music therapy on behavior profile and musical skills in young adults with severe autism", J
Altern Complement Med. 2007 Sep;13(7):709-12.
Fudin R, Lembessis E., "The Mozart effect: questions about the seminal findings of
Rauscher, Shaw, and colleagues", Percept Mot Skills. 2004 Apr;98(2):389-405.
Gaab N, Gabrieli JD, Deutsch GK, Tallal P, Temple E. "Neural correlates of rapid auditory
processing are disrupted in children with developmental dyslexia and ameliorated with
training: An fMRI study", Restor Neurol Neurosci. 2007;25(3-4):295-310.
Hutchinson S, Lee LH, Gaab N, Schlaug G., "Cerebellar volume of musicians", Cereb Cortex.
2003 Sep;13(9):943-9.
Lavelle, P., "Music improves language and memory", ABC Science Online, July 2003
http://www.abc.net.au/science/news/stories/s911523.htm
Rauscher FH, Shaw GL, Ky KN., "Music and spatial task performance",
Nature. 1993 Oct 14;365(6447):611.
Shahin AJ, Roberts LE, Pantev C, Aziz M, Picton TW., "Enhanced anterior-temporal
processing for complex tones in musicians", Clin Neurophysiol. 2007 Jan;118(1):209-20.
Epub 2006 Nov 13.
Tallal P, Gaab N., "Dynamic auditory processing, musical experience and language
development", Trends Neurosci. 2006 Jul;29(7):382-90.
Ulrich G, Houtmans T, Gold C., "The additional therapeutic effect of group music therapy for
schizophrenic patients: a randomized study", Acta Psychiatr Scand. 2007 Nov;116(5):36270.
van Atteveldt NM, Formisano E, Blomert L, Goebel R., "The effect of temporal asynchrony
on the multisensory integration of letters and speech sounds", Cereb Cortex. 2007
Apr;17(4):962-74. Epub 2006 Jun 2.