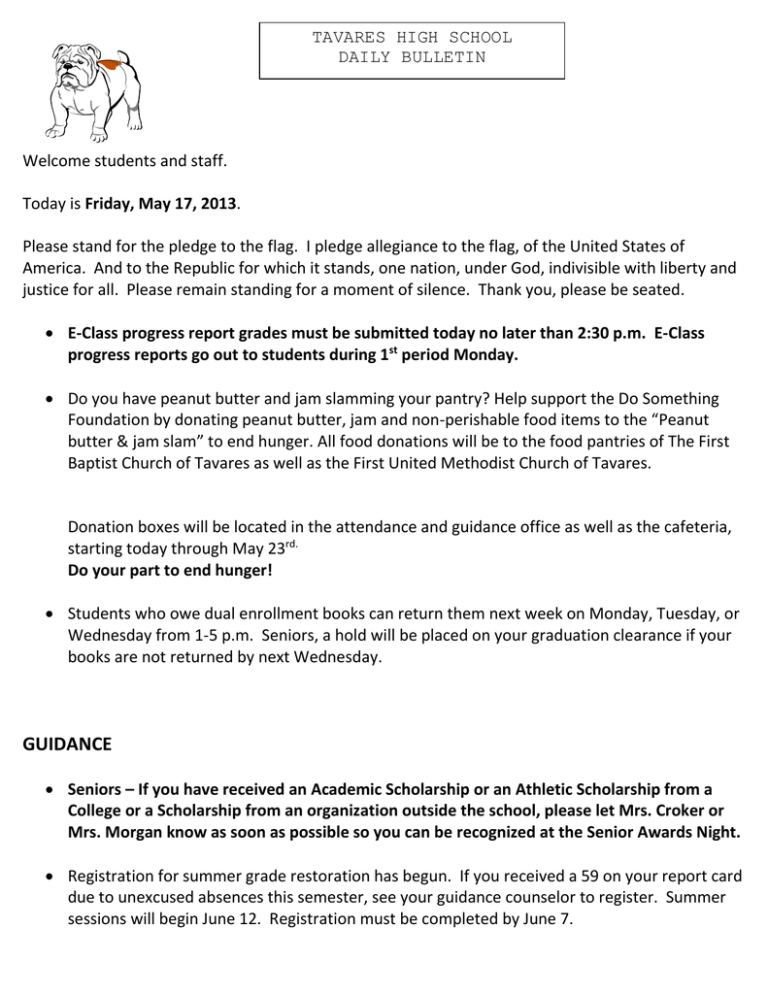 TAVARES HIGH SCHOOL
DAILY BULLETIN
Welcome students and staff.
Today is Friday, May 17, 2013.
Please stand for the pledge to the flag. I pledge allegiance to the flag, of the United States of
America. And to the Republic for which it stands, one nation, under God, indivisible with liberty and
justice for all. Please remain standing for a moment of silence. Thank you, please be seated.
 E-Class progress report grades must be submitted today no later than 2:30 p.m. E-Class
progress reports go out to students during 1st period Monday.
 Do you have peanut butter and jam slamming your pantry? Help support the Do Something
Foundation by donating peanut butter, jam and non-perishable food items to the "Peanut
butter & jam slam" to end hunger. All food donations will be to the food pantries of The First
Baptist Church of Tavares as well as the First United Methodist Church of Tavares.
Donation boxes will be located in the attendance and guidance office as well as the cafeteria,
starting today through May 23rd.
Do your part to end hunger!
 Students who owe dual enrollment books can return them next week on Monday, Tuesday, or
Wednesday from 1-5 p.m. Seniors, a hold will be placed on your graduation clearance if your
books are not returned by next Wednesday.
GUIDANCE
 Seniors – If you have received an Academic Scholarship or an Athletic Scholarship from a
College or a Scholarship from an organization outside the school, please let Mrs. Croker or
Mrs. Morgan know as soon as possible so you can be recognized at the Senior Awards Night.
 Registration for summer grade restoration has begun. If you received a 59 on your report card
due to unexcused absences this semester, see your guidance counselor to register. Summer
sessions will begin June 12. Registration must be completed by June 7.
 Registration for summer grade forgiveness and recovery has begun. If you received a D or an F
in a math, English, science, or social studies class for either semester, you should see your
guidance counselor to register. If you are currently in an E2020 class during the school day or
after school and need more time to complete your class, you should register for the summer
sessions so you may finish the class. See your guidance counselor to register. Summer
sessions will begin June 12. Registration must be completed by June 7 so make sure you check
your grades on eSembler to see if you need to register.
Senior Scholarships
(Pick up forms on table in Guidance Office)
Scholarship
Deadline
Big Sun (for student athletes) http://www.bigsunathletics.com
Service Scholars (Students attending FSU) servicescholars@admin.fsu.edu
Southern Scholarship Foundation (housing opportunity)
Student Scholarships (Updated 2/21/13 – New Scholarships added)
June 21, 2013
Various
SENIORS
SENIOR WEEK ACTIVITIES
Friday: "Red and white or Senior Class shirts"
Senior Picnic – Students will be dismissed at noon. (There will not be a PA announcement. )
Those with green tickets may drive themselves to the picnic; those with yellow tickets will be allowed on the
buses. Buses will load on Ianthe Street and will leave at 12:15pm and return before end of school.
Extra privileges: Go to the front on the lunch line in cafeteria and (with teacher approval) be dismissed from all
classes one minute early.
 Attention Seniors: There are a limited number of seats available in a "handicap area" for
graduation guests who cannot climb the stadium stairs. You must see Mrs. Drees in Room
112, Building 6, to make a reservation. There is a limit of 2 seats per student. The deadline
for requests is Friday, May 24.
CLUBS
 All Key Club Seniors must see Mrs. Elwart this week regarding service hours and chords for
graduation.
 The Tavares High Astronomy Club will hold its end of the year pizza party on Monday at 2:30
p.m. in Mr. Moore's room. We will say farewell to our seniors and discuss next year's
Astronomy Club. We will also be passing out Astronomy Club cords to our graduating seniors.
Make plans to attend as we celebrate another fun year of discovery.
ATHLETICS
 Come out and support the football team as they take on Brooksville Central tonight at 7 p.m.
 There will be a short meeting after school Wednesday in Ms. Elliott's room (6-203) for any girl
interested in weightlifting next year.
Volunteer Opportunities
Word of the Day
reverie
Dream a Little Dream Word of the Day:
Daydreaming is not generally smiled upon, especially if you are at your desk, but you can put a
happier face on daydreaming by calling it reverie, the French loanword for the same thing. Older
forms of the word in French meant "madness, delirium, wildness, rage," suggesting perhaps that
daydreams have cleaned up their act somewhat in recent centuries.
On This Day in History
1540 - Afghan chief Sher Khan defeated Mongul Emperor Humayun at Kanauj.
1630 - Italian Jesuit Niccolo Zucchi saw the belts on Jupiter's surface.
1681 - Louis XIV sent an expedition to aid James II in Ireland. As a result, England declares war on France.
1756 - Britain declared war on France, beginning the French and Indian War.
1792 - The New York Stock Exchange was founded at 70 Wall Street by 24 brokers.
1814 - Denmark ceded Norway to Sweden. Norway's constitution, which provided a limited monarchy, was signed.
1875 - The first Kentucky Derby was run at Louisville, KY.
1877 - The first telephone switchboard burglar alarm was installed by Edwin T. Holmes.
1881 - Frederick Douglass was appointed recorder of deeds for Washington, DC.
1926 - The U.S. Embassy in Buenos Aires was damaged by bombs that were believed set by sympathizers of Sacco and
Vanzetti.
1932 - The U.S. Congress changed the name "Porto Rico" to "Puerto Rico."
1939 - The first fashion to be shown on television was broadcast in New York from the Ritz-Carleton Hotel.
1940 - Germany occupied Brussels, Belgium and began the invasion of France.
1946 - U.S. President Truman seized control of the nation's railroads, delaying a threatened strike by engineers and
trainmen.
1948 - The Soviet Union recognized the new state of Israel.
1954 - The U.S. Supreme Court unanimously ruled for school integration in Brown vs. Board of Education of Topeka.
The ruling declared that racially segregated schools were inherently unequal.
1956 - The first synthetic mica (synthamica) was offered for sale in Caldwell Township, NJ.
1973 - The U.S. Senate Watergate Committee began its hearings.
1975 - NBC TV bought the rights to show "Gone With the Wind." The one time rights cost NBC $5,000,000.
1980 - Rioting erupted in Miami's Liberty City neighborhood after an all-white jury in Tampa acquitted four former
Miami police officers of fatally beating black insurance executive Arthur McDuffie. Eight people were killed in the
rioting.
1985 - Bobby Ewing died on the season finale of "Dallas" on CBS-TV. He returned the following season.
1987 - Eric 'Sleepy' Floyd of the Golden State Warriors set a playoff record for points in a single quarter with 29.
1987 - An Iraqi warplane attacked the U.S. Navy frigate Stark in the Persian Gulf, killing 37 American sailors. Iraq and
the United States called the attack a mistake.
1990 - Kelsey Grammer was sentenced to 30 days in jail for DWI.
1996 - U.S. President Clinton signed a measure requiring neighborhood notification when sex offenders move in.
Megan's Law was named for 7-year-old Megan Kanka, who was raped and killed in 1994.
1997 - Rebel leader Kabila declared himself president of the Democratic Republic of the Congo, formerly Zaire.
1997 - Sylvester Stallone and Jennifer Flavin were married in London.
1998 - New York Yankees pitcher David Wells became the 13th player in modern major league baseball history to
throw a perfect game.
1999 - Eric Ford, a tabloid photographer, was sentenced to 6 months at a halfway house, 3 years probation and 150
hours of community service. The sentence stemmed from a charge that Ford had eavesdropped on a call between Tom
Cruise and Nicole Kidman and then sold a recording of the conversation.
1999 - Alex Trebek received a star on the Hollywood Walk of Fame.
2000 - Thomas E. Blanton Jr. and David Luker surrendered to police in Birmingham, AL. The two former Ku Klux
Klan members were arrested on charges from the bombing of a church in 1963 that killed four young black girls.
2000 - Austria, the U.S. and six other countries agreed on the broad outline of a plan that would compensate Nazi-Era
forced labor.
2000 - It was announced that Terra Networks SA and Lycos would be merging with the new name to be Terra Lycos.
Terra made the deal happen with the purchase of $12.5 billion in stock.
2001 - The U.S. Postal Service issued a stamp based on Charles M. Schulz's "Peanuts" comic strip.
2006 - The U.S. aircraft carrier Oriskany was sunk about 24 miles off Pensacola Beach. It was the first vessel sunk
under a Navy program to dispose of old warships by turning them into diving attractions. It was the largest man-made
reef at the time of the sinking.
2007 - Trains crossed the border dividing North and South Korea for the first time since 1953.