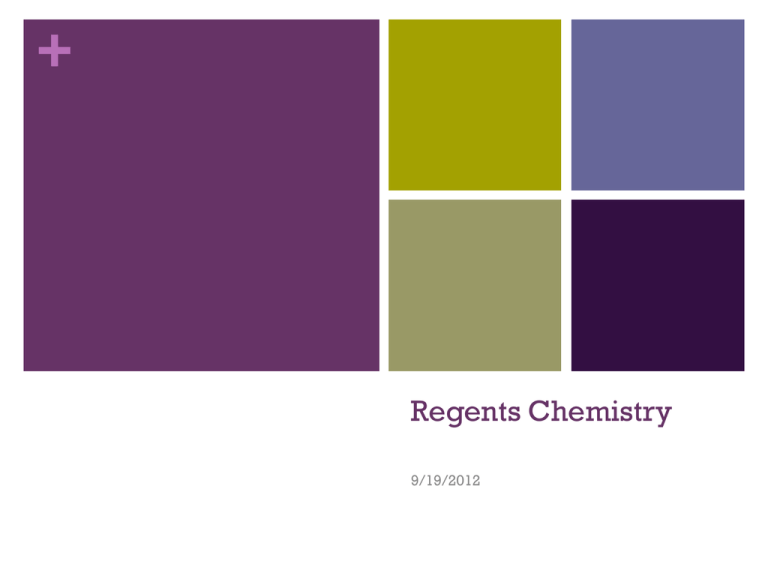 +
Regents Chemistry
9/19/2012
+
Do Now
 Objective:
SWBAT describe the separation
techniques of mixtures.
 For
Catalyst question:
+
Review

Chemistry is the study of the PROPERTIES, COMPOSITION,
and STRUCTURE of matter. Furthermore, it is the study of the
REACTIONS that matter undergoes and the ENERGY
associated with these changes.

A heterogeneous mixture has a composition that is NOT
UNIFORM throughout.

A homogeneous mixture is a mixture in which the
composition is UNIFORM throughout. Another name for a
homogeneous mixture is a _SOLUTION_.

The term phase is used to describe any part of a sample with
uniform composition and properties. A HOMOGENEOUS
mixture consists of a single phase. A HETEROGENEOUS
mixture consists of two or more phases (e.g. oil on top of
water and ice cubes in liquid water).
+
Agenda
 Objective:
SWBAT describe the separation
techniques of mixtures.
 Explain
basis of different separation techniques.
 Guided, Group, and
 Group
Independent practice
Activity: Application of separation
techniques.
+
Guided Notes
 In
a mixture, the various PURE substances retain
[keep] their PHYSICAL properties. These
differences in PHYSICAL properties can be used to
SEPARATE mixtures.
+
 PHYSICAL
properties include: density, particle
size, solubility, boiling and freezing point, and
molecular polarity (charges of the pure substance)
+
Separating water from oil?

Solubility: Water and oil are
immiscible.

Density: Oil sits on top of water
because it is less dense and because
of solubility rules

Freezing point: Cool the mixture until
the oil turns solid. Temperatures at
which the olive oil and water freeze
are different.
+
Separating NaCl and Ba3(PO4) salt
from water?

Boiling point: Salt has a much
higher boiling point  water
vaporizes before salt even melts.
Alternative for Ba3(PO4) salt…
(Hint: reference table F)

Solubility for Ba3(PO4): Refer to
Table F  Barium phosphate salt
is insoluble in water.
+
Check whether the salt is soluble!
+
Filtration

separates components of a
heterogeneous mixture based on
particle size.

cannot be used on homogeneous
mixtures most of the time (particle
sizes are too similar).

Examples: separate coffee ground
from the coffee drink.
+
Distillation

separates mixtures according to
their different boiling points.

Example: separating water from
salt. More than 25°C difference in
boiling point

Example 2: Fractional distillation
of crude oil contains a lot of
different components that have
different boiling temperatures.
+
Fractional distillation of Oil

Fractional distillation is used when differences in boiling
point temperatures are much narrower.

General Process: Vaporize  Condense at different
temperatures.

I'll have you or one of your classmates research and present
this!
+
Group project: Make a poster

Directions: Each group will receive a science article on real life
applications of the separation techniques learned in class –
filtration and distillation. Students must summarize key points in
the article and draw an image that represents the process
described. Refer to the rubric for how your posters will be
assessed.
Key points must include:

The purpose of the process. What does it produce?

The separation technique used. Filtration or Distillation?

The basis of the separation technique. Which physical property
is being targeted?
+
Four options
+
Independent Work

"Mixtures Mayhem" (use reference tables to complete.
Borrow reference tables to use in class. Electronic version
can be found online).

"Mixtures" homework sheet.
+
Exit slip
Copy the question and give your response:
1.
Given a mixture of water, dirt, feces (poop), and bacteria,
name one process that can be used to extract the water.
1.
What mixtures cannot be separated by filtration?