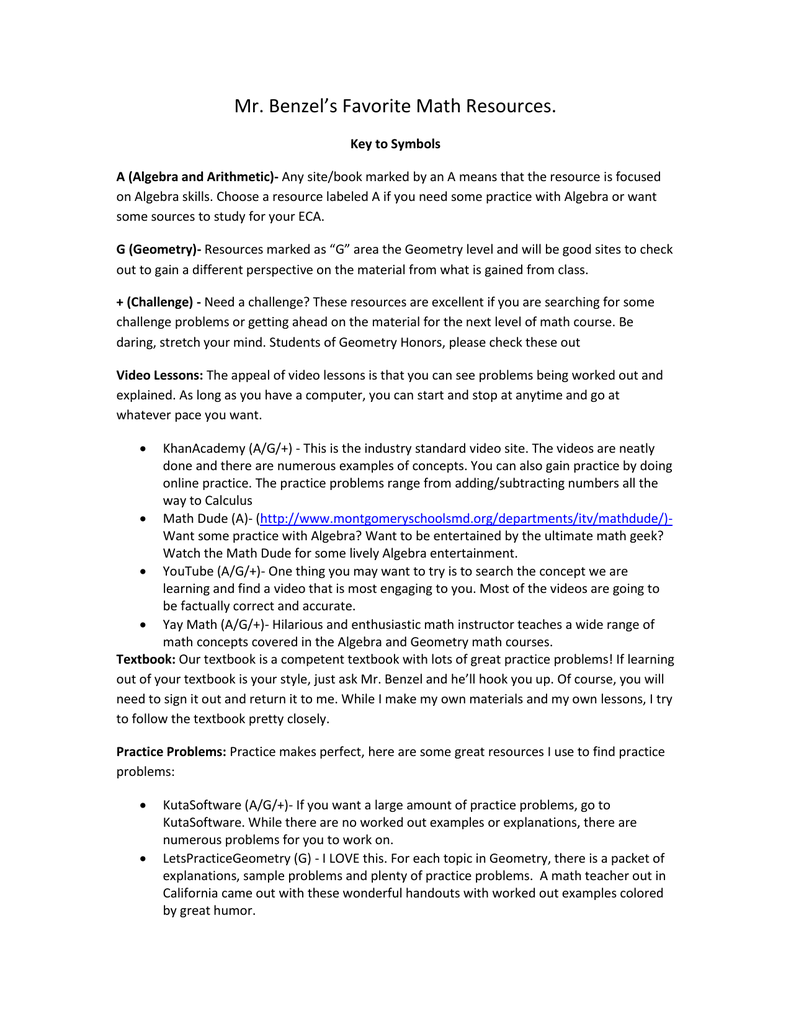 Mr. Benzel's Favorite Math Resources.
Key to Symbols
A (Algebra and Arithmetic)- Any site/book marked by an A means that the resource is focused
on Algebra skills. Choose a resource labeled A if you need some practice with Algebra or want
some sources to study for your ECA.
G (Geometry)- Resources marked as "G" area the Geometry level and will be good sites to check
out to gain a different perspective on the material from what is gained from class.
+ (Challenge) - Need a challenge? These resources are excellent if you are searching for some
challenge problems or getting ahead on the material for the next level of math course. Be
daring, stretch your mind. Students of Geometry Honors, please check these out
Video Lessons: The appeal of video lessons is that you can see problems being worked out and
explained. As long as you have a computer, you can start and stop at anytime and go at
whatever pace you want.

KhanAcademy (A/G/+) - This is the industry standard video site. The videos are neatly
done and there are numerous examples of concepts. You can also gain practice by doing
online practice. The practice problems range from adding/subtracting numbers all the
way to Calculus
 Math Dude (A)- (http://www.montgomeryschoolsmd.org/departments/itv/mathdude/)Want some practice with Algebra? Want to be entertained by the ultimate math geek?
Watch the Math Dude for some lively Algebra entertainment.
 YouTube (A/G/+)- One thing you may want to try is to search the concept we are
learning and find a video that is most engaging to you. Most of the videos are going to
be factually correct and accurate.
 Yay Math (A/G/+)- Hilarious and enthusiastic math instructor teaches a wide range of
math concepts covered in the Algebra and Geometry math courses.
Textbook: Our textbook is a competent textbook with lots of great practice problems! If learning
out of your textbook is your style, just ask Mr. Benzel and he'll hook you up. Of course, you will
need to sign it out and return it to me. While I make my own materials and my own lessons, I try
to follow the textbook pretty closely.
Practice Problems: Practice makes perfect, here are some great resources I use to find practice
problems:


KutaSoftware (A/G/+)- If you want a large amount of practice problems, go to
KutaSoftware. While there are no worked out examples or explanations, there are
numerous problems for you to work on.
LetsPracticeGeometry (G) - I LOVE this. For each topic in Geometry, there is a packet of
explanations, sample problems and plenty of practice problems. A math teacher out in
California came out with these wonderful handouts with worked out examples colored
by great humor.
Online Tutorials with Worked Out Examples (Some Have Practice Included)- Go this route if
you want to see a lot of example problems worked out, have links to relevant activities and
explanations.




Purple Math (A/G) (http://www.purplemath.com/) – This site offers dense, but
thorough explanations on concepts we will be learning. It is also wonderful for Algebra
review. If the text is a difficult read, you'll want to focus on the example problems and
see how they are worked out.
Henrico Algebra (A)
(http://teachers.henrico.k12.va.us/math/hcpsalgebra1/modules.html)- This is site has
various modules that are perfect for a review of Algebra concepts. It has links to
PowerPoint, activities and handouts that will help you master the concept.
Kendall Hunt Discovering Geometry (G/+) http://math.kendallhunt.com/x19356.htmlThis site has short lessons/tutorials, Geometric construction activities and relevant
practice problems. You will likely have to search through the chapters to find the
concept that we are working. I believe the search is worth it though.
MathIsFun (A/G) http://www.mathsisfun.com/ - This site has an awesome name. It has
Algebra/Geometry lessons that have great visuals to help you understand.
For Fun!- Sometimes we need puzzle problems or games. This will help build your thinking and
will provide you with a mental workout.




Cool Math Games (A) http://www.coolmath-games.com/ - Brush up your Algebra skills
and arithmetic skills through playing games. What better combination is video games
and math?
Stella's Stunners (+)http://ohiorc.org/for/math/stella/problems/- This is the site of one
of my math teacher friends in Ohio. These problems are not typical and require a great
deal of thinking. But if you complete these problems without looking at the answers,
you will be prepared to excel in courses like AP Calculus or college level math courses.
Euclid Elements (+)- This book is the original Geometry book written by the
mathematician Euclid itself. Think you are really good at math? Try reading some Euclid
and impress your friends.
Brilliant.com (+) - Want a challenge? Want to see if you can solve really interesting and
difficult math problems. Want to learn the thinking that can score you high on the SAT,
then this site is for you. The end result is brilliance.