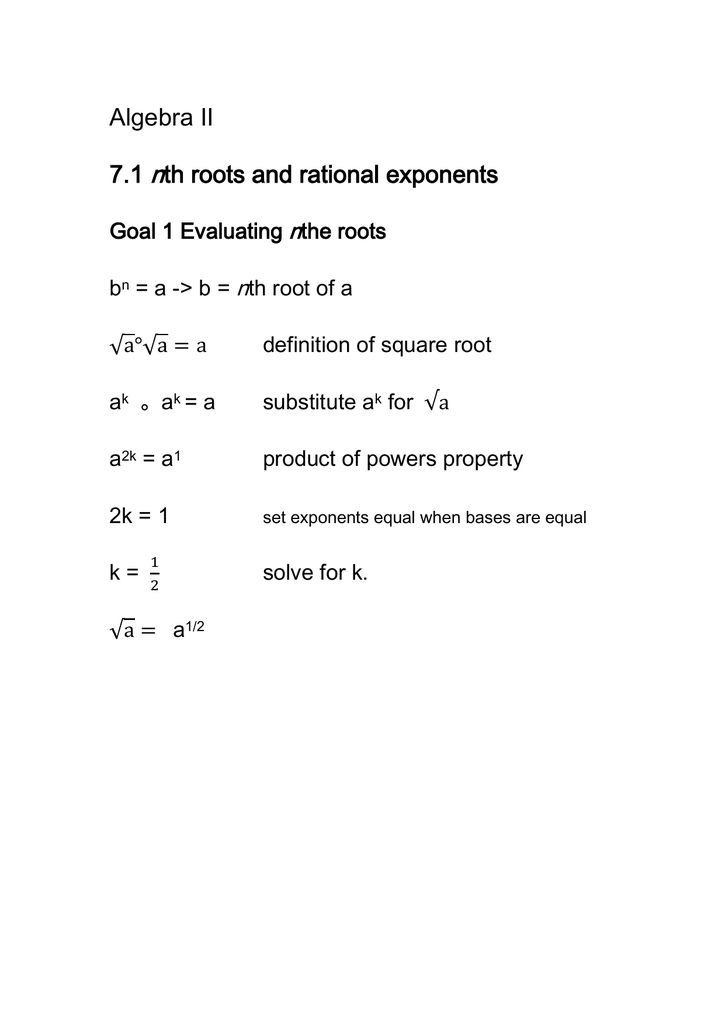 Algebra II
7.1 nth roots and rational exponents
Goal 1 Evaluating nthe roots
bn = a -> b = nth root of a
√a°√a = a
definition of square root
ak 。ak = a
substitute ak for √a
a2k = a1
product of powers property
2k = 1
set exponents equal when bases are equal
k=
1
2
√a = a1/2
solve for k.
Real nth roots
Let n be an integer greater than 1 and a real number
If n is odd, then a has one real nth root: √a = a1/n
n
If n is even and a> 0, then a has two real nth roots: ± √𝑎 =±a1/n
𝑛
If n is even and a = 0, then a has one nth root: √0 = 01/n = 0
𝑛
If n is even and a < 0, then a has no real nth roots
Example 1 Finding nth roots
Find the indicated nth root(s) of a.
a. n = 5, a = -32
b. n = 3, a = 64
Rational exponents
Let a1/n be an nth root of a, and let m be a positive
integer.
am/n = (a1/n)m = ( √𝑎)m
𝑛
a-m/n =
1
𝑎𝑚/𝑛
=
1
1
𝑛
(𝑎 )
=
1
( 𝑛√𝑎)
,a ≠ 0
Example 2 Evaluating expressions with rational
exponents
a. 165/2
b. 64-2/3
Example 3 Approximating a root with a calculator
Use a graphing calculator to approximate √34
3
Example 4 Solving equations using nth roots
Solve each equation.
a. 6x4 = 3750
b. (x + 1)3 = 18
Goal 2 Using nth roots in real life
Example 5 Evaluating a model with nth roots
The rate r at which an initial deposit P will grow to a
balance A in t years with interest compounded n
times a year is given by the
formula r = n
Find r is P = $1000, A = $2000, t = 11 years
and n =12.
Example 6 Solving an equation using an nth root
A basketball has a volume of about 455.6 cubic
inches. The formula for the volume of a basketball is
V = 4.18879r3. Find the radius of the basketball.