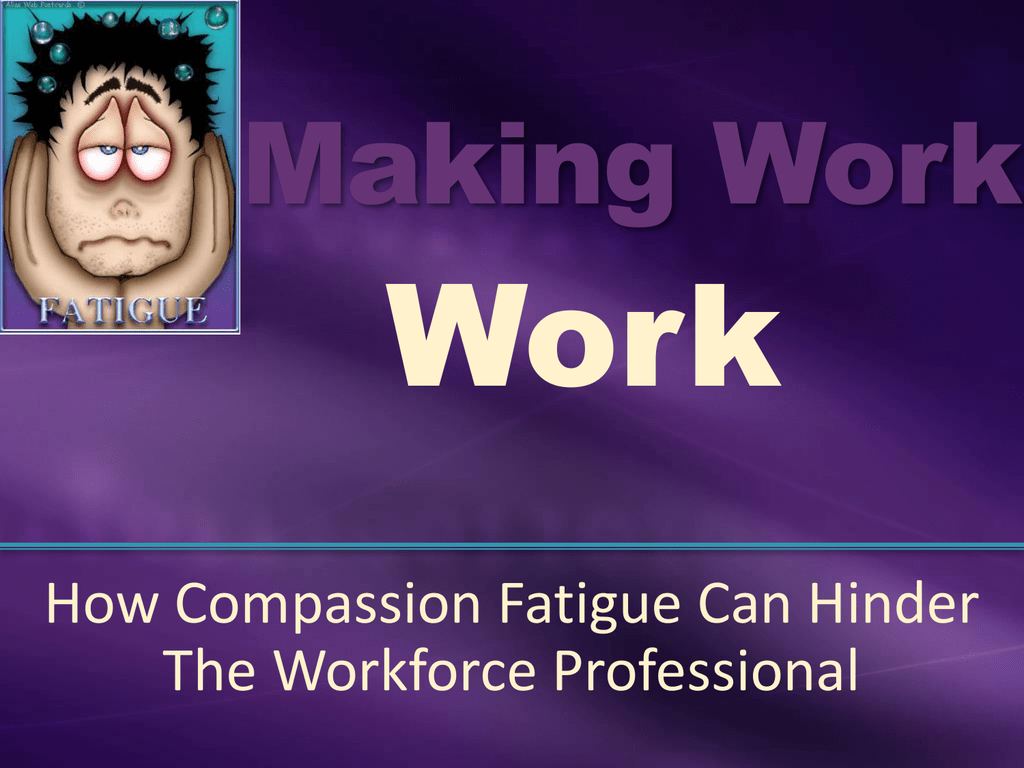 Making Work
Work
How Compassion Fatigue Can Hinder
The Workforce Professional








Burnout
Secondary Traumatic Stress (STS)
Compassion Fatigue (CF)
Chronic Vicarious Exposure
Stress Hardiness
Helper's High
Energy Vampires
Compassion Satisfaction (CS)
Compassion Fatigue
The result of an individual experiencing both burnout and
secondary trauma
Burnout
Secondary
Trauma
Compassion
Fatigue
Burnout
Stress related to the job environment in which we work as well
as the job requirements
Excessive Paperwork
Long Hours
Difficult Customers
Secondary Traumatic Stress
The reaction to dealing with other's situations
•Secondary Victimization
•Secondary Traumatization
•Secondary Survivor
Whose Stuff is This?
Compassion Fatigue
 Occupational exhaustion associated with deep
physical, emotional, and spiritual giving
 The inability to feel compassion or the gradual
lessening of compassion that exists overtime
For some, Compassion Fatigue is also the clash between
their current reality and their past expectations
Reality
Expectations
Professions that nurture the
growth of or address the
problems of a person's physical,
psychological, intellectual,
emotional, or spiritual
well-being
Workforce Professionals
are
Helping Professionals
Therefore Prone to Burnout and Compassion Fatigue
Who Do We Help?
How Do We Help Them?
Teaching to Prevent Burnout in the
Helping Professions by Debra Damn
"Watching talented and even gifted colleagues
struggle with emotional exhaustion and coping
through cynicism becomes taxing to the
morale of all helping professionals."
Careerbuilder.com Burnout Survey
23%
Workers That Feel Burned Out On
The Job
Workers That Do Not Feel Burned
Out On The Job
77%
Most people who choose helping professions are usually
burned out or fatigued prior to entering the field
People that are attracted to helping professions…
Are Natural Nurturers
May come from dysfunctional homes or backgrounds
Have a strong identification with the helpless and suffering
Were taught early to care for the needs of others
Seek a Helper's High
Helper's High
A euphoric feeling followed by a period of calm, experienced
after performing a kind act

The physical sensation results from the release of endorphins

Individual feels an improved emotional well-being and a sense of self-worth

These feelings reduce stress and improve the health of the helper
Unfulfilled Expectations-Reality Hits
My Professor Did Not Tell Me This!
Institutional Stress
Information Overload
Chronic Vicarious Exposure
Via Media
Via Customers
High degree of responsibility
High degree of paper work
Demanding caseloads
Cubicle Setting
Little Privacy
Daily crisis
Long hours
My Professor Did Not Tell Me This
Institutional Stress
Keeping your work space clean
Only 5 personal items allowed
No offensive material
Welcome to the Cubicles!
Only managers get offices
Please eat in the break room
I thought we could wear jeans on FRIDAYS!
My Professor Did Not Tell Me This
Lack of Appreciation
That's Your Job!
Time & Attendance
But I always work late…
Networking & Competition
Office Politics
Due Process
Remembering Passwords
Learning Local Operating Procedures
Learning Program Standard Operating Procedures
Getting To Know Your Customers and Their Story
Learning Different Management Information Systems
We are all socio-biologically connected
I feel your pain…
Helper's High-Joy from Helping Others
Energy Vampires- Drain Your Energy
Overexposure to problems that are continuous and
irresolvable
Desensitizes individuals
Causes a lack of responsiveness
From Our Customers
Participation Pushback
Not attending scheduled activities
Not following through with career plans
Difficult Interaction
Angry or Defensive
Physical or Verbal aggression
Repeated Disappointments
Exhausting benefits prior to reaching self-sufficiency
Not taking advantage of available resources and referrals
Job Abandonment
From the Media
Exploitation of Disadvantaged Populations
Homeless
Unemployed
Needy
Exploitation of Vulnerable People
Victims of Trauma
 Domestic/Sexual Violence
Child Abuse
Psychologically
 Anxiety
 Depression
 Hyper vigilance
 Over protectiveness
Biologically
 Ulcers
 Inability to sleep
 Decreased energy
 Headaches/migraines
 Aggravated pre-existing
conditions
Individual
May Appear
 Cynical
 Isolated
 Negative
 Withdrawn
 Unproductive
 Easily Agitated
 Highly Critical
 Inflexible
 Defensive
 Unfocused
Individual
May Feel
 Inadequate
 Incompetent
 Helplessness
 Hopelessness
 Powerlessness
 Overwhelmed
 A diminished desire
to help people
Organizational Symptoms of CF
Diffusion of Responsibility
Some One Else's Problem (SEP)
Allows things to happen in a group that would not allow if the
individual were alone
Bystander Effect
The more people around the less likely anyone will do anything
Group Think
Conformity releases the individual from responsibility
How Does the Region Suffer?
High turnover rates
Chronic Absenteeism
Lack of a vision for the future
Spiraling worker's comp costs
Strong reluctance toward change
Negativism towards management
Unstable co-worker relationships
Horizontal Violence or Aggression
Lack of flexibility among staff members
Inability for teams to work well together
Inability of staff to respect and meet deadlines
Inability of staff to believe improvement is possible
Stress-Hardy Personality
Personality traits within some individuals that allow them to
be more resistant and better protected from the effects of
stress than others
Stress-Hardy Personality Traits
 Commitment
 Control
 Challenge
Commitment
When individuals are committed
to something they tend to be
more motivated and willing to
put in more effort
Control
The amount of control that we
feel we have over a stressor
determines how difficult it will
be for us to cope with it
Challenge
Stressful events are seen as
challenges instead of threats
and the individual is able to
accept that change is inevitable
Individuals must learn how to…
 Control the way they respond to challenges
More Confidently
Less Destructively
Destructive Stress Responses
 Emotional Eating-Not Eating
 Verbal or Physical Aggression
 Self-Defeating Language
 Throwing in the Towel
 Initiating Workplace Conflict
 Defiance-Insubordination
Team Work
Makes
the
Dream Work
 Create a positive and supportive environment for
teams to work in
 Provide opportunities for team members to discuss
their stress
 Lower the caseload number per team member
 Allow team members to split-up or rotate difficult
caseloads
 Create teambuilding and socialization activities to
increase trust and cohesion amongst team members
Encourage
 Self-Care & Positive Stress Responses
 Healthy Habits
 Good Nutrition
 Sleep
 Exercises
 Work Breaks
Educate
 Causes of Compassion Fatigue
 Effects of Compassion Fatigue
 How to Combat Compassion Fatigue
Healing an organization takes…
Time
Patience
Commitment
Management must be aware of Compassion Fatigue
and the effect it is having on staff
A healthier workforce
will lead to better client
outcomes and lower
staff turnover
Reconnect & Align
Your
Purpose
Program
Purpose
Your purpose-Why are YOU here
Program Purpose-Why are WE here
Specific-Measureable-Attainable-Reasonable-Time Targeted
Set Goals
Things I want to accomplish in my life
Things I want to change about my life
Minimize Exposure
Go Home!
Turn the TV Off
Change The Topic
Make New Friends
Leave Work At Work
Use Your Vacation Time
More Productive After Vacation
Less Productive After Vacation
460 Million Lost Vacation Days
Participate in Pleasurable Experiences
Legal!
 No Helping Highs!
Save
Yourself
Compassion
Fatigue
Compassion
Satisfaction
Websites, Articles, & Books
Whose Stuff is This by Yvonne Perry
To Weep For a Stranger by Patricia Smith
Heart at Work www.barbarababkirk.com
Compassion Fatigue www.socialworker.com
Traumatology Journal www.tmt.sagepub.com
Compassion Fatigue in the Helping Professions
www.familystressencyclopedia.blogspot.com
Treating Compassion Fatigue by Charles Figley
Stress Hardiness www.stresscourse.tripod.com
Compassion Fatigue Self Test www.compassionfatigue.org
Vacations Benefit Both Worker and Boss www.businessmainetoday.com
For More Resources
Please Email Nikki Brown
[email protected]
An equal opportunity employer/program. Auxiliary aids and services are available upon request to individuals with
disabilities. All voice telephone numbers on this document may be reached by persons using TTY/TDD equipment via
Florida Relay Service at 711.