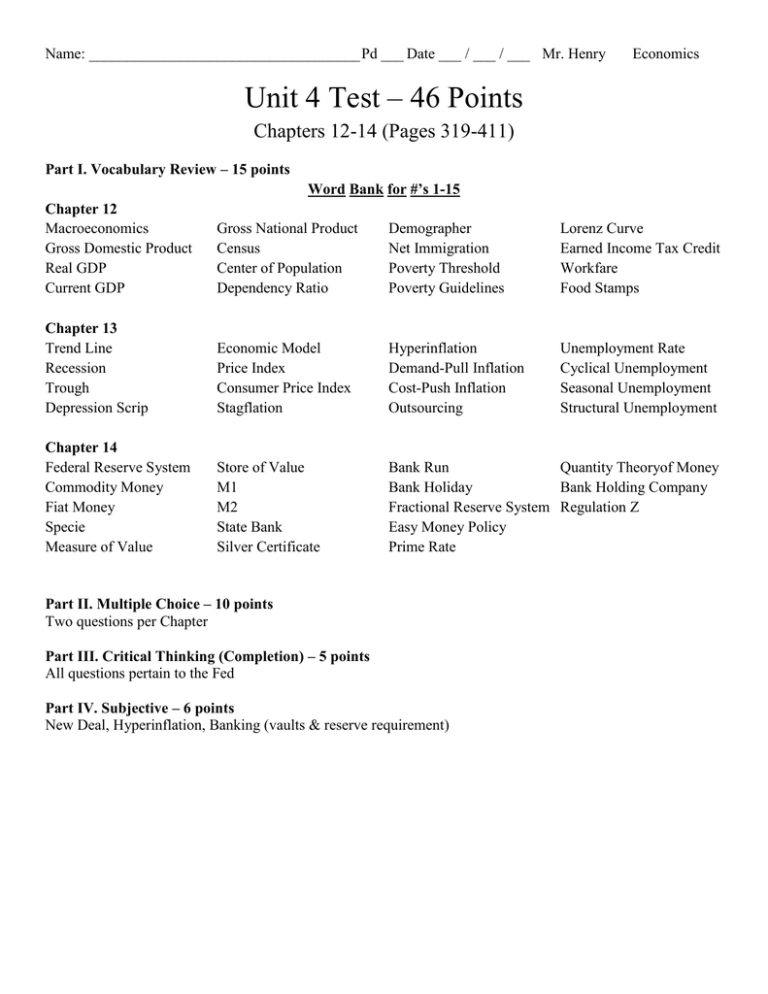 Name: ____________________________________ Pd ___ Date ___ / ___ / ___ Mr. Henry
Economics
Unit 4 Test – 46 Points
Chapters 12-14 (Pages 319-411)
Part I. Vocabulary Review – 15 points
Word Bank for #'s 1-15
Chapter 12
Macroeconomics
Gross Domestic Product
Real GDP
Current GDP
Gross National Product
Census
Center of Population
Dependency Ratio
Demographer
Net Immigration
Poverty Threshold
Poverty Guidelines
Lorenz Curve
Earned Income Tax Credit
Workfare
Food Stamps
Chapter 13
Trend Line
Recession
Trough
Depression Scrip
Economic Model
Price Index
Consumer Price Index
Stagflation
Hyperinflation
Demand-Pull Inflation
Cost-Push Inflation
Outsourcing
Unemployment Rate
Cyclical Unemployment
Seasonal Unemployment
Structural Unemployment
Chapter 14
Federal Reserve System
Commodity Money
Fiat Money
Specie
Measure of Value
Store of Value
M1
M2
State Bank
Silver Certificate
Bank Run
Quantity Theoryof Money
Bank Holiday
Bank Holding Company
Fractional Reserve System Regulation Z
Easy Money Policy
Prime Rate
Part II. Multiple Choice – 10 points
Two questions per Chapter
Part III. Critical Thinking (Completion) – 5 points
All questions pertain to the Fed
Part IV. Subjective – 6 points
New Deal, Hyperinflation, Banking (vaults & reserve requirement)
Part IV. Essay – 10 points
Describe the 4 consequences of inflation and which one you feel impacts society the most & why.
Describe three Anti-Poverty programs and one that you feel is necessary and unnecessary & why
Describe the three functions of money and describe 2 examples of other currency that people have used in
history (aka not paper money or coins)
Describe the benefits and disadvantages to a barter economy and fiat money. Also describe which you would
prefer and why.
What are 2 positives and 2 negatives to population growth and cite one of the top 5 states with an increase in
population growth.
Describe the 3 steps that are taken to measure prices and who measures these prices in the U.S.