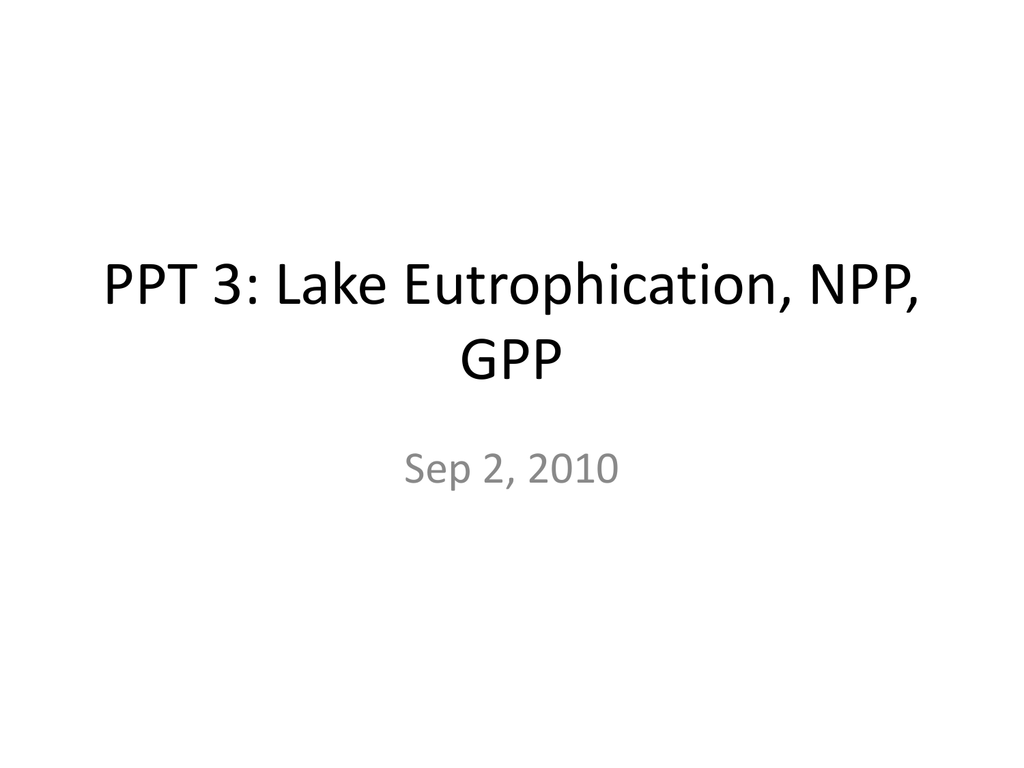 PPT 3: Lake Eutrophication, NPP,
GPP
Sep 2, 2010
Dispatch
Explain this diagram
GPP and NPP
• Gross primary production (GPP) is the rate at which
an ecosystem's producers capture and store a given
amount of chemical energy as biomass in a given
length of time.
• Net primary production is the rate at which all the
plants in an ecosystem produce net useful chemical
energy. Some net primary production goes toward
growth and reproduction of primary producers, while
some is consumed by herbivores.
NPP = GPP - respiration [by plants]
Activity: Get a Mat
• Take out the leaf and the mitochondria.
• What factors go in and out of a leaf's
chloroplast for photosynthesis?
• What factors go in and out of a
leaf'smitochondria for cellular respiration?
Primary Productivity of a plant
Primary productivity is ___________
It can be measured in three ways:
_______________________________
1. The amount of ____________used
carbon dioxide
glucose
2. The rate of _________formation
oxygen
3. The rate of _______
production
How does Nitrogen get to the
Atmosphere?
Phosphorous Cycle
Eutropication
• http://www.montereyinstitute.org/courses/AP
%20Environmental%20Science/course%20files
/multimedia/lesson78/lessonp.html?showTopi
c=1
Dissolved Oxygen Lab
1) What do the result mean?
2) What are 3 sources of error?
Exit Quiz Sticker Celebration
Put your sticker if
you have an 8 or
higher on exit quiz
1
Lab Folder Sticker
• Download AP Bio Lab Folder
• Print questions for the lab and attach them to
the lab report.