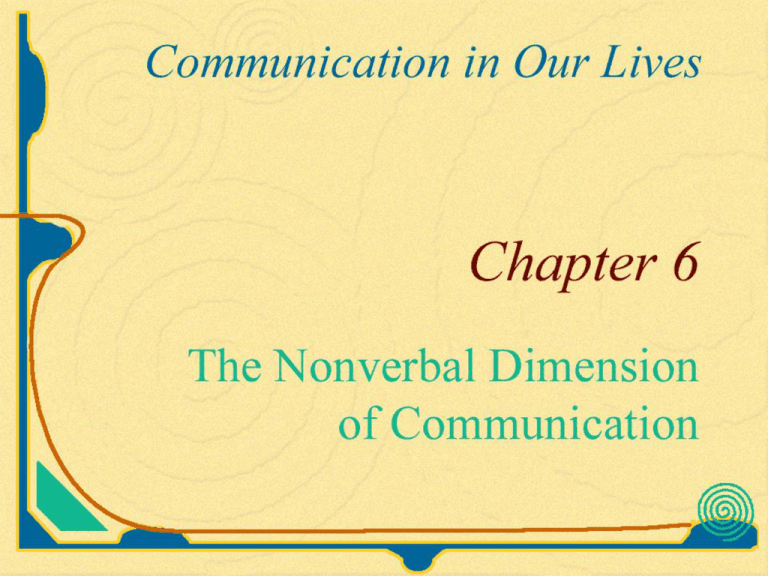 Comparing Verbal and Nonverbal
Communication
Similarities
Both are symbolic.
Both are rule guided.
Both can be intentional
or unintentional.
Both are culture-bound.
Differences
Nonverbal communication
is usually perceived
as more believable.
Nonverbal can be multichanneled.
Nonverbal is continuous.
Nonverbal Behavior
Accounts for
65% - 93% of the
total meaning of
communication
Nonverbal Communication
•
•
•
•
•
•
•
•
•
Kinesics (body motion)
Haptics (touch)
Physical appearance
Artifacts
Paralanguage
Silence
Environmental factors
Proxemics and personal space
Chronemics (time)
When nonverbal
and verbal
messages are
inconsistent, we
tend to believe the
nonverbal.
Principles of Nonverbal
Communication
• May supplement or replace verbal
communication
• May regulate interaction
• Often establishes relationship-level
meanings



Responsiveness
Liking
Power
• Reflects and expresses cultural values
• Content level of
meaning
 The literal, or
denotative,
information in a
message
• Relationship level of
meaning
 Meaning that
expresses the
relationship
between
communicators
Kinesics
Body positions and movement including those of the face
• Posture can signal self-assurance.
• Posture can tell others if we are open to
interaction.
• The face is capable of over one thousand
different expressions.
• Nonverbal behaviors such as positioning,
smiling, close seating and gazes signal how
we feel about others.
Eyes
"The mirrors of the soul"
• We tend to look at
eyes to judge
Microsoft Photo




Emotions
Honesty
Interest
Self-confidence
Haptics (touch)
Microsoft Photo
• Touching and being
touched are essential to
a healthy life.
• Touch can
communicate power
and status.
• Women tend to touch
to show liking, while
men often use touch to
exert power.
Who Touches the Most?
• Teacher or student?
• Doctor or patient?
• Manager or worker?
• Minister or parishioner?
• Police officer or accused?
• Business executive or secretary?
The higher status person is usually
permitted to touch the lower-status
person.
What implications does this
behavior have?
Sexual Harassment
Creation of a hostile or
uncomfortable environment
 Unwelcome gestures
 Body language
 Conversation
 Sexually oriented printed
material
Physical Appearance
Microsoft Photo
• What message do
you wish to send
with your choice
of clothing and
personal
grooming?
Artifacts
Microsoft Photos
Personal objects we use to
announce our identities and
heritage and to personalize our
environments
Environmental Factors
• Elements of settings that affect how
we feel and act






Architecture
Colors
Temperature
Sounds
Smells
Lighting
Proxemics and Personal Space
• Every culture has norms for using space.


In the U.S. we interact with acquaintances from
4' to 12' and within 18" or less for close friends
or intimates.
In China families often share bathrooms and
kitchens with other families.
• People who want to even out power seek out
neutral territory.


Greater space may be assumed by those with
higher status.
Those with greater power often invade others'
territory.
Proxemics and Personal Space
• How people arrange space reflects how
close they are and whether they want
interaction.


Home furniture arranged comfortably and
close invites conversation.
Offices with seating open rather than a desk
separating people invites interaction.
• Restaurants can arrange seating to
encourage people to spend time or to eat
quickly and leave.
Chronemics (time)
• How do we manage
and react to others'
management of time

Microsoft Photo


Duration
Activity
Punctuality
Paralanguage
Communication that is vocal but that does
not use words themselves
• Sounds (gasps and murmurs)
• Vocal qualities




Volume
Rhythm
Pitch
Inflection
• How we pronounce words
• The accents we use
• Complexity of our sentences
Silence
• Silence can be
comforting.


When intimates are
so close they do not
need to talk
When there is an
absence of
disturbing noise
• Silence can be a
disconfirming
symbol.


When you talk to
someone and they do
not reply
When children are
disciplined by being
ignored
Interpretation of others
Nonverbal Cues
• Research has shown that the lower status
person has more skills at interpreting the
nonverbal cues of people with higher
status.


Women were once thought to have intuition
now we may think it is only because they had
lower status.
Who would be the least skilled at interpreting
other's nonverbal cues?
Experiencing Communication
in our Lives . . .
View the following video clip and then
answer the questions that follow based
on material presented in this chapter.
A script of the scenario can be found at
the end of Chapter 6.
Wadsworth Thomson: Wood Scenarios
1. Identify nonverbal behaviors that regulate
turn-taking within the team.
2. Identify nonverbal behaviors that express the
relational level of meanings. What aspects of
team members nonverbal communication
express liking or disliking, responsiveness or
lack of responsiveness, and power?
3. How do artifacts affect interaction among
members of the team?
4. If you were the fifth member of this team, what
kinds of communication might you enact to
help relieve tension in the group?
You may go to your student CD that accompanies the text to
compare your answers to Julia Wood's.
To improve our communication . . .
We need to monitor our own
nonverbal communication and
exercise care in interpreting that
of others.