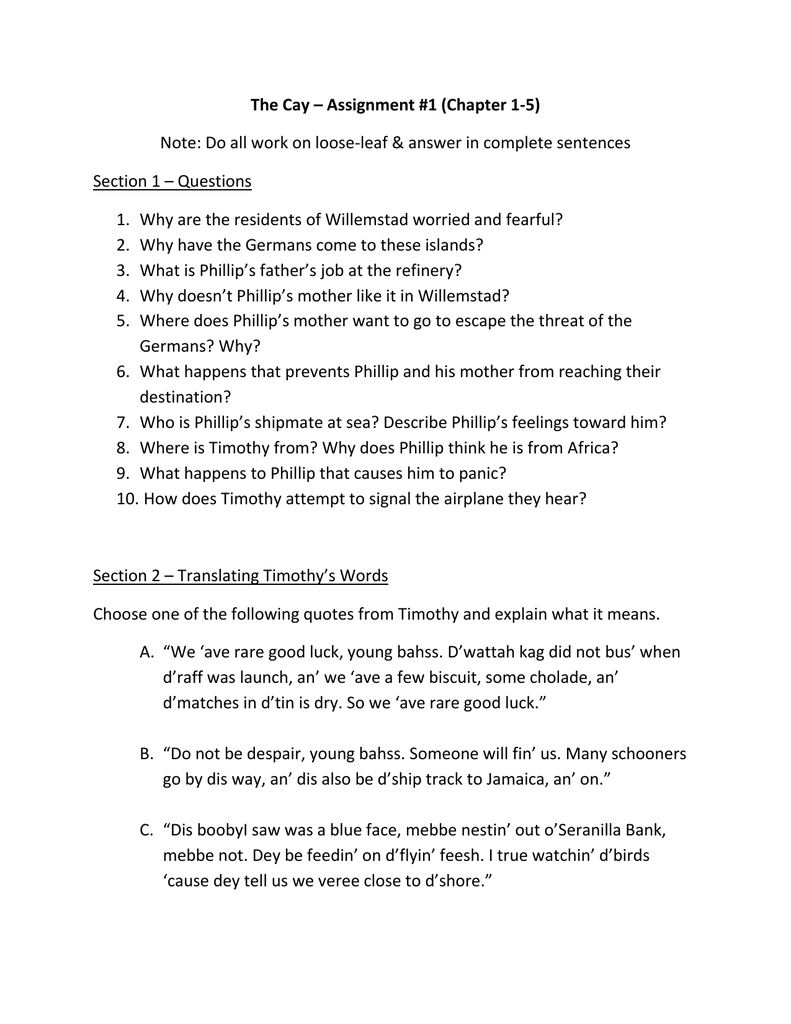 The Cay – Assignment #1 (Chapter 1-5)
Note: Do all work on loose-leaf & answer in complete sentences
Section 1 – Questions
1.
2.
3.
4.
5.
Why are the residents of Willemstad worried and fearful?
Why have the Germans come to these islands?
What is Phillip's father's job at the refinery?
Why doesn't Phillip's mother like it in Willemstad?
Where does Phillip's mother want to go to escape the threat of the
Germans? Why?
6. What happens that prevents Phillip and his mother from reaching their
destination?
7. Who is Phillip's shipmate at sea? Describe Phillip's feelings toward him?
8. Where is Timothy from? Why does Phillip think he is from Africa?
9. What happens to Phillip that causes him to panic?
10. How does Timothy attempt to signal the airplane they hear?
Section 2 – Translating Timothy's Words
Choose one of the following quotes from Timothy and explain what it means.
A. "We 'ave rare good luck, young bahss. D'wattah kag did not bus' when
d'raff was launch, an' we 'ave a few biscuit, some cholade, an'
d'matches in d'tin is dry. So we 'ave rare good luck."
B. "Do not be despair, young bahss. Someone will fin' us. Many schooners
go by dis way, an' dis also be d'ship track to Jamaica, an' on."
C. "Dis boobyI saw was a blue face, mebbe nestin' out o'Seranilla Bank,
mebbe not. Dey be feedin' on d'flyin' feesh. I true watchin' d'birds
'cause dey tell us we veree close to d'shore."
Section 3 – Your Reaction
1. What do you think happened to Phillip's mother?
2. What do you think Phillip's father did about his missing wife and son?
3. Why does Timothy always call Phillip "young bahss"?
Section 4 – Vocabulary
pilot boat
mutiny
ballast
U-Boat
cay
calypso
parched
torpedo
doused
drone
A. Choose 5 vocabulary words to use in sentences (one word/ sentence)
B. Choose 5 vocabulary words to find the definition of.