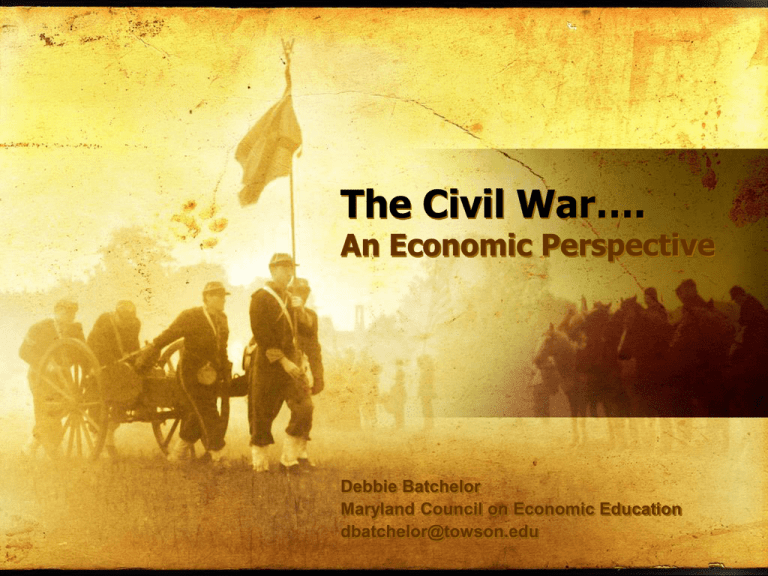 The Civil War….
An Economic Perspective
Debbie Batchelor
Maryland Council on Economic Education
dbatchelor@towson.edu
Objectives
During this presentation, we will…
• review a variety of economic concepts
• link Civil War lessons to those economic
concepts
Scarcity
Not having enough resources
to satisfy all wants.
Scarcity Implies Decision-Making:
A Decision-Making Model
PROBLEM
CRITERIA
Scarcity of human
resources: soldiers
CHOICES / ALTERNATIVES
PUT A PLUS (+) OR MINUS (-) IN EACH BOX TO INDICATE
WHETHER THE CHOICE MEETS (+) OR DOES NOT MEET (-) THE CRITERIA.
Call for volunteers
Institute a draft
Allow slaves to enlist
When completed: Rank the choices from 1 to 3 (with 1 being your first choice)
based on the number of +'s for each choice.
Opportunity Cost
The next best choice!
• Call for volunteers?
• Institute a draft?
• Allow slaves to enlist?
Lincoln's Decision-Making
• Permit Southern secession?
• Go to war with the South?
• Work out a compromise?
Opportunity Cost
The next best choice!
1. War = CHOICE
2. Compromise = OPPORTUNITY COST
3. Secession = "Forget about it."
Across the Lines
• Decision-Making
• Scarcity
• Opportunity Cost
Fire Drill !
Several times a year, the alarm rings
at school and we all leave the
classroom immediately to participate
in a fire drill.
If you were to reach quickly for one
thing to take what item would that
be and why?
Decision-Making: Edward
On a Moment's Notice
Decision-Making: Simon
• Go with the family
vs. run away?
• Move North vs. stay
in Virginia?
• One job vs. another?
• Reconnect with
Edward vs. make his
own way
FAIR OAKS, VIRGINIA. PROF.
And Even More Econ
in the Civil War…
• Technology
• Specialization
• Economic Systems
• Resources
Specialization
The production of a
narrower range of
goods and services
than is consumed by an
individual or group.
Technology
Tools, machines, methods
and other things used to
perform activities.
Civil War Artist
• Technology
• Specialization
A Make-n-Take Moment
The Impact of Technology
A Make-n-Take View
Economic Systems
• Command : economic decisions
are made by an authority such as a
feudal lord or government agency
• Market: decisions of "what", "how
"and "for whom" are decided in
markets through the interaction of
buyers and sellers
• Traditional: economic decisions
generally repeat the decisions
made at an earlier time or by an
earlier generation
Andersonville Prison
http://www.nps.gov/nr/twhp/wwwlps/lessons/11an
dersonville/11andersonville.htm
A War of Resources
http://www.econedlink.org/lessons/index.
php?lid=729&type=educator
• Human Resources
• Natural Resources
• Capital Resources
The South's Decision to Secede
• Economic
Reasoning
• Decision-Making
• Costs
& Benefits
http://www.econedlink.org/lessons/index.ph
p?lid=581&type=educator
Parting Shot
Thank you for choosing
to attend this session!