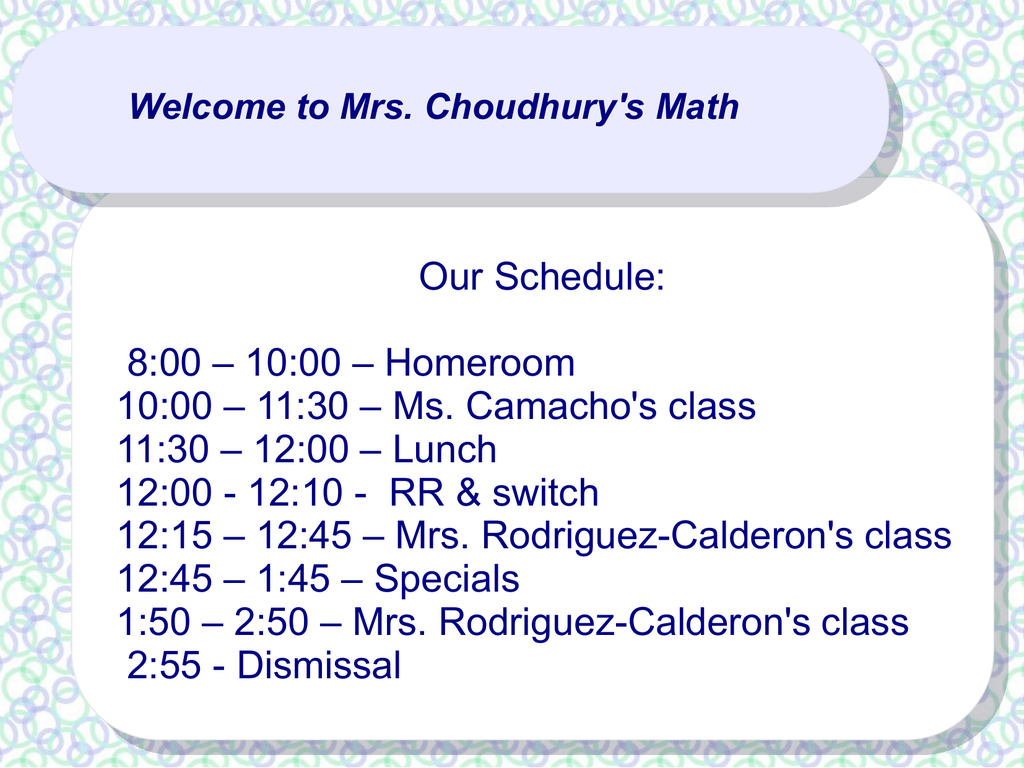 Welcome to Mrs. Choudhury's Math
Our Schedule:
8:00 – 10:00 – Homeroom
10:00 – 11:30 – Ms. Camacho's class
11:30 – 12:00 – Lunch
12:00 - 12:10 - RR & switch
12:15 – 12:45 – Mrs. Rodriguez-Calderon's class
12:45 – 1:45 – Specials
1:50 – 2:50 – Mrs. Rodriguez-Calderon's class
2:55 - Dismissal
Math Review




We do Math Review everyday to practice math
skills.
After 2 weeks of Math Review a Math Review Quiz
is given to test the math skills practiced in class.
The graded quiz will be sent home for a parent
signature. Please sign and make sure the student
brings it to school the next day. All quiz are kept
with teacher for records and should not be kept at
home.
Students successful in Math Review Quiz will earn
class dojo points between 10 to 20 points every
quiz, to use towards SOAR store dollars.
Classwork



Classwork consists of group discussions and
presentations, class bar graph, fact fluency,
independent work and exit tickets.
If your child is not being successful in his or her
classwork, we need to discuss how we can work
together, to find a way for the student to find
success.
Ask your student about using strategies in math
and problem solving strategies. Strategies are for
student success and is it is imperative that they
are used at all times.
Homework



Homework will be given everyday. Please make
sure your child brings homework everyday. They
earn class dojo points for homework, to use as
SOAR store dollars.
The answers should not be just circled. Homework
is given on a daily basis to measure progress and
should not be taken lightly. Please ask your child
about math strategies and make sure that they are
using and showing all their strategies for
homework.
Please encourage your child to practice
multiplication facts every day for at least 10
minutes. They can use flash cards (make their
own) or simply write down the facts and practice.
After school tutoring


If your child has been identified for after school
tutoring, you will receive a letter. Please sign and
return the next day so that your child can stay for
tutoring.
It is very important that your child comes for
tutoring as it will definitely help him or her be
successful in 4th grade.
What we are learning in Math...


We are working on Geometry in Math class. We
learned about different types of lines (Intersecting,
Parallel, Perpendicular, Vertical, Horizontal) and
Angles (Right, Acute, Obtuse, Straight) using
classroom objects. Please encourage your child to
find different lines and angles at home, at stores,
in the playground, and so on.
We are also studying 2D and 3D shapes and their
different characteristics. Students are learning
about edges, faces, vertices, and whether a shape
is a polygon or not. Encourage your child to look
for 2D and 3D shapes in their surroundings.
What we are going to learn in Math...








Place Value – comparing, ordering, using money
Points on Number Lines – Whole numbers as well
as decimals
Multiplication (2 digit by 2 digit)
Division (Long division 3 digit by 1 digit)
Word problems using multiplication and division
Fractions
Relating Fractions to Decimals
Measurement
Ways you can help your student...








Ask them what they learned in class today.
Remind them about homework.
Make sure they practice multiplication facts.
Sign them up for tutoring.
Ask them about Math Review Quiz every 2 weeks,
sign quiz and return.
Schedule parent conferences with the teachers if
you have any concerns.
Stay involved in your child's schooling.
Thank you!