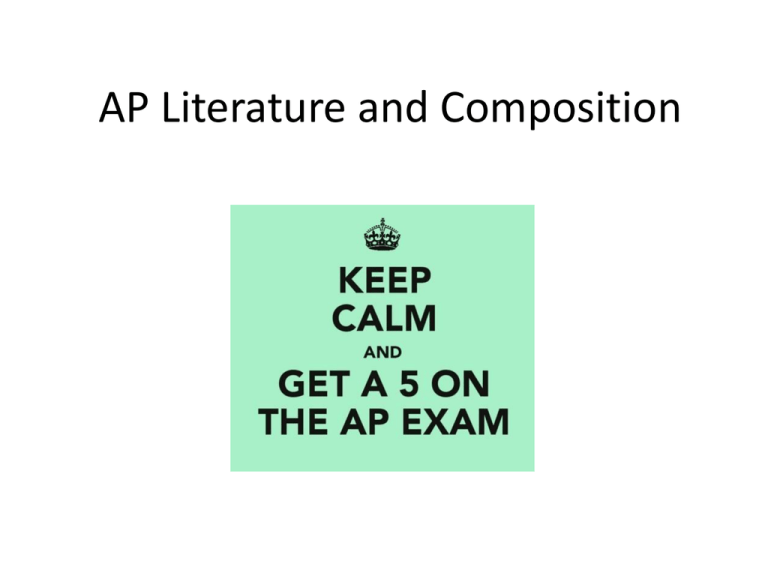 AP Literature and Composition
Description of Course
• This is a unique class designed for students
who desire a college level English Literature
Class in their senior year, and who would like
to receive college credit (not to mention save
college tuition) for the experience.
Description of Course
• A major focus of the class will be on
developing critical analysis skills and the
ability to convey ideas through the spoken and
written word. Formal and informal writing
will be done both in and out of class.
Students will be expected to complete
independent reading projects each quarter, as
well as study AP exam vocabulary.
Course and Teacher Expectations
• The ability to read accurately
• The ability to engage in intelligent discussion
involving active listening skills
• The desire to learn more than the obvious or
superficial
• A sense of personal and social responsibility
sufficient to keep up with the workload and to
contribute to group efforts
Course and Teacher Expectations
• The willingness to accept criticism from both
teachers and peers
• The patience to accept a variety of answers or
unresolved questions as a starting point for
thinking and exploring ideas in literature
• Emotional maturity
• A good command of the language or
willingness to work hard to catch up to
students who possess such a skill
Should You Take AP Lit and Comp?
• Simply put: you should enjoy reading,
exploring ideas in the reading, and writing or
speaking about those ideas. If you do not like
to read and discuss with interest what you
have read, AP LITERATURE MAY NOT BE A
GOOD CLASS CHOICE FOR YOU! Do not take
these expectations lightly.
What Are We Reading?
•
•
•
•
•
•
•
•
•
The Awakening
Frankenstein
Othello
The Importance of Being Earnest
The Metamorphosis
Heart of Darkness
Waiting for Godot
Who's Afraid of Virginia Woolf
Various short stories and modern and traditional
poetry.