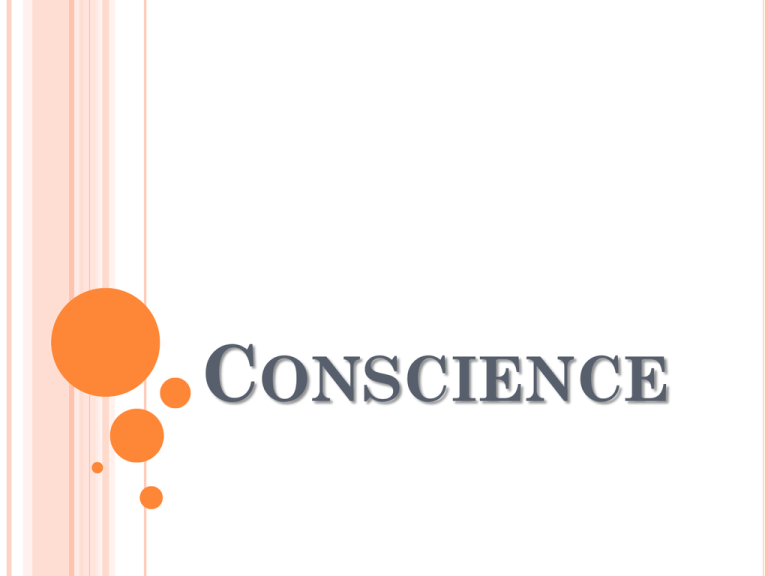 CONSCIENCE
CONSCIENCE IN THE TEACHINGS OF THE
CATHOLIC CHURCH
The Catholic tradition believes that our
conscience is much more than an 'internal censor'
the regulates our conduct by using guilt
 According to the Church our consciences acts in
love, and responds to the call to commit ourselves
to value.
 It is the key to responsible freedom, or wanting to
do what we do because we value what we are
seeking.

CONSCIENCE AND THE CATECHISM
CCC #1776
 Deep within his conscience man discovers a law
which her has not laid upon himself but which he
must obey.
 Its voice, ever calling him to love and to do what
is good and to avoid evil, sounds in his heart at
the right moment.
 For man has in his heart a law inscribed by God.
 His conscience is man's most secret core and his
sanctuary.
 There he is alone with God whose voice echoes in
his depths.
CONSCIENCE AND THE CATECHISM
CCC #1777
 Moral conscience, present at the heart of the
person, enjoins him at the appropriate moment to
do good and to avoid evil.
 It also judges particular choices, approving those
that are good and denouncing those that are evil.
 It bears witness to the authority of the truth in
reference to the supreme Good to which the
human person is drawn, and it welcomes the
commandments.
 When he listens to his conscience, the prudent
man can her God speaking.

THEORIES OF
CONSCIENCE
McCarty, M. (1992) Deciding: Moral Decision Making for Catholics. Dubuque, Iowa:
Brown-Roa.
THE "HUNCH THEORY"
When asked whether
a certain action or
decision is right or
wrong, many people
respond: I just know it
is or something just
tells me it is.
 However, when asked
the reasons, they can't
be specific.

(McCarty, 1992)
"DOING WHAT COMES
NATURALLY" THEORY
Some believe we are
born with a certain
moral instinct that
tells them right from
wrong.
 Therefore, if people
just did what came
naturally by instinct
they would be doing
the right thing
according to their
conscience.

(McCarty, 1992)
"THE LITTLE VOICE " THEORY
A voice inside telling
right or wrong.
 To them it is the voice
of a force or a power
other than themselves
who gives guidance.
 When asked these
people will often say: I
just know that's what
God wants or it's
God's will.


(McCarty, 1992)
"FOLLOW THE CROWD"
THEORY
This group believe the majority can't be wrong.
 If enough people think or feel that something is
right then it must be, or wrong- it has to be so.

"THE FEELING " THEORY
Conscience for some is
a matter of how one
"feels" after the action
is taken or a decision
is made.
 If you feel good - it
was right, if you feel
bad - it was wrong.
 If a person feels bad,
or guilty, then it was
wrong.

(McCarty, 1992)
"NO CONSCIENCE" THEORY



No conscience at all.
The idea is something
that religions have
made up to make people
feel guilty about certain
actions.
A person just does what
they decide to do or does
what they must in a
given situation and that
is all that should be
expected or required of
anyone.
(McCarty, 1992)
"USING YOUR HEAD"
THEORY
Conscience involves using our
head - our ability to reason,
considering all alternatives and
aspects of a given situation while
always keeping in mind which values
and priorities are most important and
which are not; and trying to do the
most loving and least harmful thing
for all concerned.
 Number 7 is the teaching of the Catholic church.
 We also believe that a person's conscience develops as
that individual's ability to think, to reflect and to
exercise clearer, more objective judgments matures.

CONSCIENCE AS A CAPACITY TO
RECOGNIZE RIGHT AND WRONG
All people in all cultures have a general
awareness that some things are right and others
are wrong
 Every human has a basic orientation towards the
good
 Conscience defines the essential identity of the
human
 The terms "sociopath" and "psychopath" refer to
persons who have no conscience

CONSCIENCE AS A PROCESS OF MORAL
REASONING
Conscience alone cannot help you choose right
and avoid evil
 You must also use reason to help you decide what
to do in each situation (learn the facts and learn
what moral values are)
 Your conscience must be formed and informed
(this means being educated about moral issues)
 Sources of education include: your community,
Church, Scripture, personal experience, moral
theologians

CONSCIENCE AS JUDGMENT
After examining the facts, you need to make a
decision and commitment to do what is right
 Conscience makes a moral decision your own (it
is something you need to do if you want to be true
to yourself!)
 You decision must be based on your personal
perception and your understanding of the values
that mean something to you

SIX SYMPTOMS OF A MISINFORMED
CONSCIENCE
1.
2.
3.
4.
5.
6.
Rationalization: Stealing may be wrong sometimes, but
large stores can afford it because they are making huge
profits.
Trivialization: It's no big deal – everyone else does it.
Misinformation: My doctor told me that all teenage girls
should take the birth control pill to prevent getting
pregnant.
The ends justify the immoral means: I had to steal the
chocolate bar – I didn't have any money and I hadn't
eaten for 12 hours. I get sick if I don't eat.
Means to and end: By dropping a nuclear bomb to end the
war, we'll end up saving lives.
Difficult to reason: Having been kicked out of his home
and finding himself with no place to go, a teen acts
without thinking. He breaks into an empty home to keep
warm when he could have asked for help form the police.