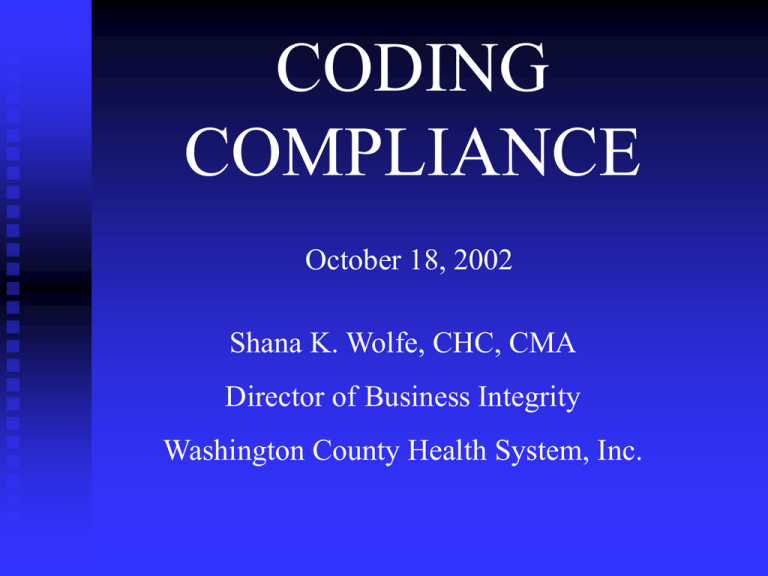 CODING
COMPLIANCE
October 18, 2002
Shana K. Wolfe, CHC, CMA
Director of Business Integrity
Washington County Health System, Inc.
History
Coding not the basis for payment in 1965 (beginning of
Medicare)
Patient volume and costs have climbed steadily
Number and types of clinical interventions has
skyrocketed
For-profit hospital chains have changed the landscape
Managed care and focus on cost containment
DRG system in 1983, then APC system in 2000
GREED!!!
Cases
Pneumonia
Chest Pain
TIA/CVA
Cases w/cc vs. w/o cc
Consequences
Personal career impact
Financial loses to hospitals from fines
and penalties
BIG public relations nightmare!
Expensive corrective strategies if placed
under CIA
Resources
AHIMA Standards of Ethical Coding
Guidelines of four Cooperating Parties –
AHA, AHIMA, CMS, NCHS
UHDDS
Updated AHA Coding Clinics
Compliance programs and OIG guidance
Peer Review Organization Manual, section
4130 – DRG Validation Reviews
Personal Responsibility
Adherence to Code of Ethics
QUERY PHYSICIANS!!
Participate in documentation improvement
projects
The "big shots" go to jail, not
coders (unless there is an
incentive plan tied to CMI)
Preventative Strategies
Support coder credentialing and continuing
education
Consider internal coding peer review
Utilize periodic third-party coding reviews
Develop a coding compliance policy
Profile your hospital coding patterns to state/nation
Consider a documentation specialist for coding
support
Monitor your hospital's CMI
Thank you for your time and
attention. Any questions?