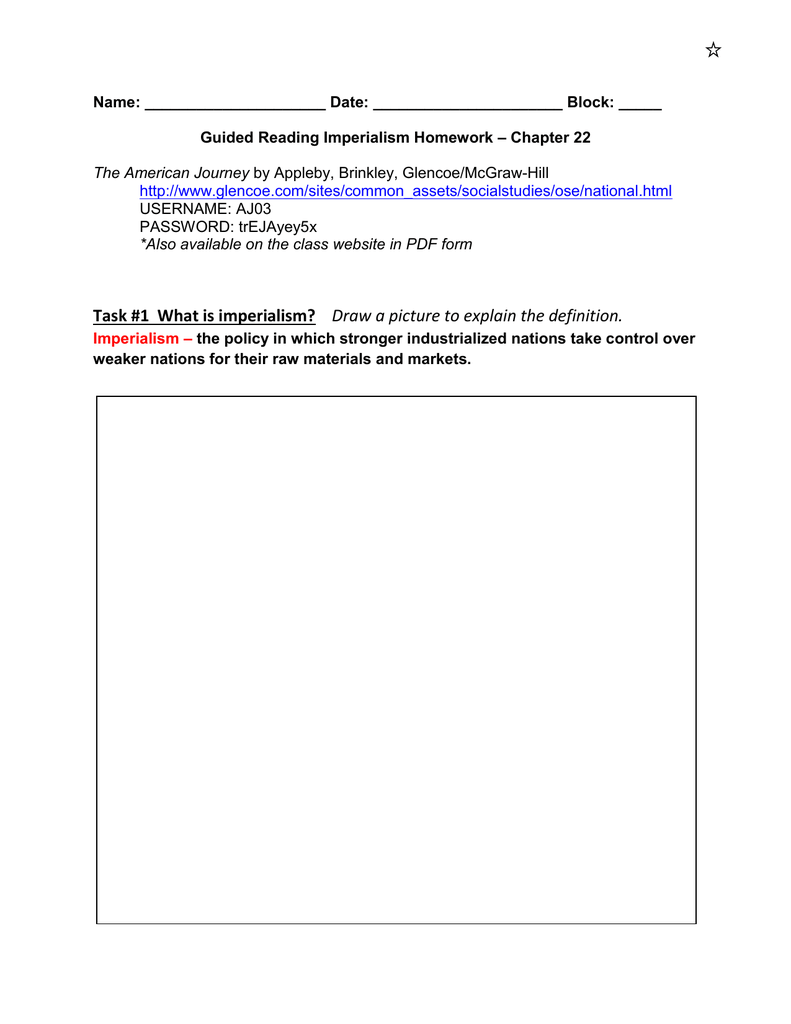 Name: _____________________ Date: ______________________ Block: _____
Guided Reading Imperialism Homework – Chapter 22
The American Journey by Appleby, Brinkley, Glencoe/McGraw-Hill
http://www.glencoe.com/sites/common_assets/socialstudies/ose/national.html
USERNAME: AJ03
PASSWORD: trEJAyey5x
*Also available on the class website in PDF form
Task #1 What is imperialism? Draw a picture to explain the definition.
Imperialism – the policy in which stronger industrialized nations take control over
weaker nations for their raw materials and markets.
Task #2: Apply your knowledge to a new situation.
Show what imperialism would look like if it happened at home, in the classroom
and in the cafeteria.
HOME
CLASSROOM
CAFETERIA
Task #3: An Example of America Being Imperialistic: "The Spanish American War"
Look at pages 649-655.
What are four causes of the war?
1.
2.
3.
4.
What are three results of the war?
1.
2.
3.
What happened at the ……..
Beginning
Middle
End
Task #4: "Big Stick Diplomacy" and the Roosevelt Corollary
Read page 658 "Policing the Western Hemisphere" UNTIL "Dollar Diplomacy."
1) In 1904, Roosevelt issued a policy called the Roosevelt Corollary. Explain it in 305
sentences below.
Read page 656-658 entitled "Panama."
1) Why did the United States was control over Panama?
2)
3)
4) What was dangerous about building the Panama Canal?