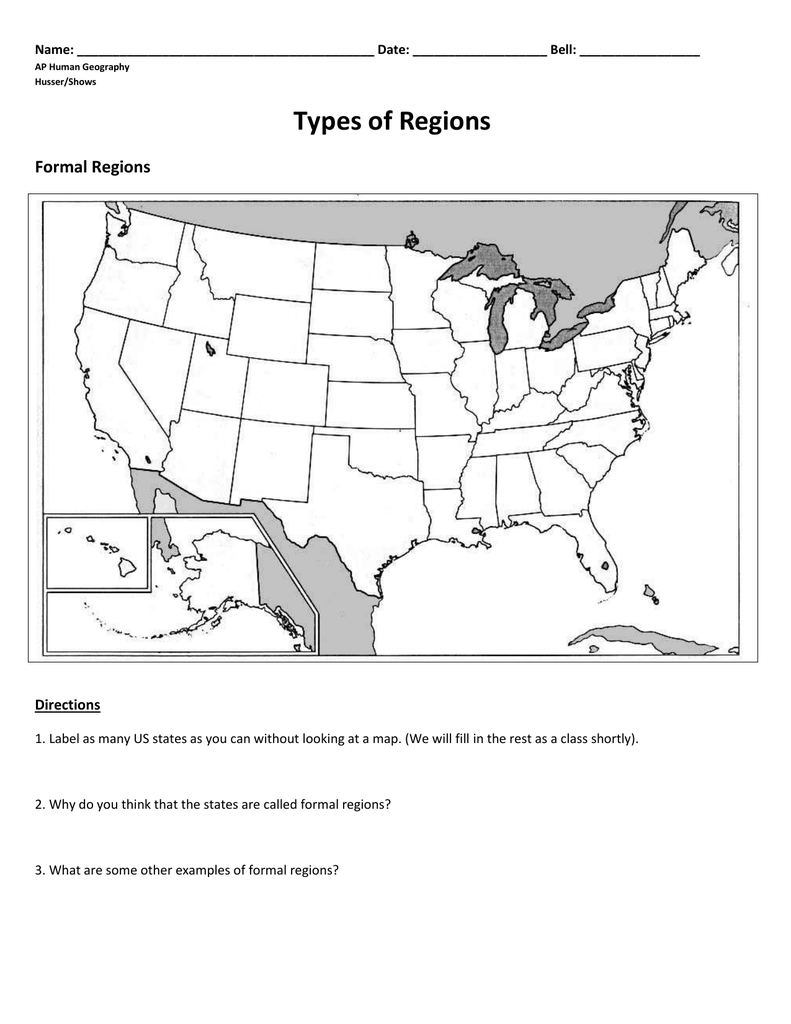 Name: __________________________________________ Date: ___________________ Bell: _________________
AP Human Geography
Husser/Shows
Types of Regions
Formal Regions
Directions
1. Label as many US states as you can without looking at a map. (We will fill in the rest as a class shortly).
2. Why do you think that the states are called formal regions?
3. What are some other examples of formal regions?
Functional Regions
Turn to page 33 of your book.
4. Label the 30 Major League Baseball teams on the map above (Use the 2010 map).
5. Use colored pencils where you would shade where the fan bases for the flowing teams are most likely located:
(For example, the Atlanta Braves probably cover all of Georgia, South Carolina, Alabama, parts of North Carolina, parts of Tennessee, ad parts of Mississippi.)
Seattle Mariners
Colorado Rockies
Houston Astros
Boston Red Sox
Florida Marlins
Texas Rangers
Minnesota Twins
Toronto Blue Jays
6. Why do you think these are called functional regions?
Look at the teams on the east coast in the Northeastern part of the United States; label the teams in the boxes below:
7.
8.
9.
10.
11.
12.
13. Why are these teams so clustered together as opposed to different parts of the country?
There are two other parts of the United States where the teams are clustered close together. What are the teams (include
the cities) and what region of the country are they in?
Region
14.
Team
15.
Team
16.
Team
17.
Region
18.
Team
19.
Team
20.
Team
21.
21-22, Compare the map from 1952 to the map of 2010:
What two things does it tell us about the US population?
21.
22.
23. Why do you think there are no teams in Alaska?
24. Why do you think there are no teams in Hawaii?
25. Other than sports teams, what are some other types of functional regions you might see?
Perceptual Regions
Use colored pencils to break up the country into the following 10 sub-regions:
Sub-Region
26. New England
27. Mid-Atlantic
28. South
29. Midwest
30. Mountain West
Color
Sub-Region
31. West Coast
32. Pacific Northwest
33. Great Lakes
34. Southwest
35. Appalachia
Color
36. Do you think the way you split up your map will look exactly the same as everyone else in your class? Why or why not?
37. Why do you think this is called a perceptual region? (think of the root word)
38. What are some other examples of perceptual regions?