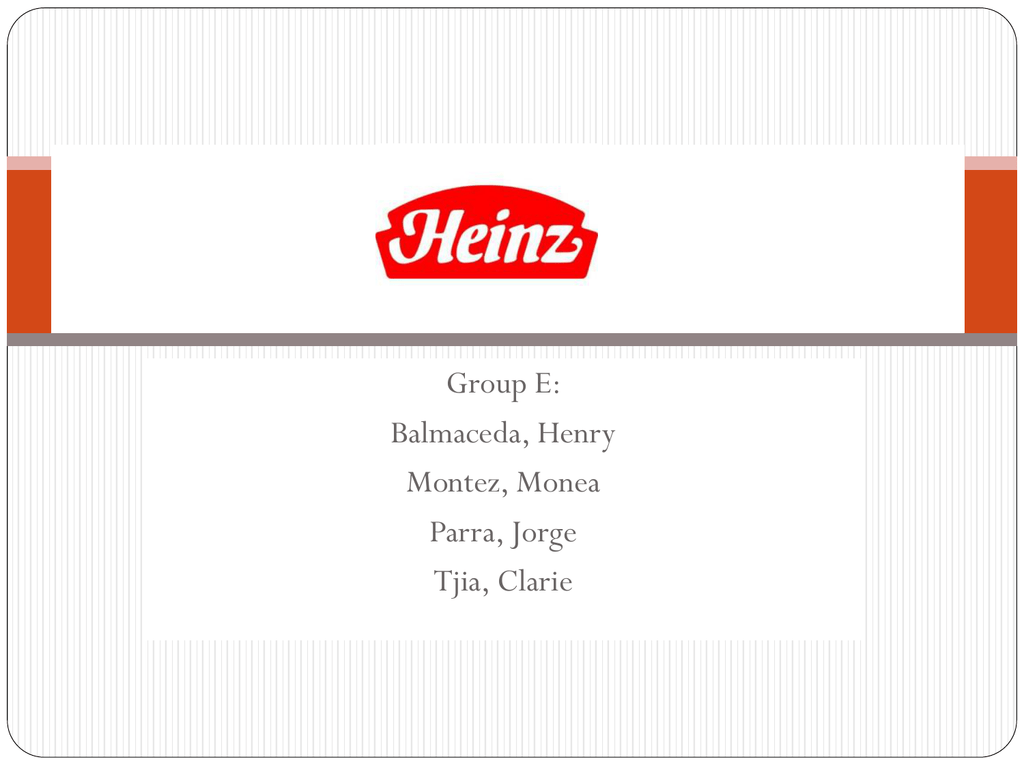 H.J. Heinz
Group E:
Balmaceda, Henry
Montez, Monea
Parra, Jorge
Tjia, Clarie
Mission Statement: "As the trusted leader in nutrition and wellness,
Heinz – the original Pure Food Company – is dedicated to the
sustainable health of people, the planet and our Company."
William R. Johnson
President, CEO, Chairman
Europe, North American
consumer products,
Asia/Pacific, US
foodservice, and the rest of
the world
Five Values
•Team Building &
Collaboration
•Innovation
•Vision
•Results
•Integrity
Focus
•Grow the Core Portfolio
•Accelerate Growth in
Emerging Markets
•Strengthen and Leverage
Global Scale
•Make Talent an Advantage
External Environment Factors
Industry
• Top competitors are Kraft
Foods and Nestle
• H.J. Heinz holds over 50%
market share in the U.S.
Socio-Cultural
• Attitudes, culture, and tastes
vary greatly by country
Government & Political
• Not being able to meet
guidelines in quality, procedures,
or requirements that might
disrupt the supply chain
Economic Conditions
• People look for cheaper
alternatives
Technology
• Company is using the
latest technology in
supply chain management
using Manugistics
Raw Materials
• Material cost inflation
• Increase in costs
Evaluating the Company
• 10.7 billion
in sales
• Top 15
brands
generate 70%
of revenue
• Heinz
focuses on
three
categories:
ketchup &
sauces, meals
& snacks and
infant/nutrition
Past Challenges
Recalls
• Baby food recall in
Canada, could've
impacted their ability to
expand to China since
they have trust issues
with baby food suppliers
Lawsuits
• Expensive lawsuits can
cost them the opportunity
to use those funds to
expand globally
Workforce Problems
• Strikes in the UK shows
Heinz's inability to meet
worker's demands
• Future confrontations
can lower production
Gaining Market Share
• There are many external
environment factors and
challenges that the company
has to consider in order to
successfully expand globally
Major Challenges Present Day
 Heinz's heavy reliance on Wal-Mart
 Product recall damages brand image
 Intense competition
 Stringent regulations
 Increasing labor costs
 Shift in consumer preference
Management Scope
 Introduce lower-priced products
 Use emerging market branches
 Use foreign exchange rate currency
 Lower raw-materials costs
 Strict control over quality assurance & quality standards
 Shift products to follow consumer preference
Making Gains
 Heinz Plans to grow in different countries by purchasing
80% stake in a Brazilian sauce company.
 Brazil generates 15% of Latin America's GDP and is vastly
growing.
 Purchasing Quero (Brazilian Sauce Company) Heinz will
be well positioned in key emerging markets of Brazil,
Russia, India, China, and INDONISIA.
 Heinz's Long-Term Strategy to grow the core portfolio is to
invest more into their Research and Development
Department.
Looking Outside the Box
 As companies grow they will need to look into other
means of resources. HJ Heinz has made major gains in
the US but is now moving into emerging company's
giving them an opportunity to grow the company.
 Planning and researching other means of growth has
given HJ Heinz a major advantage in developing
countries. Queros is a well known brand and well
trusted in Brazil and Heinz will use that to their
advantage to gain revenue.
 Heinz products are well known and they have quickly
realized that they will need to develop and market
them better. (Heinz ketchup bottle is a good example)
 Investing millions into their developing department is
enabling them to develop their current products and
making them more appealing to the public.