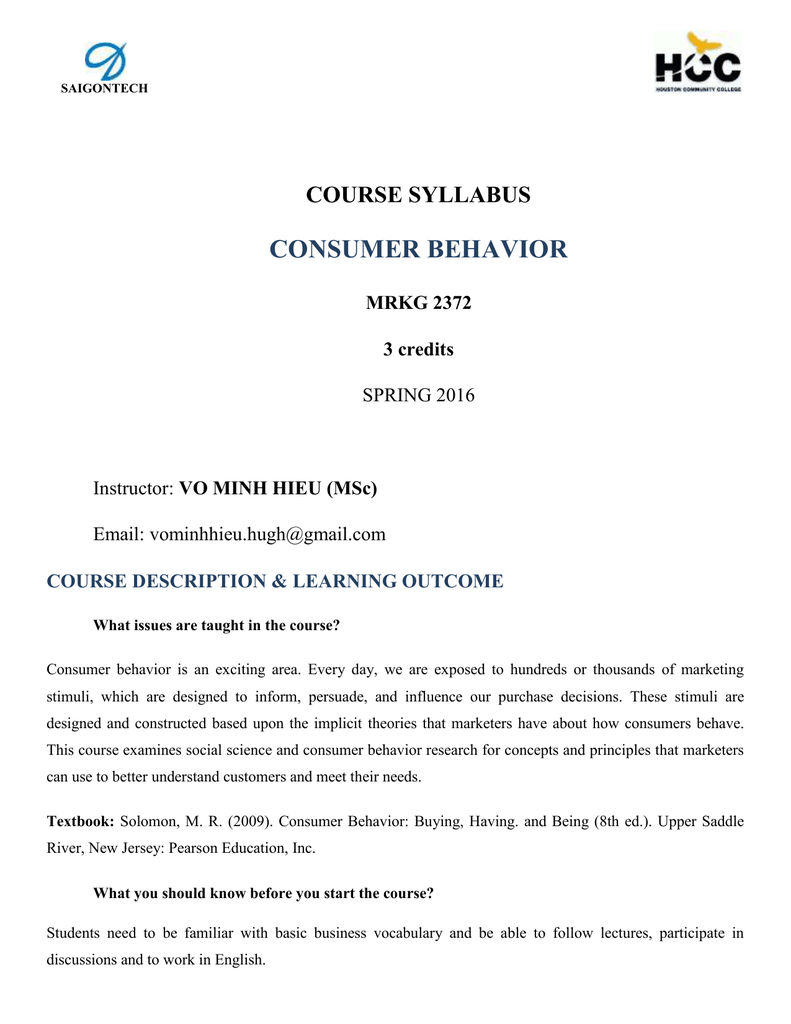 SAIGONTECH
COURSE SYLLABUS
CONSUMER BEHAVIOR
MRKG 2372
3 credits
SPRING 2016
Instructor: VO MINH HIEU (MSc)
Email: [email protected]
COURSE DESCRIPTION & LEARNING OUTCOME
What issues are taught in the course?
Consumer behavior is an exciting area. Every day, we are exposed to hundreds or thousands of marketing
stimuli, which are designed to inform, persuade, and influence our purchase decisions. These stimuli are
designed and constructed based upon the implicit theories that marketers have about how consumers behave.
This course examines social science and consumer behavior research for concepts and principles that marketers
can use to better understand customers and meet their needs.
Textbook: Solomon, M. R. (2009). Consumer Behavior: Buying, Having. and Being (8th ed.). Upper Saddle
River, New Jersey: Pearson Education, Inc.
What you should know before you start the course?
Students need to be familiar with basic business vocabulary and be able to follow lectures, participate in
discussions and to work in English.
PROGRAM LEARNING OUTCOMES
1. Outline a marketing plan.
2. Identify the marketing mix components in relation to market segmentation.
3. Explain the environmental factors, which influence consumer and organizational decisionmaking process.
4. Identify the elements of the communication process between buyers and sellers in business.
5. Utilize marketing research techniques to implement competitive marketing decisions.
STUDENT LEARNING OUTCOMES (SLOs) and LEARNING OBJECTIVES (LOs)
1. Demonstrate how to respond to consumers as individuals.
1.2. Explain differences between behavioral learning theories, cognitive learning theories and memory.
1.3. Relate motivation and its values to consumer behavior.
2. Classify personality, lifestyles, and attitude of consumers
2.1. Describe perspectives on the self and sex roles to oneself establishment.
2.2. Interpret important of personality, lifestyle and psychographics to consumer behavior.
2.3. Determine the power, functions, models of attitudes.
3. Analyze factors influence on decision making of consumers
3.1. Explain each step in the decision-making process.
3.2. Determine situational effects and the environment impacts on consumer behavior.
4. Explain some factors influence on consumer behavior.
4.1. Analyze consumer spending and economic behavior.
4.3. Describe the influences of culture on consumer behavior.
HOW TO COMPLETE THE COURSE?
In-class study
There are 16 weeks (48 hours) that cover the academic subject areas. Attendance is strongly
recommended because students will achieve beneficial and practical information related to their further careers.
In addition, mid-term exam, final exam and presentations will test students' knowledge and ability on issues
covered in the lectures.
Attendance & Participation
Student should participate in all the class and contribute to the lesson. Each group has to choose a
chapter to do a presentation in the class. The lecturer will assign the optional topics to the group at week two.
Mid-term & Final exam
Exam
Type
Exam
Multiple
Choices
Short
Questions/ Essay
Duration
(Minutes)
Closed
book
Point
60
120
40
Assignment
Students will be asked to write 4 discussion essay papers about the issues that will be given by the
teacher. The topic will be varied but will not stay outside the knowledge was delivered during class hours.
Please notice that, these essay papers will not be announced in advance.
Report & Presentation (group of 3 to 5)
In this report, your group will have a chance to do deeper research on topics discussed in the textbook.
After the first 3 weeks, your group will choose the chapter topic that you have most interest in for the report.
Based on your chosen topic, teacher will assign you a case study or research question. The entire research
questions will be announced in week 4.
The report needs to have at least 2500 words and to be expressed in font Time New Romans, size 12,
line spacing 1.5. Deadline is 7:00 AM 27.04.2016. Late work means 0. All of you will present your report. The
presentation should last around 15-20 minutes (excluding Q&A part) with the participation of all group
members.
Criteria
Speaking speed
Attire
Time management
Power point slides
Pronunciation
Professional Manner
Content
Course evaluation
Standards
Not too fast, not too slow
Appropriate
10-15 minutes for presentation (not including Q&A section)
Good design & layout
Accurate, clear, loud enough
Proper gesture, face expression, eye contact, audience control
Quality of the content presented, quality of the answers
Attendance & Participation, Preparation
15%
Mid-term exam
20%
Assignment
20%
Report & Presentation
15%
Final Exam
30%
Percentage Grade
Letter
Note
90 – 100
A
Pass
80 – 89
B
Pass
70 – 79
C
Pass
60 – 69
D
Pass
0 – 59
F
Fail
Grade
Rules of the Road
1. Please be punctual. Always ask once you are not able to follow.
2. There should be no talking or phone ring whilst the instructor is speaking.
3. Academic Dishonesty Policy will be in effect through all exams and written assignments. Make
certain you understand and adhere to them. Especially, don't commit PLAGIARISM under any circumstances.
If you are caught to plagiarize, you will get a 0 and even an F for the whole course in case of recommitment. If
you use any information from the internet, this must be referenced or you will be penalized.
Students are responsible for conducting themselves with honor and integrity in fulfilling course requirements.
Penalties and/or disciplinary proceedings may be initiated by SaigonTech officials against a student accused of
scholastic dishonesty. The penalties are regulated clearly in "Policy no.2 about Plagiarism, SaigonTech
catalogue 2015" which will be available in SaigonTech's website soon. Please read my PowerPoint on
"Cheating and Plagiarism" and the following policies for more details about Academic Dishonesty Policy:
Acts of plagiarism include but are not limited to:
·
Submit other people's works to get points (Nộp bài làm của người khác để lấy điểm cho mình).
·
Copy completely or partly from the text translated by translation tool such as Google translation etc (Sao
chép nguyên văn, hoặc một phần từ các công cụ dịch thuật)
·
Copy words or ideas without citing source and author's name (Sao chép từ hoặc ý tưởng của người khác
mà không nêu nguồn tài liệu và tên tác giả được trích dẫn).
·
Do not use quotation marks for direct citation (Không đặt dấu ngoặc kép trong các trích dẫn nguyên văn).
·
Cite the wrong source (Đưa thông tin sai về nguồn của một trích dẫn).
·
Change the wording but sentence structure without citing author's name (Thay đổi từ ngữ nhưng vẫn giữ
nguyên cấu trúc câu của một nguồn tài liệu mà không nêu tên tác giả).
·
Borrow words/ phrases from a source without using quotation marks or with making negligible change
(Vay mượn từ/ cụm từ của một nguồn tài liệu mà không đặt dấu ngoặc kép hoặc chỉ thay đổi chúng một cách
qua loa).
·
Copy too many words or ideas that make up the most of personal work, regardless of whether source and
author's name are cited (Sao chép quá nhiều từ ngữ hoặc ý tưởng từ một nguồn tài liệu làm cho các ý tưởng đó
chiếm phần lớn bài làm của mình, bất kể có nêu tên nguồn hoặc tác giả hay không)
·
Copy information from Internet such as company information, market information etc. (Sao chép thông
tin từ Internet (thông tin công ty, thông tin thị trường v.v)
·
Cooperate with other students to do the exams, tests and other assignments without permission of the
Instructor (Cộng tác với sinh viên khác trong lúc làm bài thi/kiểm tra hoặc trong các bài tập mà không được
phép của giáo viên)
·
Use one assignment to submit for different classes without permission of the Instructor (Sử dụng hoặc
nộp cùng một bài làm cho nhiều lớp khác nhau mà không được phép của giáo viên môn học)
·
Have other people do the exams, tests and other assignments for you (Đi thi hộ hoặc nhờ người khác thi
hộ mình trong kỳ thi/ kiểm tra hoặc làm giúp hay nhờ người khác làm bài tập cho mình)
4. No 'extra credit' work or additional assignments will be given without a valid reason. Instead, your
activeness in class discussion/ activity is highly appreciated and will be counted. Extensions to any deadlines
are possible only upon presentation of appropriate documentation.
COURSE SCHEDULE
Time: Wednesday, 2.40pm to 5.50pm.
Venue: Room TBA
Session
1
2
3
4
5
6
7
8
9
Date
Wed, 13-01-2016
Wed, 20-01-2016
Wed, 27-01-2016
Wed, 17-02-2016
Wed, 24-02-2016
Wed, 02-03-2016
Wed, 09-03-2016
Wed, 16-03-2016
Wed, 23-03-2016
Content
Chapter 1: An Introduction to Consumer Behavior
Chapter 2: Perception
Chapter 3: Learning and Memory
Chapter 4: Motivation and Values
Chapter 5: The Self
Chapter 6: Personality and Lifestyles
Chapter 7: Attitude + Prepare for the Midterm Exam
Revision + Midterm Exam
Chapter 9: Individual Decision Making
10
11
12
13
14
15
16
Wed, 30-03-2016
Wed, 06-04-2016
Wed, 13-04-2016
Wed, 20-04-2016
Wed, 27-04-2016
Wed, 04-05-2016
Wed, 11-05-2016
Chapter 10: Buying and Disposing
Chapter 11: Group Influence and Opinion Leadership
Chapter 13: Income and Social Class
Chapter 15: Age Subcultures
Chapter 16: Cultural Influences on Consumer Behavior
Revision+ Final Exam
Updating on Consumer Behavior trends
HAVE A NICE SEMESTER!