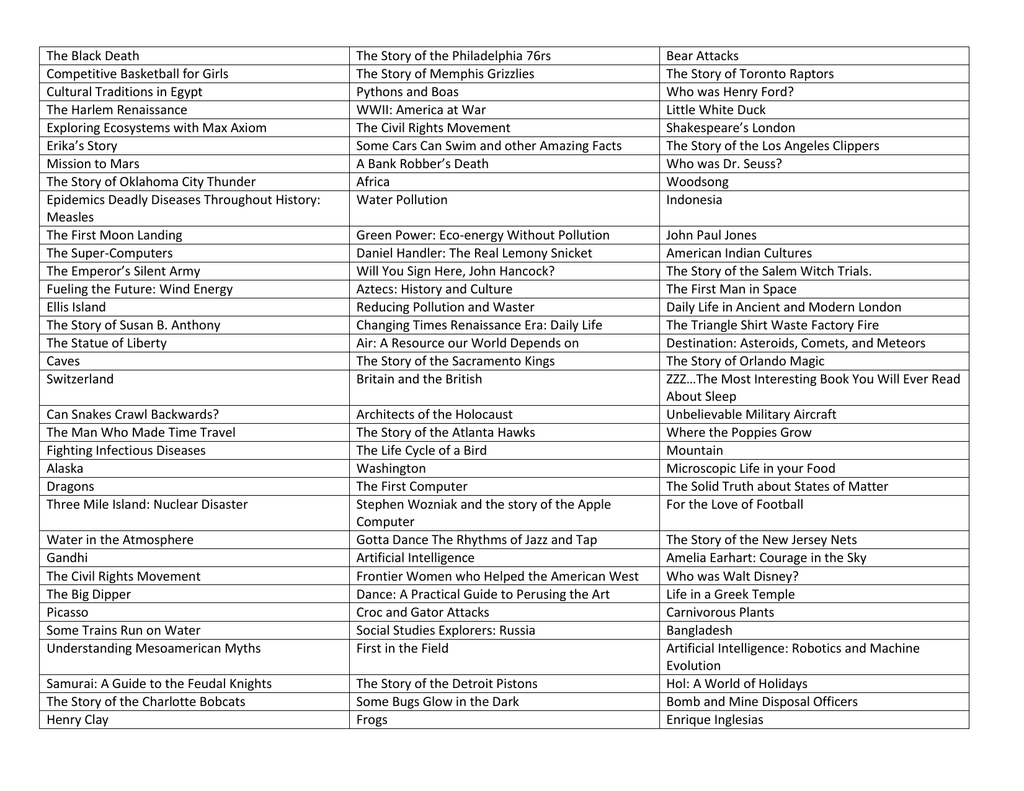 The Black Death
Competitive Basketball for Girls
Cultural Traditions in Egypt
The Harlem Renaissance
Exploring Ecosystems with Max Axiom
Erika's Story
Mission to Mars
The Story of Oklahoma City Thunder
Epidemics Deadly Diseases Throughout History:
Measles
The First Moon Landing
The Super-Computers
The Emperor's Silent Army
Fueling the Future: Wind Energy
Ellis Island
The Story of Susan B. Anthony
The Statue of Liberty
Caves
Switzerland
The Story of the Philadelphia 76rs
The Story of Memphis Grizzlies
Pythons and Boas
WWII: America at War
The Civil Rights Movement
Some Cars Can Swim and other Amazing Facts
A Bank Robber's Death
Africa
Water Pollution
Bear Attacks
The Story of Toronto Raptors
Who was Henry Ford?
Little White Duck
Shakespeare's London
The Story of the Los Angeles Clippers
Who was Dr. Seuss?
Woodsong
Indonesia
Green Power: Eco-energy Without Pollution
Daniel Handler: The Real Lemony Snicket
Will You Sign Here, John Hancock?
Aztecs: History and Culture
Reducing Pollution and Waster
Changing Times Renaissance Era: Daily Life
Air: A Resource our World Depends on
The Story of the Sacramento Kings
Britain and the British
Can Snakes Crawl Backwards?
The Man Who Made Time Travel
Fighting Infectious Diseases
Alaska
Dragons
Three Mile Island: Nuclear Disaster
Water in the Atmosphere
Gandhi
The Civil Rights Movement
The Big Dipper
Picasso
Some Trains Run on Water
Understanding Mesoamerican Myths
Architects of the Holocaust
The Story of the Atlanta Hawks
The Life Cycle of a Bird
Washington
The First Computer
Stephen Wozniak and the story of the Apple
Computer
Gotta Dance The Rhythms of Jazz and Tap
Artificial Intelligence
Frontier Women who Helped the American West
Dance: A Practical Guide to Perusing the Art
Croc and Gator Attacks
Social Studies Explorers: Russia
First in the Field
John Paul Jones
American Indian Cultures
The Story of the Salem Witch Trials.
The First Man in Space
Daily Life in Ancient and Modern London
The Triangle Shirt Waste Factory Fire
Destination: Asteroids, Comets, and Meteors
The Story of Orlando Magic
ZZZ…The Most Interesting Book You Will Ever Read
About Sleep
Unbelievable Military Aircraft
Where the Poppies Grow
Mountain
Microscopic Life in your Food
The Solid Truth about States of Matter
For the Love of Football
Samurai: A Guide to the Feudal Knights
The Story of the Charlotte Bobcats
Henry Clay
The Story of the Detroit Pistons
Some Bugs Glow in the Dark
Frogs
The Story of the New Jersey Nets
Amelia Earhart: Courage in the Sky
Who was Walt Disney?
Life in a Greek Temple
Carnivorous Plants
Bangladesh
Artificial Intelligence: Robotics and Machine
Evolution
Hol: A World of Holidays
Bomb and Mine Disposal Officers
Enrique Inglesias
President of the Underground Railroad
The Amazon
The Story of Milwaukee Bucks
Born to be a Cowgirl
Melissa Joan Hart
Sea Soup
Immigration
The Story of the Minnesota Timberwolves
What Was Pearl Harbor?
Epidemics: Leprosy
The Future of Life on Earth
Valley Forge
The Sumerians
What was D Day?