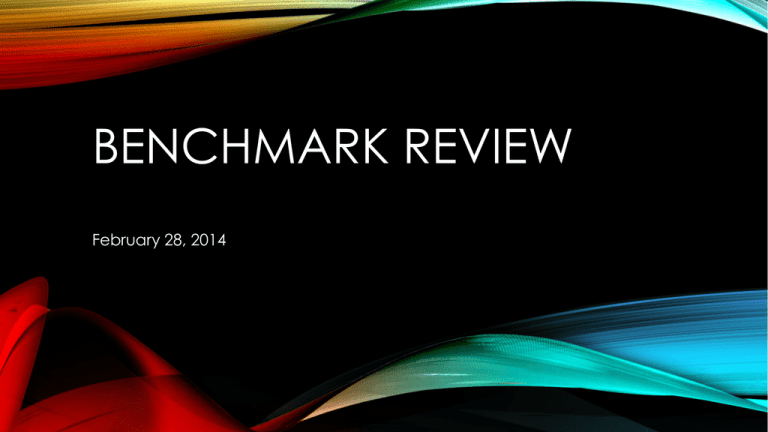 BENCHMARK REVIEW
February 28, 2014
AUTHOR'S PURPOSE
If you encounter a question that asks why the author wrote something, that
question is an "author's purpose" question.
AUTHOR'S PURPOSE
Entertain
Persuade
Inform
Makes a passage personal;
Might include persuasive helping
verbs: should or must, for example;
Might include dates, facts, lists,
graphs, charts, maps, or other
graphic aids;
Might include dialogue;
Look for plot elements;
The author will make a claim and use
strong language to convince you
that he or she is right;
Might call upon the reader to take
action;
Might defend a position
Might not include much opinion;
Might not include much dialogue,
except for interesting quotes to
support a detail.
POINT OF VIEW
Many times you are asked to determine the point of view of a passage.
POINT OF VIEW
First person
Third Person
Omniscient
Third Person Limited
When a passage is written in the first
person point of view, the author is the
writer. Therefore, he or she will use
first person pronouns (I, me, we, us).
The narrator is a character in the
story.
When a passage is written in the third
person and the ideas, thoughts, and views
of MORE THAN ONE CHARACTER are
revealed, we call it Third Person Omniscient.
It is as if God is telling the story. You will not
see first person pronouns unless they are
used in dialogue. You will see third person
pronouns (he, she, they, them, their, etc.).
The narrator is not a character in the story.
When a passage is written in the third
person but the reader only gets to learn
about the thoughts, ideas, and feelings of
ONE CHARACTER, it is called Third Person
Limited. You will see third person pronouns
(he, she, they, them, their, etc.) Notice how
my microscope is focused in on one thing or
character. The narrator is not a character in
the story.
FIRST PERSON POINT OF VIEW
Cinderalla was the last girl in the world I would want to marry. I mean, who wears
glass slippers to a ball? I only picked up that lost slipper because it was a safety
hazard. And it seemed like a princely thing to do.
THIRD PERSON OMNISCIENT
Cinderella hated to lose her slipper but knew she was running out of time.
Watching her, the prince shook his head and thought, "There's an accident
waiting to happen.
THIRD PERSON LIMITED
Cinderella ran down the steps, losing a slipper along the way. The prince thought
to himself, "She's going to break an ankle."
THEME
•THEME
•THEMESSAGE
•THEMEANING
THEME
• "Thank You, M'am"
A thematic idea or topic might be
"second chances." That, however, is
not a thematic statement because it
contains no message. A thematic
statement could be "Everyone
deserves a second chance." Here's
another good one: "An act of
kindness can make a difference in a
person's life."
• Ask yourself this question:
WHAT IS THE LIFE LESSON THAT THE
DYNAMIC CHARACTER LEARNED AS A
RESULT OF THE EVENTS IN THE STORY?
Could it be that the author is sending
you, the reader, a message about
that life lesson?
Main ideas = topic sentences
Remember that the topic sentence is like the roof of a house. It is the sentence that is being supported
by all the other details. Ask yourself: "What are all these details, facts, examples supporting?"
MAIN IDEAS HAVE TWO
COMPONENTS
• The left side of our roof is the topic of the paragraph; the right side (the
predicate part of our sentence) is what the author wants us to know about
the left side- the subject of our sentence.
POETRY
The basics
Sound Devices
Imagery and
Figurative Language
Stanzas
Rhyme
Simile
Traditional
Rhyme Scheme
Metaphor
Free Verse
Rhythm
Personification
Speaker
Repetition
Onomatopoeia
Refrain
Alliteration
Meter
POETRY
Ballad
Epic poem
Free Verse
A type of narrative poem that tells a
story and was originally meant to be
sung or recited.
A long narrative poem about the
adventures of a hero whose actions
reflect the ideals and values of a
nation or a group of people.
Poetry without regular patterns of
rhyme and rhythm.
POETRY
Haiku
Limerick
Lyric
A form of Japanese poetry in which
17 syllables are arranged in three lines
of 5, 7, and 5. It appeals to an
emotion related to beauty/nature.
A short, humorous poem composed
of five lines – aabba rhyme scheme.
Poetry that presents the personal
thoughts and feelings of a single
speaker. MOST POEMS, OTHER THAN
NARRATIVE POEMS, ARE LYRIC POEMS.
POETRY
Narrative
Ode
Sonnet
Poetry that tells a story. Like fiction, it
contains characters, a setting, and a
plot. You could create a
character/wants to/but/so chart over
a narrative poem.
A type of lyric poem that deals with
serious themes, such as justice, truth,
or beauty.
A poem that has a formal structure,
containing 14 lines and a specific
rhyme scheme and meter.
POETRY –
REVIEW ALL THE POETRY TERMS WE'VE
STUDIED!!!
Be certain that you are familiar
with these terms:
• Metaphor
• Onomatopoeia
• Alliteration
• Hyperbole
• Rhyme
• Idiom
• Simile
What drives a story?
• Setting: Picture a stage. When the curtain opens, you are
viewing the SET. You can usually tell what the time and
place of the story will be. The same thing happens when
you read. You should look for details that tell you what the
setting (time and place of the action) of the story is. Ask
yourself how this setting affects the story's conflict and
theme.
What drives a story?
• Characters: These are the people (or animals
or imaginary creatures) that take part in the
story. Ask yourself how we get to know these
characters. Does the author describe them
directly? Do you find out more about them
through their thoughts, dialogue, and actions
(indirect)?
What drives a story?
• Conflict: This is the struggle that moves the
action forward. The conflict can be internal or
external.
LOOK AT THE VERBS!
• Pay close attention to the author's use of verbs! Look at the difference in the
meaning of the following sentences:
• Mrs. Rasp walked into the room.
• Mrs. Rasp sauntered into the room.
• Mrs. Rasp hurried into the room.
• Mrs. Rasp stormed into the room.
• Mrs. Rasp cruised into the room.
• Mrs. Rasp ambled into the room.
• Does the verb give you a different feeling for the character, the setting, the
conflict? YES!
Mood
• Mood is sort of like the ambience at a restaurant. When you go to a fast
food restaurant, would you expect there to be candles and linen napkins on
the table? No! That wouldn't fit the MOOD or AMBIENCE.
• Words that describe mood:
cheerful
thoughtful
romantic
silly
somber
peaceful
wondrous
terrifying
eerie
Tone
• Have you ever heard your mother say something like this: "Don't take that
tone with me!" What she is saying is that she doesn't like your attitude. Tone
= author's attitude
• Words to describe tone:
humorous
mocking
sarcastic
disgusted
sympathetic
admiring
serious
angry
sincere
Pronouns
• Please pay close attention to pronouns. If you are not sure what the
antecedent (the word the pronoun takes the place of) is, reread until you
know. If you keep reading without taking that important pit stop, you could
misread.
"That afternoon, Mrs. Rasp walked into the classroom, which was full of eager
students."
"That afternoon, Mrs. Rasp walked into the classroom. It was fully of eager
students."
SUMMARY
• Please, please, please remember that if you are asked
about a summary statement for a passage, the best way to
approach it is by creating a Character/Wants to/But/So
chart.
• This is a story about a teacher (character) who wants her
students to try their hardest but the test is being given on a
Friday so she feels the need to review, review, review!