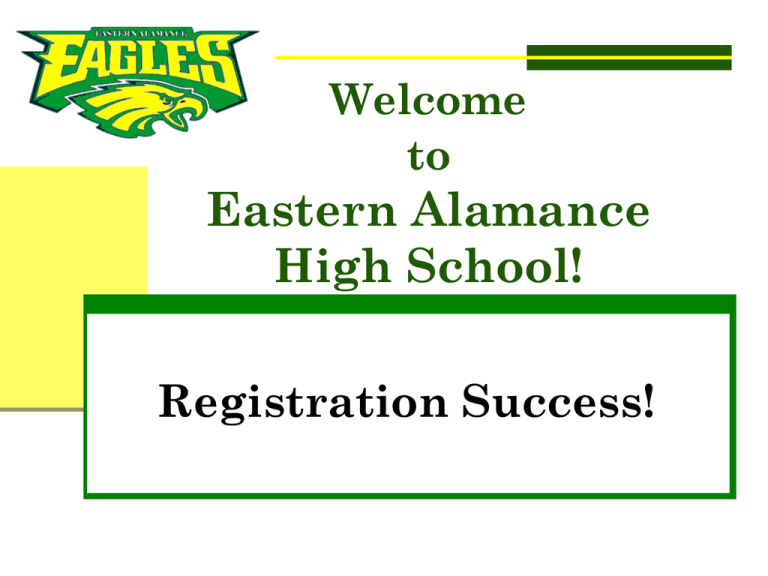 Welcome
to
Eastern Alamance
High School!
Registration Success!
Introductions
 Dave Ebert, Principal
 Katrina Massey, Assistant Principal
 9th Grade Administrator for 2014-15
 Dr. Ako Barnes, Martha Caulder – Assistant Principals
 Lizzie Hooker, Cierra Hill, Kate Cushman
 Student Services
 Sherri Slade – Academic Coach
 David Pritchard, Ryan Byrd, Math Department
 Charlotte Whipp, Exceptional Children's Chair
 Emily Lewis, ESL Teacher
Agenda
Importance of registration
Graduation Requirements
9th Grade Course Options
Elective Course Options
Career and Technical Education Center
Course Placement
Registration Process
Optional Breakout Session Information
Closing
Registration is about deciding the
right classes that will….
Meet your graduation requirements
Help complete your academic plan of study
Interest you
Challenge you
Help you on a career path
Making wise choices will help put you on
the Right Track for Your Future!
Attendance & New Graduation
Requirements
Attendance is extremely important
 If a student misses more than 10 days in a class
during the semester, the student will not receive
credit for that class
 If a student misses more than 13½ days in a
semester, the student will not be eligible to
participate in extracurricular athletics during
the next semester (NCHSAA Rule).
Graduation Credit Requirements
 ABSS freshmen who entered the 9th grade
beginning in the 2013-14 school year will need
28* credits in order to graduate. (Board Policy)*
Extra-Curricular Activities
Students are encouraged to participate and
become involved in extra-curricular activities
offered after school. Some of these
opportunities include:
Athletics (must meet NC High School Athletic
Association and ABSS eligibility requirements)
Please visit the Athletics Information Table
located in the lobby
Clubs and Organizations
Please visit the Club Information Table located in
the lobby
Graduation Requirements
Lizzie Hooker
FUTURE READY CORE
The Future Ready core is designed to
prepare all students for careers and college
learning in the 21st century.
ABSS Students will be required to complete
28* units of credits in order to graduate.
The following units will be required for
graduation under the Future-Ready Core:
Graduation Requirements
4 Mathematics Credits
4 English Credits
4 Social Studies Credits
3 Science Credits
1 Health and Physical Education Credit
6 Elective Credits
6 Additional Credits
 Specific courses may be determined by
ABSS or the individual high school
TOTAL 28 Credits*
Earning Credits
A "credit" represents one course that a
student takes for an entire semester and
earns at least a 70 average for the course.
(includes final exam counting as 20% of
final grade.)
Students at EAHS take 4 courses each
semester, so there is an opportunity to
earn up to 8 credits in a regular school
year. (Possibility of 32 credits in 4 years)
Promotion Requirements*
To be promoted from:
Grade 9 to Grade 10: A student must earn a
minimum of 6 credits.
Grade 10 to Grade 11: A student must have
earned a minimum of 12 credits.
Grade 11 to Grade 12: A student must have
earned a minimum of 20 credits.
This will stay the same for now, but may be
adjusted to reflect the increase to the 28 credit
graduation requirement.
Grade 9 Courses
Katrina Massey
Course Offerings for Grade 9
English
 English 1 Honors
 English 1
 Literacy Academy (Fall) / English 1 (Spring)
Science
 Biology Honors
 Earth & Environmental Science Honors
 Earth & Environmental Science
Physical Education & Health
Course Offerings for Grade 9
Math
 Math 2 Honors
 Math 2
 Foundations of Math 2
o Used as a bridge class to Math 2
 Math 1 (semester)
 Foundations of Math 1 (Fall) / Math 1 (Spring)
 Introduction to Mathematics
Social Studies
 World History Honors
 World History
 Civics & Economics Honors
o Only if you plan to take AP World History as a Sophomore
Grade 9 Electives
Dr. Ako Barnes
SUGGESTED 9th GRADE ELECTIVES
 Beginning Dance
 Beginning Band
 Beginning Visual Arts
 Beginning Theatre Arts
 Beginning Chorus
 French 1
 German 1
 Spanish 1
 Spanish 2 (if you took
& passed Spanish 1 at
the Middle School)
 Parenting & Child
Development
 Core & Sustainable
Construction
 Drafting 1
 MSITA Word &
Publisher
 MSITA Access & Excel
 Multimedia & Webpage
Design
 Personal Finance
 Marketing
 Sports & Entertainment
Marketing 1
 Teen Living
Career & Technical
Education Center (CTEC)
Students taking courses at the CTEC will ride
the bus to and from Eastern each day.
Students will be scheduled to take two courses
in the morning or two courses in the afternoon
while at the CTEC (one course may be an
online course).
It is suggested that students who take online
courses have strong computer navigation, time
management, and reading skills in order to be
successful.
Career & Technical Education Center
 Suggested 9th grade electives
 Automotive Service (prerequisite – Math 1 or Algebra 1)
 Biomedical Technology
 Computer Programming 1 (prerequisite – Math 1 or
Algebra 1)
 Computer Science Principles (prerequisite – Math 1 or
Algebra 1)
 Digital Media
 Health Science 1
 Introduction to Engineering Design (prerequisite –
Math 1 or Algebra 1)
 Personal Finance
 Scientific Visualization
Course Placement and
Recommendations
Kate Cushman,
David Pritchard, Ryan Byrd
Course Placement Criteria
In order to determine the correct placement
of all Freshman students in appropriate
level courses we use multiple criteria and
data including:
 Achievement scores as measured on the NC End of
Grade Test in Reading and Math.
 EVAAS Prediction Data
 Academic Performance
Teacher Recommendation
 Classroom performance (work ethic and effort) and
Attendance
Math Placement
Determined by 8th grade Math
Course, Performance Data (listed in
the previous slide), and Teacher
Recommendation.
Based on the course placement
criteria previously mentioned,
entering 9th grade students should
register for the following math
course(s):
Math Placement
Current Grade 8 Math Course:
Grade 9
Math 1
Foundations of Math 2,
or Math 2,
or Math 2 Honors
8th Grade Math
Foundations of
Math 1 (Fall) and
Math 1 (Spring)
Honors course registration
 If you believe that your student should participate in
honors classes as a Freshman at Eastern Alamance
High School, please do the following:




Attend the optional informational session after general
session here in the auditorium this evening.
If a parent opts for their child to be in an honors
course who does not meet the previously mentioned
criteria, please obtain an Honors Waiver Form from
the Honors Breakout session.
Once a student is enrolled in an Honors course they
must remain for the entire course duration.
Parents must sign the student registration form and
return it to their Middle School teacher by the
teacher's specified date.
Registration Process
Cierra Hill
Registration Process
 Curriculum Guides are currently available on both middle
school websites as well as the high school website.
 Students will register via internet through Career Cruising.
Go to the Career Cruising link and follow the directions. This
link is available on both middle school websites as well as the
high school website.
 It is recommended that students & parents follow registration
suggestions from 8th grade teachers & counselors to help
students have a successful 9th grade year.
 Current 8th grade students will register with School Counselors
at Woodlawn on March 5th & 6th and Hawfields on February
24th & 25th.
Registration Steps



Review 9th grade course offerings with your
middle school teachers.
Complete the registration online, at school,
with counselors.
Each Student must choose 8 courses (4 each
semester) and 2 alternate electives including:







1 English
1 Math
1 Science
1 Social Studies
1 Health/PE
3 Electives (top 3 choices)
Plus 2 alternate electives
Optional Breakout Sessions
 EAHS Honors Program
 Auditorium
 Available Courses and Criteria
 EAHS Exceptional Children's Program
 Media Center
 Program Information for students served under
an IEP (Individualized Education Plan).
 ELL (English Language Learners)
 Chorus Room
 Program information
 Elective Class Options
 Tables in the Lobby
Stay Tuned for more Information
regarding….
New Student Orientation
for Parents and Students prior to the
Start of the 2014-2015 school year!
Thank you
for
attending
EAHS
Registration
Success!