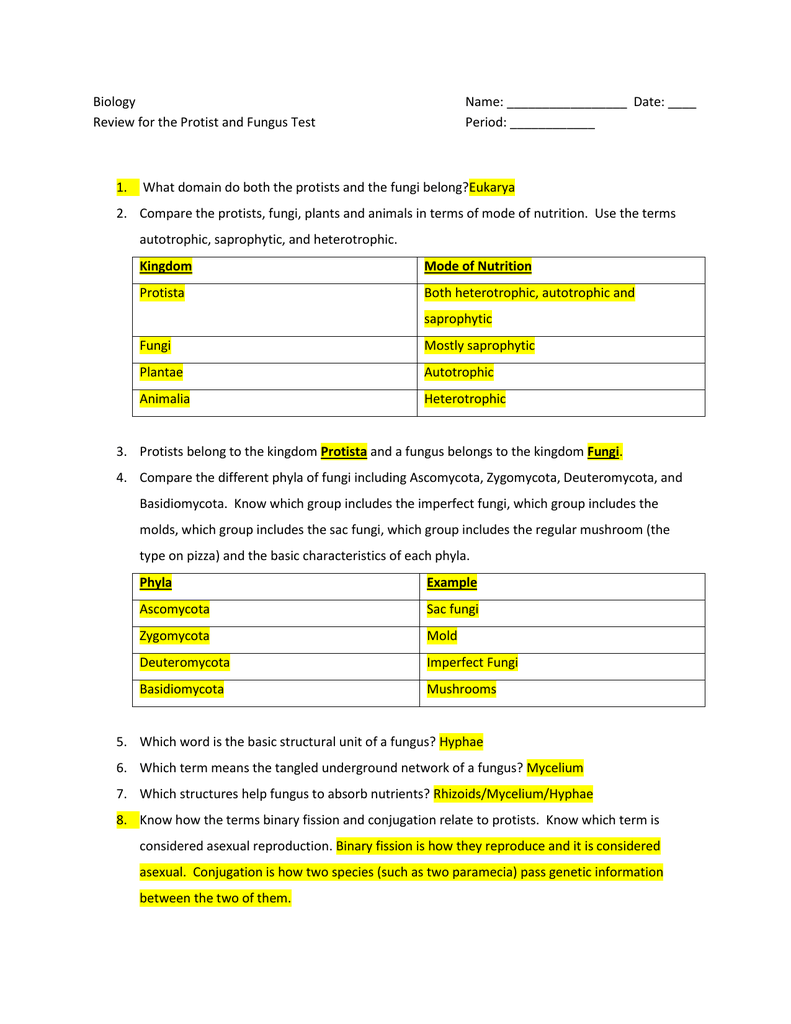 Biology
Review for the Protist and Fungus Test
1.
Name: _________________ Date: ____
Period: ____________
What domain do both the protists and the fungi belong?Eukarya
2. Compare the protists, fungi, plants and animals in terms of mode of nutrition. Use the terms
autotrophic, saprophytic, and heterotrophic.
Kingdom
Mode of Nutrition
Protista
Both heterotrophic, autotrophic and
saprophytic
Fungi
Mostly saprophytic
Plantae
Autotrophic
Animalia
Heterotrophic
3. Protists belong to the kingdom Protista and a fungus belongs to the kingdom Fungi.
4. Compare the different phyla of fungi including Ascomycota, Zygomycota, Deuteromycota, and
Basidiomycota. Know which group includes the imperfect fungi, which group includes the
molds, which group includes the sac fungi, which group includes the regular mushroom (the
type on pizza) and the basic characteristics of each phyla.
Phyla
Example
Ascomycota
Sac fungi
Zygomycota
Mold
Deuteromycota
Imperfect Fungi
Basidiomycota
Mushrooms
5. Which word is the basic structural unit of a fungus? Hyphae
6. Which term means the tangled underground network of a fungus? Mycelium
7. Which structures help fungus to absorb nutrients? Rhizoids/Mycelium/Hyphae
8. Know how the terms binary fission and conjugation relate to protists. Know which term is
considered asexual reproduction. Binary fission is how they reproduce and it is considered
asexual. Conjugation is how two species (such as two paramecia) pass genetic information
between the two of them.
9. Which term is the name for the structure formed when a fungus and a plant root mutualistically
work together? Mycorrhizae
10. Know the differences between the following groupings (mostly phyla) apicomplexa, sarcodina,
zoomastigina, and ciliophora. Know which one uses pseudopods and flagella, which one forms
spores, which one includes the amoeba or the paramecium and the general characteristics of
each grouping.
Phylum
Example Structures
Apicomplexa
Spores
Sarcodina
Pseudopods; Example organism: amoeba
Zoomastigina
Flagella
Ciliophora
Cilia; Example organism: paramecium
11. Which protist causes malaria? Plasmodium, it is in the phylum apicomplexa
12. Give a few examples each of the a) animal-like protists, b) the plant-like protists, and c) the
fungus-like protists. Explain the mode of nutrition for each and give at least one phylum that
belongs to each grouping.
a) Heterotrophic, zoomastigina
b) Both heterotrophic and autotrophic; euglenophyta
c) Saprophytic
13. Be able to recognize the different structures on an amoeba, a paramecium and the euglena.
14. Be able to distinguish between the mycelium and the fruiting body on a fungus.