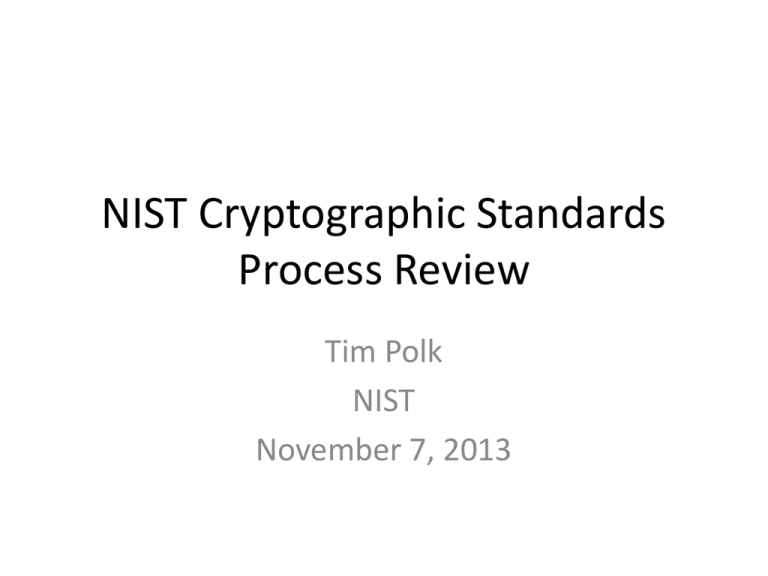 NIST Cryptographic Standards
Process Review
Tim Polk
NIST
November 7, 2013
Outline
• Brief Historical Perspective
• NIST's Goals and Objectives in Cryptographic
Standards Development
• Current Events
• Future Plans
Historical Perspective on
Cryptographic Standards
• NIST published its first open, strong
encryption standard in 1977 (DES) as FIPS 46
– The DES standardization process included three
Federal register notices and two public workshops
• Since 1977, NIST's catalog of cryptographic
standards has grown into a significant suite of
algorithms
– All were developed in consultation with the ever
growing cryptographic community
Authority, Stakeholders & Impact
• NIST's statutory authority for cryptographic
standards is limited to protecting the US
Government's non-national-security systems, but
our stakeholders are far more diverse
– Voluntarily adopted within the public and private
sectors
• Widespread support for these standards has
benefited all participating communities
– Increased interoperability
– Widespread availability of security products
– Reduced cost
NIST Goals, Objectives, and Role
• Ensure specifications are technically sound
and have full confidence of the community
– Ongoing process, since Moore's Law and
mathematical advances constantly erode the
security margin of current algorithms
• To achieve this, we strive for a public,
inclusive, and transparent process
• NIST's role is balancing stakeholder needs as a
technically competent and impartial player
NIST Process
• Since 1976, NIST has used a variety of processes to
develop cryptographic standards and guidelines,
including:
– International competitions,
– Adoption of existing standards, and
– Development of new cryptographic specifications in
collaboration with industry, academia, and government.
• To achieve inclusiveness and transparency
– Public workshops
– Solicit public feedback on draft standards and guidelines,
and
– Actively engage the cryptographic community.
Recent Events
• Recent news reports have created concern from the cryptographic
community and other stakeholders about the security of NIST
cryptographic standards and guidelines
– "N.S.A. Able to Foil Basic Safeguards of Privacy on Web" (NYT, 9/5/13)
– "How a Crypto 'Backdoor' Pitted the Tech World Against the NSA
(WIRED 9/24/13)
• NIST reopened the public comment on SP 800-90A and two related
draft documents, and strongly recommended that users stop using
Dual_EC_DRBG.
– "NIST Reopens Draft Special Publication for Random Number
Generation Using [DRBGs] for Review and Comment" (NIST 9/13)
– IAB Comment on NIST Recommendation for Random Number
Generation (IAB, 10/13)
Process Review & Update
• Document and publish NIST process
• Invite public comment on NIST process
• Independent evaluation to review the process
ands to suggest improvements
• NIST will update process as necessary to:
– Maximize openness and transparency
– Support the development of the most secure,
trustworthy guidance practicable
– Maintain confidence of all stakeholders
Review of Existing Work
• NIST will also review existing body of
cryptographic work and the process through
which it was developed
• NIST will invite new public comments and/or
withdraw standards or guidance if appropriate
In Conclusion
• The NIST cryptographic standards process is
founded on the same principles as the IETF
process.
• The NIST process is the most inclusive
cryptographic standards process, with global
participation from the cryptographic community.
• It is essential to identify and incorporate those
process changes that will allow NIST to continue
effectively serving the global community.
• IETF participants can be an important voice in this
process.
How Can IETFers Contribute?
• When the public comment period for the NIST
process is announced, offer your perspective
– Are there features that are not present (or not
consistently present) in NIST process that would
ensure openness or promote transparency?
• To be effective, what are the critical attributes
for the independent evaluation panel? What
should be the scope of their review?
Questions?